Starting XI & Formation
Eloundou-Doyle-Sanchez
Cronin-Watts-Sarvas
Burch-Burling- Sjodberg -Moor
Irwin
3 Pregame Points
– The Rapids have a four game unbeaten streak against the Columbus Crew
– This is the only meeting between the two clubs this season
– Before the match Columbus' Kei Kamara ranks second overall in goals scored, tallying 15 goals in 23 matches
Strategy
Colorado needs to control the midfield, and the pace of the game. The Rapids struggled last week with their decisions with the ball. They will need to do a better job controlling and taking care of the ball during offensive possessions. Jarred Watts will step up in to the midfield to provide extra support to the defense in effort to maintain Kei Kamara.
Opening 10'
Both sides came out of the gate playing mostly in the midfield. Columbus was able to get off two shots, neither of which was on goal. The Rapids did not generate much offense early and momentum seemed to be entirely in favor of Columbus. That was until a corner kick from Vicente Sanchez found Kevin Doyle on the near side and Doyle's finesse one-touch barely missed the net, sparking a momentum shift.
Half
Colorado went into the dressing room at the half with a 1-0 lead. Good defense and a stroke of luck helped deter a few good chances from Columbus early on. Colorado applied a lot of pressure later in the half and were seemingly posing a threat offensively, however, the shots weren't reaching the goal. The Rapids took 13 shots at the goal, only two reached the net and were on target. A set piece from Sanchez found Bobby Burling in the box and Burling headed it in for his first goal as a Rapid.
Final Whistle
Rapids take a second consecutive loss when leading at the half, this time by the score of 2-1. The long ball in the air was accurate and effective for the Rapids, but the forwards struggled to create scoring chances out of them. For the second consecutive game, the only goal for Colorado came from the midfield. The Rapids won in terms of the total shot count, but two goals from, the now league leading goal scorer, Kei Kamara were enough to give Columbus the three points. (Shots COL-20 CLB-12)
Goals
Bobby Burling COL 42'
Kei Kamara CLB 52', 64'
Rapids Subs
In                     Out
Ramirez    Eloundou 65'
Serna          Sanchez 78'
Torres       Sarvas 83'
Quote of the night
"It's about performance, it's about getting in there and doing it, and someone making a play, tonight we didn't have enough plays in front of the goal." – Pablo Mastroeni
Pocket Photographer Pic of the Night
Jarred Watts shows his disappointment as he addresses the media following the team's loss.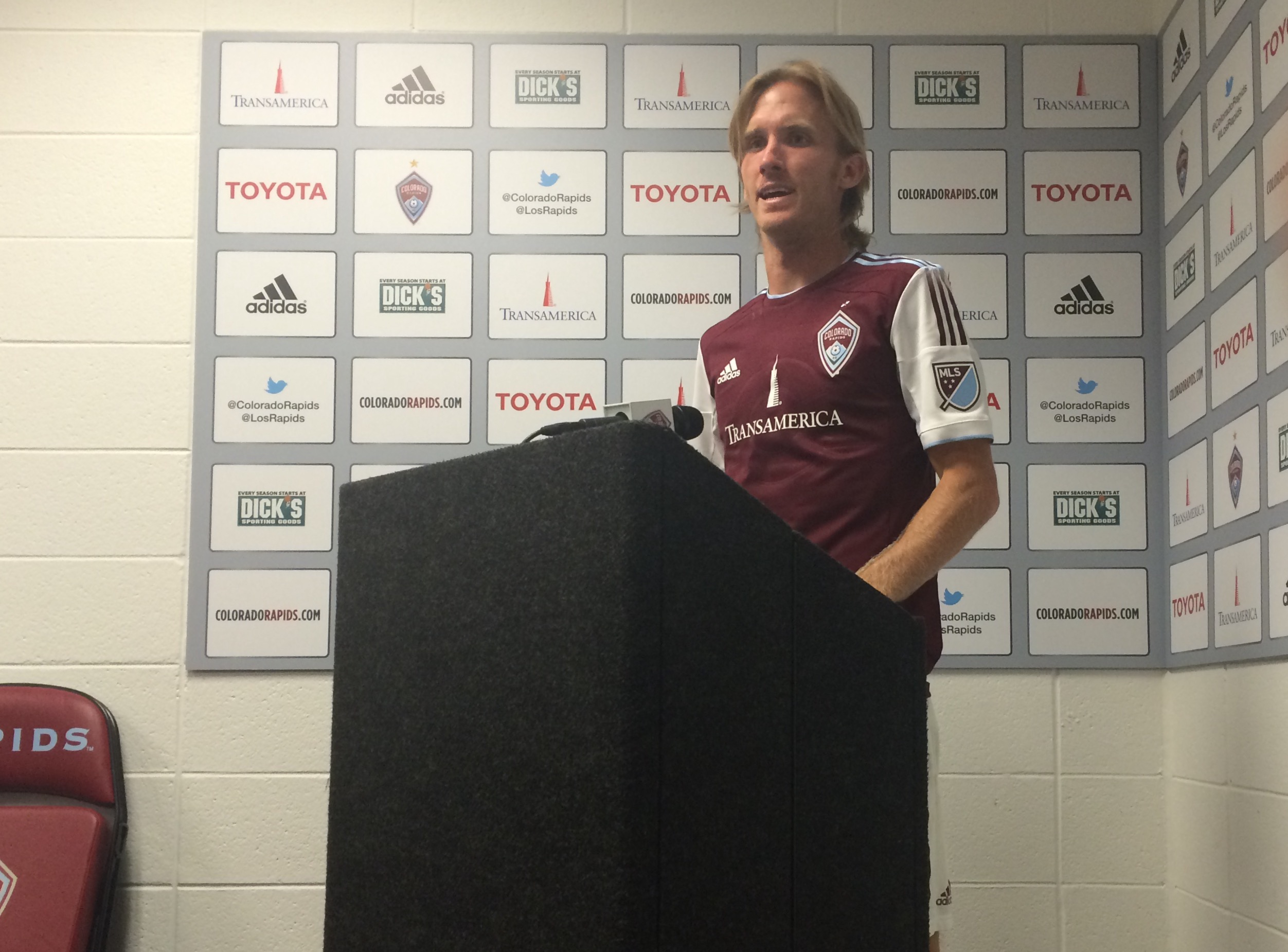 Next Match
Rapids are in San Jose, facing the Earthquakes (7-10-5) on Friday, Aug. 14 at 9 p.m. MDT