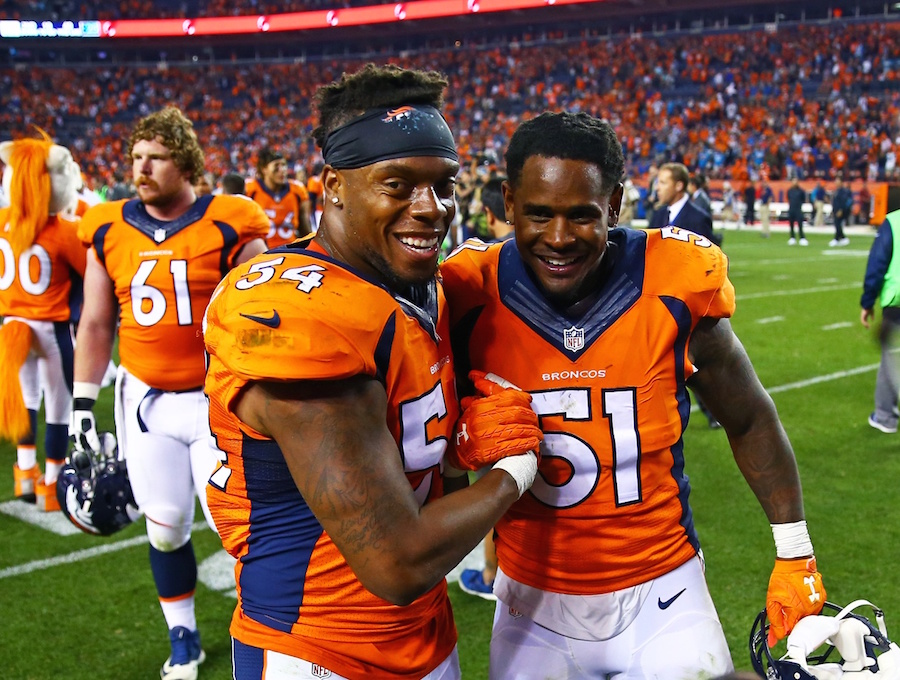 Inside linebacker has been a weak point on the Broncos' defense ever since Danny Trevathan left for Chicago in free agency, following their victory in Super Bowl 50.
Brandon Marshall and Todd Davis have been a solid to above-average linebacking duo, but have weaknesses in coverage, especially against tight ends and some of the league's better pass-catching running backs.
Now, as that becomes more and more of a focal point for modern-day offensive attacks, is it time for the Broncos to look for an upgrade in either free agency or the draft?
Inside Linebackers
Starters: Brandon Marshall, Todd Davis.
Backups: Josey Jewell, Keishawn Bierria, Joe Jones.
The tandem of Marshall and Davis has been a very reliable one for the Broncos, especially against the run. It now appears that 2018 will be the last season that that duo sticks together, as Marshall has become expendable. This is, in part, due to Todd Davis' quick rise – he led the team with 114 tackles this season – and the drafting of both Josey Jewell and Keishawn Bierria in last year's draft.
Jewell had a solid rookie season, made much more impressive by his status as a fourth-round pick. Though, the problem with Jewell is that, like Marshall and Davis, he excels against the run, but struggles in coverage due to his lack of speed.
That's a common thread throughout the depth of the position, as the Broncos don't have a single inside linebacker who earns a coverage grade over 70 from Pro Football Focus. One solution to this problem may already exist in the locker room, though not in the linebacker's room.
After the Broncos added Su'a Cravens, it seemed that the Broncos might be misusing him. When he came out of of college, Cravens was viewed as linebacker-safety hybrid, also known as a 'moneybacker'.
After a great rookie season at linebacker for Washington, where he earned a coverage grade of 76.3, he was moved to safety and eventually traded to the Broncos, where he was the lowest-graded defender and earned a coverage grade of 29.2. Now a likely cut candidate, maybe moving Su'a back to his natural position of linebacker could kill two birds with one stone.
Alternatives
The free-agency class for linebackers this season is a pretty weak one. The top veteran that has a contract expiring is C.J. Mosley, who has been a monster for the Ravens since being drafted out of Alabama in 2014, but likely won't make it to the open market.
If I had to bet, I would say the top available linebackers would be Kwon Alexander and Avery Williamson. Alexander tore his ACL in Week 7 this season, but in 2016 and 2017, Alexander earned a coverage grade over 70 and totaled four interceptions, making him a great candidate to shore up the Broncos' coverage problems at linebacker.
The Jets' Avery Williamson has been one of the top inside linebackers in the league since being drafted in the fifth round of the 2014 draft. After five great seasons in New York, he's ready to hit the open market, but the pairing might not make sense for the Broncos. Williamson is a very similar player to the Marshall, but tends to be a little stronger against the run, and consistently weaker against the pass, meaning he would only exacerbate the problem.
The most tempting solution is probably found in the draft. LSU's Devin White is the modern day NFL's prototypical linebacker. Not only is the incredibly athletic White stout against the run, but he's excellent against the pass. This is because of White's pairing of outstanding athleticism and instincts. As one NFL scout told Bleacher Report's Matt Miller, "he may be the most athletic player in the entire class."
What should the Broncos do?
Draft Devin White.
Yes, it's true that most of the Broncos' needs are on the offensive side of the ball, and they'd likely have to use their tenth overall pick to get him, but this draft's strength is not on offense. Miller only has three offensive players (OT Jonah Williams, QB Dwayne Haskins, and TE Noah Fant) among his top 22 for this year's class.
One could make a strong argument for taking a cornerback with that pick, in which case targeting Alabama's Mack Wilson or Michigan's Devin Bush in the second round would also be a wise decision.
When you look at which linebackers are currently running the NFL, it's the young guys, the Leighton Vander Eschs and Darius Leonards. That is because the only linebackers with the athletic ability to cover in this new spread-offense league are the ones currently in the pipeline.