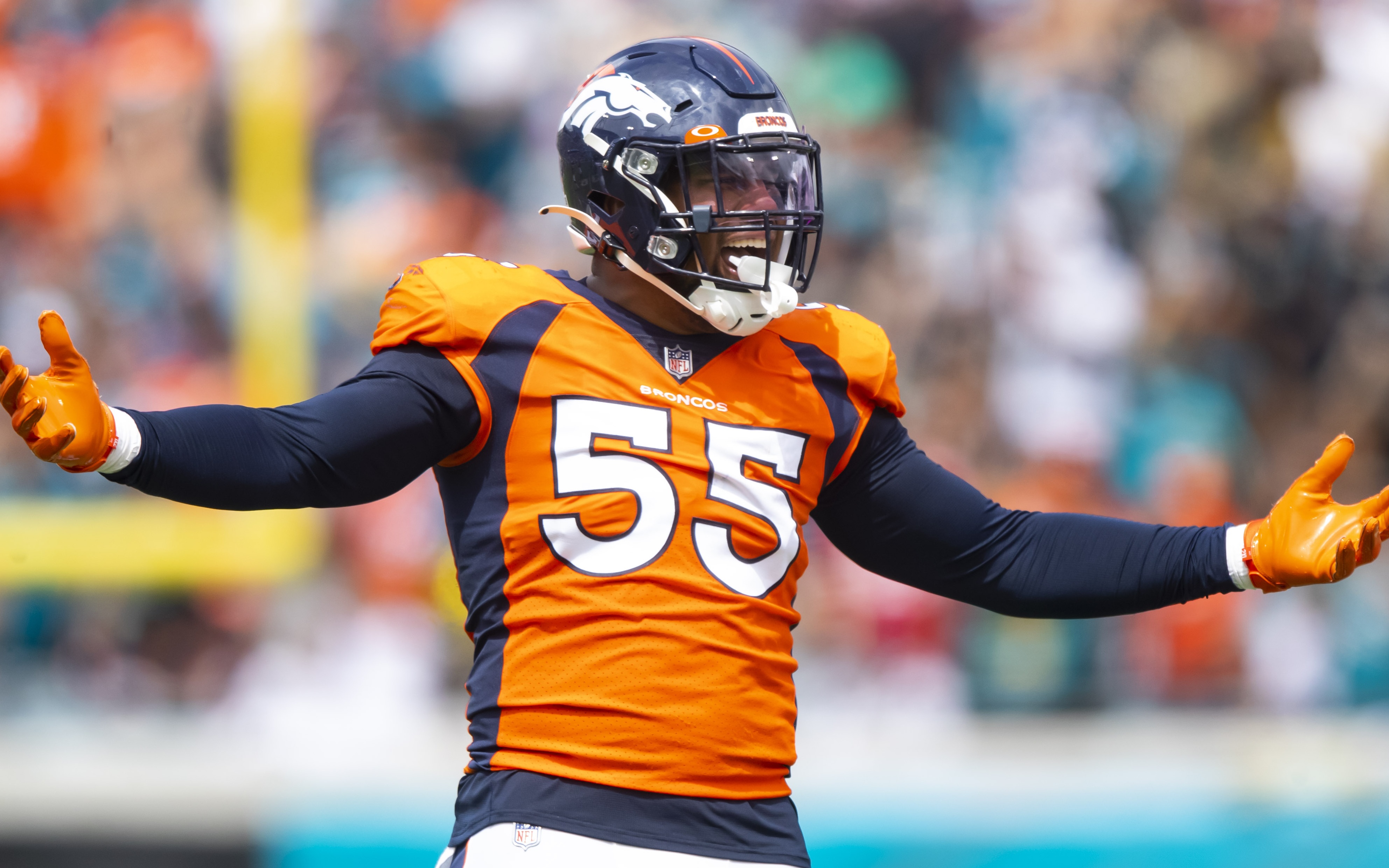 The Denver Broncos' 2022 season has gotten off to a pretty rough start, as poor coaching has led to some disappointing stumbles against inferior competition.
However, it shouldn't all be doom and gloom for the Broncos at this point in the season. There are 15 games left to be played this season. The general narrative could flip if the coaching woes are able to fade into the background of a talented roster.
With that in mind, let's take a look at why you should remain optimistic about this iteration of the Denver franchise.
1. The Denver Broncos' pass rush is a force
All offseason long over at Mile High Sports, we've been discussing how the Denver Broncos' defensive front is one of the biggest X-factors on this team.
The floor was very low, with Bradley Chubb and Randy Gregory having shaky injury histories, while Nik Bonitto and Baron Browning were unproven commodities and potentially one-dimensional.
So far, the Bonitto addition hasn't quite panned out, but Chubb, Gregory and Browning have been terrific so far this season. Having that trio bolstered by the Jones Brothers, Dre'Mont and D.J., has led to the Broncos having one of the league's more ferocious pass-rush units.
The Broncos rank eighth in pressure rate, and they have three players that rank in the top-20 for pass rush win rate among EDGE defenders.
Thanks to this stout pass rush, Denver was able to survive being down each of their two best secondary defenders (Patrick Surtain II and Justin Simmons) for much of their matchup with the Houston Texans.
2. The depleted secondary remains stingy
The Denver Broncos might be without their two best players, both of whom occupy starting spots in the team's secondary, but so far, the secondary appears to be holding firm.
They're certainly being aided by the terrific pass rush, but Ronald Darby has been playing excellent football opposite of Surtain, and his outstanding play has been a factor in why Surtain has been targeted so much in the young season.
K'Waun Williams is also out-producing his free-agent price, as, despite being signed for diminutive $2.1 million cap hit, he's been a force in the run game and has been tremendously sticky in coverage.
Damarri Mathis is still a fairly large question mark, and a miscue between Davis Mills and Brandin Cooks saved him from giving up a touchdown pass on Sunday, but he looked promising in limited action filling in for Patrick Surtain II. The fact he didn't immediately become a major liability on Denver's defense, considering he was replacing the team's best cornerback as a Day 3 rookie, is a very promising sign.
Then, on the backend, both Caden Sterns and P.J. Locke have stepped up tremendously to help fill in for Justin Simmons. The difference here though, is that we've seen Sterns and Locke fill-in at a high level before, which isn't the case with Mathis, making Sterns and Locke's play likely more sustainable.
Through two weeks, the Broncos rank seventh in Expected Points Added per opponent dropback, and sixth in pass-defense DVOA. That's remarkable considering the Broncos have been without Simmons for half that dataset and without Surtain for about a third of it.
3. The supporting talent on the Denver Broncos offense is trending up
Another one of the big X factors this offseason was how the cast of supporting talent would look.
The Denver Broncos have had a fairly suspect offensive line for eons, and although it hasn't been perfect through two games, it's performed very well considering its down two starters, and is having to adjust to a new blocking scheme after losing Mike Munchak. The fact Munchak's name has been mentioned so little these past two weeks is a positive.
An even bigger question mark than the offensive line was the receiving weapons, and so far, returns there have also been promising. Montrell Washington is outperforming his draft status so far, and Jerry Jeudy appears primed to finally make his NFL breakout. Lastly, Courtland Sutton is back to performing like a borderline superstar.
The question marks at running back were always fairly small, as they only surrounded Melvin Gordon's age, but two weeks into the season, Gordon seems like one of the positive outliers at the position. Meanwhile, Javonte Williams is still a dominant back, even if his vision hasn't progressed quite as much as one might've hoped.
Now, to be fair, the Albert Okwuegbunam mystery and Greg Dulcich's injury have added uncertainty to the tight end room, but Andrew Beck and Eric Saubert have both had strong showings to help balance that out.