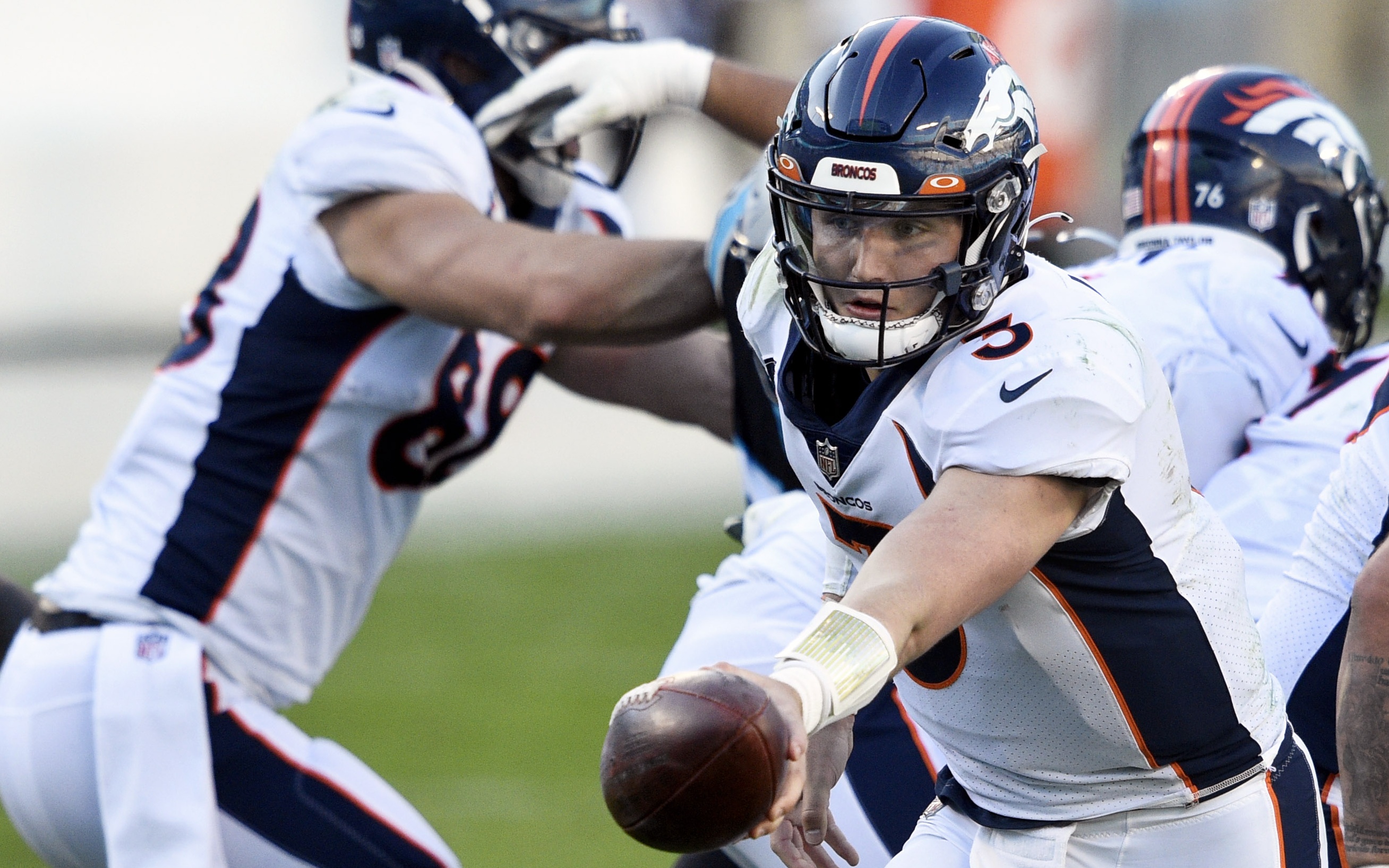 Ah, play-action.
Even in 2020, nearly 25 years after Mike Shanahan and John Elway ran a great deal of play-action with the Broncos to win back-to-back Super Bowls, does the play fake still work.
Much has been made about current Broncos' quarterback Drew Lock and where he struggles. According to many analytics, Lock was a bottom-5 quarterback in 2020. He earned a 48.9 QBR from ESPN (33rd), a Pro Football Focus grade of 65.3 (33rd) and his Quarterback Efficiency was so bad, he was one of three QBs to be expected to take points away from his team on a per play basis.
It should be noted, that per those efficiency numbers, Lock took a small step forward down the stretch of the season, leading to excitement in Broncos Country of what comes next.
And, since the Broncos went after Matthew Stafford but lost to the LA Rams, and because landing Deshaun Watson in a blockbuster trade is extremely unlikely, the probable outcome of this offseason is Lock being the starter again in 2021. Or, at the very least, he'll have to earn the spot by competing against a veteran QB free agent like Nick Foles or Gardner Minshew.
And if the Broncos want to maximize Lock's output, they must look at these incredible play-action numbers for Lock. These, per Sportradar and shared on twitter by Marcus Mosher, are shocking.
Here is what quarterbacks benefited the most (and the least) by play action in 2020:

(stats via @Sportradar) pic.twitter.com/wLmSfdes8c

— Marcus Mosher (@Marcus_Mosher) February 5, 2021
If the fine print is too fine to read, here's the gist: Lock was wildly better when running play-action passes rather than regular ol' drop-backs or shotgun passes.
While Lock's completion percentage (57.3) was the worst in the NFL last year, that skyrocketed to 69.6 when running play-actions. That's the same kind of astronomical leap Bills quarterback Josh Allen has been able to make over the course of his first three years in the league. The only difference is Allen has improved that much on every pass, but, seeing how well Lock does in play-action is a step towards building his confidence and competence moving forward.
It's not just the efficiency of his completion percentage, either: Lock threw for 7 touchdowns and 0 interceptions from play-action in 2020, with a wonderful 120.47 passer rating. The Broncos quarterback led the league with 15 interceptions in 2020, meaning all of them came when the team was not using a play-action pass.
So, why is he elite in the play-action? Teams have to respect the run, giving the quarterback an advantage in terms of dissecting the defense and deciding on where to throw the ball. It gives him more time to process, which seems to be a weak point for Lock.
Also of note, of the 15 interceptions, some 13 came when the receiver had safety help, or in other words, the ball was thrown into double-coverage. Play-action can suck those safeties up closer to the line, if even by a few steps, and that allows his receivers to get open.
Last year, Pat Shurmur's offense ran play-action 20.77 percent of the time. Fast forward to 2021, and that number should grow significantly after looking at these eye-popping stats.