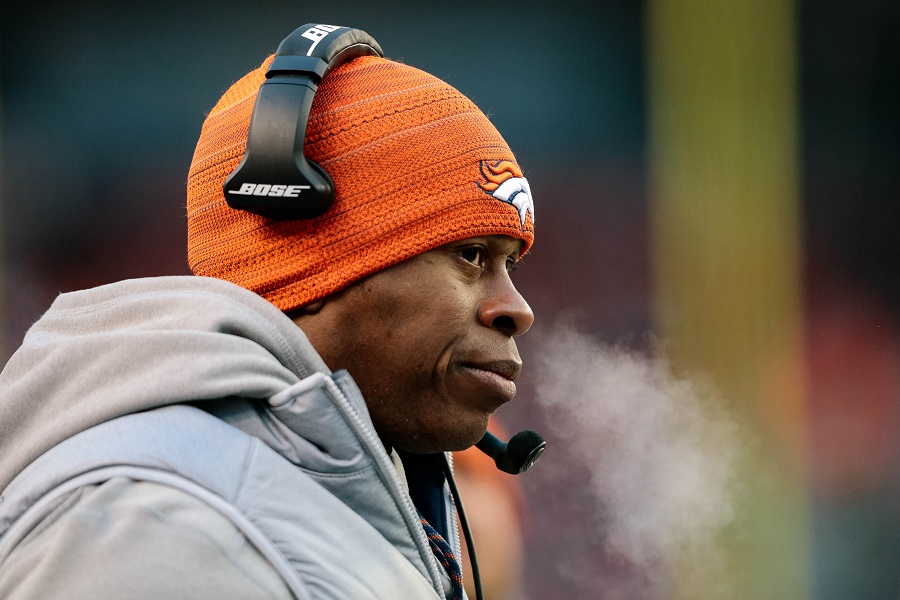 "I stand with Vance."
That statement, bellowed by defensive lineman Shelby Harris following the Denver Broncos' 27-24 season ending loss to the Kansas City Chiefs, echoed a unified message throughout the locker room: give first year head coach Vance Joseph a second chance.
Rumors swirled throughout the afternoon about the future of the 45-year-old coach following a report from ESPN's Adam Schefter claiming Joseph faced "increasingly longer odds at being retained and returning for his second season in Denver." Mile High Sports' Benjamin Allbright has already reported Joseph will be released.
However, the team has yet to release an official statement clarifying their head coach's status and Joseph himself said he has not yet been told whether he'll be retained for a second season.
"I'm going to obviously visit with (General Manager) John (Elway) probably tonight or tomorrow," Joseph said after falling to Kansas City and securing a lowly 5-11 record in his first season as a head coach. "I want to be here. It's a football team that's close. We have to make some adjustments in some places, but our football team all year has not stopped working…I want to be here to fix it."
Joseph came to Denver less than one year ago as a highly touted leader who could bring stability to a job that desperately needed it. Joseph is the the third head coach the Broncos have employed in the last four seasons. However, multiple blowout losses and inefficiency across the board this season led to speculation about whether this notoriously trigger happy Denver front office would be willing to bring Joseph back for a second season.
For their part, Broncos' players were abundantly clear. They want to see Joseph be given a another shot.
"This wasn't on Vance. It was on us," Harris said. "This is specifically on the players…Vance has done everything to put us in a position to win, and we did that "
All-Pro linebacker Von Miller agreed, saying Joseph helped him grow as a leader this season.
"V.J. has been great for us," Miller said. "I would like to see him come back. I support V.J. He's been great for this team."
Running back C.J. Anderson, who completed the first 1,000-yard rushing season of his career in the loss, came to Joseph's defense as well.
"It would hurt me if Coach Joseph lost his job," Anderson said. "He is someone that got me where I am today…this is on us. This is on the players. I put that on myself, just not doing enough. It's just on us not doing enough. We put all of our coaches in hard situations."
Rookie tackle Garrett Bolles offered perhaps the most ringing endorsement of Joseph's abilities.
"Coach Joseph is the most amazing coach we've ever had and we all think that," Bolles said. "He's definitely a coach that I hope we can have here for a long time. He's a consistent person—he's the same person everyday—and I couldn't be happier to have a coach like that."
Of course, whether or not Joseph is ultimately retained isn't up to anyone in the locker room. It's up to John Elway.
Throughout the season, Elway had defended Joseph at almost every opportunity. However, recently, sentiments seemed to have turned in a different direction. According to KUSA's Mike Klis, Elway plans to sleep on the decision and evaluate Joseph in the coming days.
John Elway is going to sleep on it, meeting with Vance Joseph in morning, per source. Elway has not made decision but don't be surprised if Joseph stays for second year. #9sports

— Mike Klis (@MikeKlis) January 1, 2018
If Joseph is retained, he will face an uphill challenge trying to turn this team around and win back a fan base that seems to have completely soured on his abilities. For now, Joseph can rest assured that he has the unified support of his players. Only time will tell whether that will be enough to earn him a second season leading the Denver Broncos.