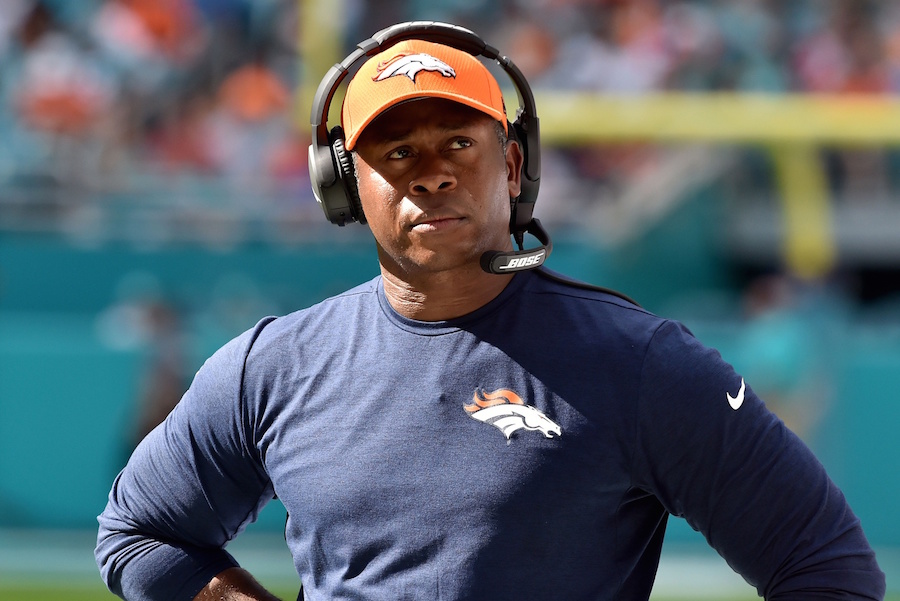 On the heels of a disastrous 5-11 season, the Denver Broncos have reportedly decided to fire head coach Vance Joseph after only one season, according to Benjamin Allbright and former Bears scouting director Greg Gabriel. ESPN's Adam Schefter suggested earlier in the day Sunday that Joseph faced "increasingly long odds" of being retained.
Was told Vance Joseph is out in Denver after 1 year

— Greg Gabriel (@greggabe) December 31, 2017
Source says Vance Joseph is out as Broncos HC, as @AdamSchefter alluded to earlier.

— Benjamin Allbright (@AllbrightNFL) December 31, 2017
Broncos' HC Vance Joseph faces increasingly longer odds at being retained and returning for his second season in Denver, league sources tell ESPN.

— Adam Schefter (@AdamSchefter) December 31, 2017
A season that looked promising before the Broncos' early-season bye week, their 3-1 record evaporated after an eight-game losing streak triggered the firing of offensive coordinator Mike McCoy. The Broncos have one of the worst quarterback situations in the NFL, and eventually, their defense became fed up with being placed in near-impossible positions and began to discuss it openly as the season slowly dragged through December towards its end.
General manager John Elway, who hired Joseph, the fired-McCoy, and first-year coordinators Joe Woods and Brock Olivo, will now have to be forced to consider the entire coaching staff's status in the wake of this decision. Elway, after moving on from Joseph, will have to begin his fourth coaching search in seven seasons.
Joseph was the sixteenth head coach in franchise history and — not including interim head coaches — Joseph's tenure would be the second-shortest in franchise history, only behind Ray Malavasi's 12 games coached in 1966.
After the Broncos 27-24 loss to the Kansas City Chiefs, Joseph took to the podium and addressed the reports, saying he will speak to general manager John Elway 'tonight or tomorrow' regarding his future.
John Elway is going to sleep on it, meeting with Vance Joseph in morning, per source. Elway has not made decision but don't be surprised if Joseph stays for second year. #9sports

— Mike Klis (@MikeKlis) January 1, 2018
Reports from 9News' Mike Klis indicate that Elway has not made his decision yet, and that he will 'sleep on it,' and meet with Joseph on Monday.
Pro Football Talk echoed those sentiments later in the evening.
Just heard John Elway may be having second thoughts about moving on from Vance Joseph.

— ProFootballTalk (@ProFootballTalk) January 1, 2018
It was also reported by Klis that the Broncos' brass will stay in Denver overnight, into tomorrow and will not attend the Rose Bowl, a game which will feature potential first-round draft pick and Heisman Trophy-winning quarterback, Baker Mayfield.
Broncos triumverate of John Elway, Matt Russell and Gary Kubiak will not attend Rose Bowl tomorrow. Elway will meet with Joseph tomorrow AM at Broncos headquarters. We'll know then. #9sports

— Mike Klis (@MikeKlis) January 1, 2018
In the event a head coaching search were to begin, the Broncos may have a list that could include some assistant coaches such as Seattle Seahawks defensive coordinator Kris Richards, Philadelphia Eagles offensive coordinator Frank Reich, college head coach David Shaw from Stanford, as well as any potential candidates who will be fired this weekend from the very teams they coached on Sunday.