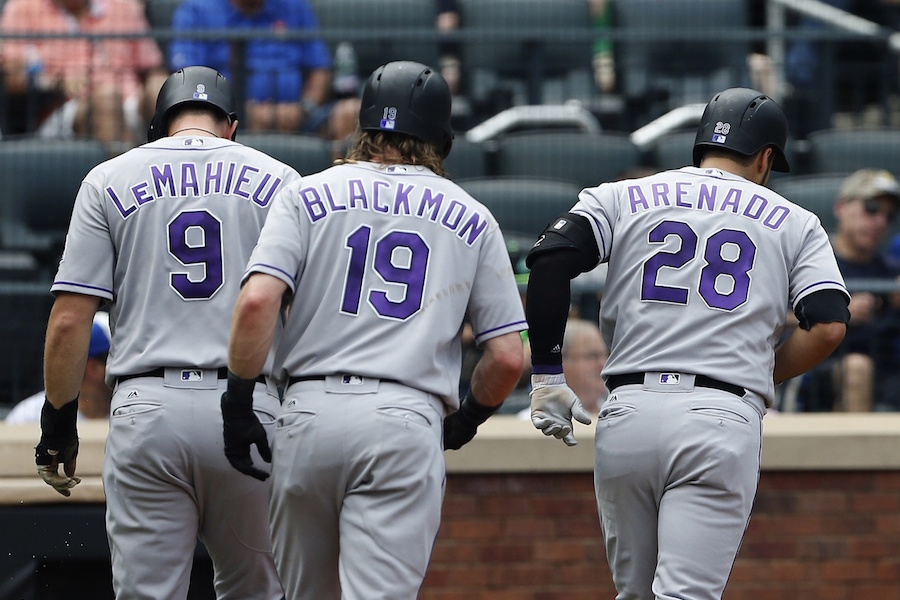 Those long-suffering Colorado Rockies fans who say the team never spends any money can bite their tongues for a year. Owner Dick Monfort and general manager Jeff Bridich have opened up the checkbook for 2018, perhaps because they know this is their best chance to make a run at the World Series.
Yes, the World Series.
Those words would have been greeted with skepticism (if not outright derision) if spoken about the Rockies between 2011 and 2016.
However in 2018, coming off a National League Wild Card appearance and with a bullpen reloaded with some of the best talent available this offseason, no one is shying away from saying this club expects to compete for a spot in the Fall Classic.
Bud Black, who led the team to its first playoff appearance since 2009 in his first year as manager last season, didn't shy away from it when he met with the media on Saturday ahead of the final stop of the annual Rockies Caravan.
"You know, I mentioned it last year. Ultimately that's the goal: To win a World Series. And last year we took a step in that direction," Black said when asked if he's willing to talk "World Series" with his club.
"Now, every year is different and that's a message to the players — that you can't rest on last year's successes, because every season plays out differently — but I think the group of players that we have on our roster, the group of players we have coming through our system, what I know of our scouting department our player development our minor league coaching staff our big league staff, you know things are headed in a direction where we can be consistent as far as winning games. And again, you have to take steps to get in the conversation about potentially being a team that every year [other] teams think about, and I think last year was a very good first step."
Black's view is more long-term, wanting to be in that World Series conversation year after year, but there's no doubt last year's success has this year's team motivated and hungry right now.
Even the youngsters are vocal about this team's expectations. Take Jeff Hoffman, who was 6-5 with a 5.89 ERA in 16 starts and seven relief appearances as a rookie in 2017.
"We feel like with the additions we have made with the strides we have taken as a young staff, that is our goal," the 25-year-old right-hander recently told Sean Walsh on Mile High Sports AM 1340 | FM 104.7. "We want to win a World Series."
That's bold talk usually reserved for veterans and clubhouse leaders — guys like Nolan Arenado and Charlie Blackmon. But that's how confident this team is after management went out and spent big this offseason to bolster the bullpen and reward several of its top performers.
First, the Rockies locked up Jake McGee after a pair of successful seasons in the Colorado bullpen. The lefty's three-year deal worth $27 million, with lofty incentives if he becomes the closer and a 2021 option worth another $9 million based on total appearances, helped set the market for relievers.
Colorado then inked former Cleveland setup man Bryan Shaw to a similar three-year, $27-million deal. The 30-year-old innings eater has incentives to be a workhorse in Colorado. A fourth-year option worth an additional $9 million vests if he makes 60 appearances in 2020. His 79 appearances in 2017 tied for the most in MLB.
Bridich and Co. followed Shaw's signing with the biggest per-year contract ever handed out to a relief pitcher. It will be well worth the $52 million Colorado invested in Wade Davis over the next three years if the three-time All-Star and 2015 World Series champion adds another All-Star appearance and a second World Series ring to his résumé. Davis, too, has a 2021 option — his worth $15 million — for meeting certain performance metrics in 2020.
More recently, Colorado agreed to a $1.287-million, one-year deal with left-handed reliever Chris Rusin to avoid arbitration. (A bargain considering he ranked second in innings pitched among relievers and posted a minuscule 2.65 ERA.)
They spent another $2 million on Chad Bettis, whom Black expects to come back strong in 2018 after missing most of 2017 undergoing cancer treatment.
"Chad's game is pretty solidified," the Rockies' skipper said of Bettis, who projects to be the No. 2 starter behind Jon Gray. "Chad is in a place where there is not a lot to work on or do; he just has to continue to refine and perfect his game."
Thanks in large part to their offseason spending spree on relief pitching, the Rockies currently claim the 14th-highest payroll in baseball at $127.8 million ($11.9 million above the league average). But come 2019, Monfort and Bridich are going to have to decide just how much they they want to climb that list — or if they even want to continue climbing it at all.
Also included among Colorado's offseason activity was signing one-year deals with Charlie Blackmon ($14 million) and DJ LeMahieu ($8 million), avoiding arbitration in the final year of team control for each.
Come 2019, the front office at 20th and Blake will have some big decisions to make. Both LeMahieu and Blackmon will become unrestricted free agents.
Blackmon, a two-time All-Star, back-to-back Silver Slugger and the 2017 N.L. batting champ, finished fifth in N.L. MVP voting last year. This year he will be only the sixth-highest-paid centerfielder in baseball.
LeMahieu, the 2016 N.L. batting champ and two-time (2014, '17) Gold Glove Winner, was an All-Star last year for the second time in his career. His salary in 2018 makes him only the ninth-highest-paid second baseman (annual cash average).
Long-term deals worth big money are surely coming to both in 2019.
Coming up one year later is a contract that has the potential to be the biggest the Colorado Rockies have ever signed.
Nolan Arenado in 2017 signed a two-year, $29.5-million deal. He's under team control for one more year after this, with a value that could touch $30 million (Spotrac projected his 2018 arbitration number at $29.5 million) in 2019.
The five-time Gold Glove winner, three-time All-Star and three-time Silver Slugger finished fourth in MVP voting in 2017 and fifth in 2016. There's every reason to believe his climb can continue. Arenado hopes it can, as he suggested over the weekend.
"It was awesome," he said of finishing fourth and fifth, respectively, with Charlie Blackmon in last year's voting. "I mean, obviously finishing top-five is a good feeling. I think I finished fifth last year (in 2016), fourth this year (in 2017). Hopefully I can make my way up."
The Yankees are currently paying Giancarlo Stanton, last year's N.L. MVP, on the biggest contract in MLB history (signed with Miami in 2015) — $325 million over 13 years. The Diamondbacks are shelling out an MLB-high average of $34.4 million per year on a six-year deal signed in 2016.
Arenado's long-term contract has the potential to eclipse both of those figures. Even if it doesn't, that's the neighborhood where teams will be shopping.
Blackmon knows it's coming.
"I think if you look at it from a front-office perspective, the time is now. Guys are about to start getting really expensive," Blackmon said Saturday.
"Usually you have to trade off productivity for salary, but these guys are worth more than they are making and that's why we have been successful this past year. And I think that's why we are gonna be successful next year and hopefully after that."
Blackmon sounds optimistic, but realistic. At some point, Colorado's three All-Star position players have to get paid.
So, how do you pay three All-Stars the money they're worth — not to mention those big contracts for McGee, Shaw and Davis plus the combined $38 million owed to Ian Desmond between 2019 and 2021?
If you're the Rockies, you probably don't.
Colorado has steadily climbed the MLB payroll rankings since 2013, when they ranked 22nd, to where they currently sit at 14th. But trying to pay Arenado, Blackmon and LeMahieu on top of contracts already on the books for 2019 would likely catapult them into the top 10, maybe even the top five in spending. That's uncharted territory for the Rockies.
Long-term, Colorado doesn't have that kind of money — not without a major increase in revenue from their TV partner, AT&T Sports Net, or some other massive cash influx. Winning Powerball or Mega Millions might be their best bet.
That's not a knock on Monfort, Bridich, the team's media partners, corporate sales department or box office staff. It's just a reality of playing in the No. 17 TV market. (It's no coincidence that the Rockies' average annual payroll usually ranks in the high teens each year.)
As much as the Rockies want to keep Arenado, Blackmon and LeMahieu beyond 2018 (and as much as those three might want to stick together), it's not going to be economically viable.
If they're willing to stay above the league average for several years, say through 2021, the Rockies could make long-term moves on both Blackmon and LeMahieu. Or they could make a run at Arenado. They can't do both — unless they're willing to spend with the likes of the Dodgers, Yankees and Red Sox.
If they are going to slide back into their natural spending area — the high teens in terms of average salary rankings — they may have to let all three walk. Of course, Bridich would be foolish to let that happen unless it comes in exchange for a World Series appearance. (Dare we even say victory?)
As it stands right now — with Blackmon and LeMahieu on their final-one year deals and Arenado under team control for just two more years — 2018 is Colorado's best chance to win it all. Clearly the front office sees this, given the investments they made this offseason.
But if this season goes off the rails and the playoffs are out of reach, Bridich may have to trade Blackmon and/or LeMahieu midseason. As much as it might pain Rockies fans to hear this, that same possibility looms in 2019 with Arenado.
The haul the Rockies could get for any or all of them — even as short-term loans to a contender — might simply be too much to pass up.
But replacing even one of those three All-Stars' bats in the lineup makes this a less-potent offense. Take them off the field and Colorado takes a step back defensively. Remove one of them from the clubhouse and a vacuum will exist.
It's probably not a question of "if," but "when" and "whom."
That puts all the focus, and all the pressure, on 2018.
Colorado spent freely this offseason to build a championship contender. As I wrote last week in this same space, they'll need more than just continued excellence from their offense and for the bullpen to perform as advertised to make it so. Bettis, Gray and the rest of the rotation must do their part, and Arenado and his fellow All-Stars must keep their focus.
"I think our window is right now, and however long hopefully our starting pitchers stay healthy," Arenado said. "Charlie and DJ have one more year left. But, knowing them, they're probably not too worried about that. They're going to be ready to go, and I don't want to look too far past that."
The Rockies, by their size and the financial nature of MLB, have a small championship window. In 2018, it's open as wide as ever. The players seem to understand that.
"You can really extend that window if you just sign everybody," Blackmon said with a chuckle. "That would work too. But in reality there is a payroll and the Rockies have increased their payroll quite a bit, and I think they're showing a lot of confidence in the personnel that we have that we can get this done."