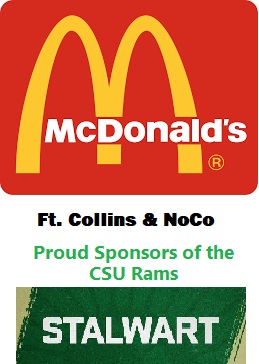 Colorado State started their season 0-1 and one of the shining stars of the loss was quarterback Brayden Fowler-Nicolosi. Now Fowler-Nicolosi gets his shot as the team's starting quarterback.
Rams former starting QB Clay Millen was stellar in 2022, but after a slow start in the 50-24 Week 1 loss—and a hit which "dinged a little bit" per head coach Jay Norvell—he's been benched. That per the new depth chart released today:
Millen was available to practice during the bye week and is available to play this week, but Norvell is going with Fowler-Nicolosi instead.
"Brayden came in and played well. The bottom line is we've got to score touchdowns and we've got to score points offensively," Norvell said per the Coloradoan. "We're going to give Brayden an opportunity."
Colorado State (0-1) faces the No. 18 Colorado Buffaloes (2-0) and national sensation Coach Prime (Deion Sanders) at 8 p.m. MT on Saturday, Sept. 16. The game will be televised on ESPN. Of note, FOX's Big Noon Kickoff show and ESPN's College Gameday will be in Boulder that morning and afternoon, too.
Here's a screenshot from when Gameday was in Fort Collins in the 90s:
it's going to look great on you, Coach!
See you this week @CollegeGameDay❗️

comment if you love the rams 👇 pic.twitter.com/YvGMtPKBKk

— Colorado State Football (@CSUFootball) September 9, 2023
Rams improved once Fowler-Nicolosi came in
In the Week 1 loss to Washington State, Fowler-Nicolosi came in and the offense finally got going.
Colorado State had a mere 131 total yards of offense mid-way through the third quarter when Millen took a huge hit and was forced out. After scoring a field goal on their initial drive of the game, the Rams offense punted five times and turned the ball over once as the Cougars scored 29 unanswered points.
Not everything was perfect for "BFN" though, he threw an interception on his fourth pass of the day.
But after that miscue—and finding themselves down 43-17—Fowler-Nicolosi led the Rams on two straight, long drives for touchdowns.
The first was a one-play, 75-yard catch and run by Justus Ross-Simmons to the end zone. That brought the game to 43-17, WSU.
The second was an 11-play, 74-yard drive which featured pass after pass to star wideout Tory Horton. It was capped off with a 20-yard touchdown pass to transfer tight end Dallin Holker.
Ultimately, Fowler-Nicolosi went 13-20 for 210 yards, 2 TDs and 1 INT.
Millen was the full-time starter last season for the Rams, playing in 10 games and completing a shockingly-good 72.2% of his passes. He was the talk of Norvell in the lead-up to the season and was anticipated to be the No. 4 best QB in the Mountain West, too, so it's a bit surprising Norvell made the change this early in the year.
Meanwhile, Fowler-Nicolosi played in three games last year including one start, a win over Nevada. He went 11-22 with 2 INTs in that game.
Rams new QB has tough test against No. 18 CU in Rocky Mountain Showdown
The Rocky Mountain Showdown is a long-running series between the two Centennial State schools going all the way back to 1893. They haven't played one another every year, and haven't faced each other since 2019. All-time, the Rams and Buffs have played 91 times, with CU holding a 67-22-2 advantage in the series.
And things are tilted in CU's favor this year on multiple levels. First and foremost, the game is in Boulder at Folsom Field, which is celebrating its 100-year anniversary.
Maybe more importantly, the Buffs knocked off No. 17 Texas Christian University in Week 1 and soundly defeated the Nebraska Cornhuskers last Saturday.
Deion Sanders—Coach Prime—has his team hyped and ready to beat any team they face. In fact, the CU-Nebraska game tickets were more expensive than even the Broncos-Raiders game this weekend; everyone's excited to see the Buffs play.
Not only are the Buffs led by the charismatic Sanders, he recruited a tremendously talented team full of playmakers, and CU isn't going to let the national audience down on their home turf.
Simply, this is going to be a tough test for Colorado State and new QB Fowler-Nicolosi. Besides just the quarterback, though, CSU's revamped offensive line will have their hands full, and the Rams defense needs to play much better in the passing game than they did against Washington State or risk being blown out again.
After that Week 1 blowout loss, the Rams had a lot to work on during the bye and during this week of practices, too. Their goal should be to improve in those areas and take steps forward, even if they're small, against a tremendous team in CU.