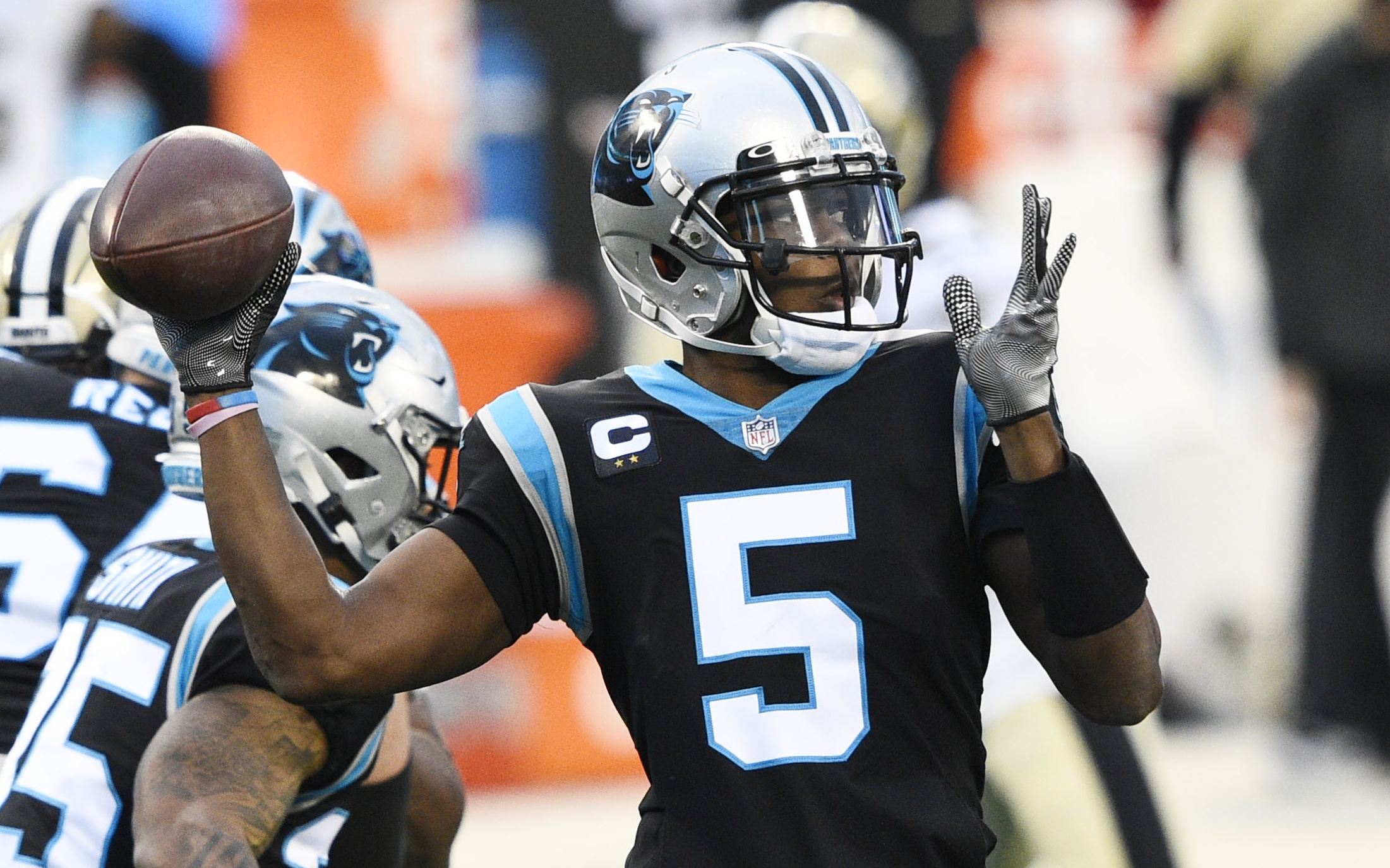 Aaron Rodgers or bust?
Well, in all likelihood, Teddy Bridgewater or Drew Lock will be the Denver Broncos' starting quarterback in 2021. And if you're a betting fan, your money should be on the newcomer and wily veteran, Bridgewater to be that starter.
For Drew Lock, who has been with the team the last two years, it's been anything but an easy road. He's been injured twice — both times to his throwing hand — by trying to do too much. Really, that's the story of his short career; trying to do too much instead of taking what the defense gives him.
Lock's had two different offensive coordinators and a whole host of different receivers, but he's worked to do his best given the circumstances. And his best in 2020 was arguably the worst performance in the entire league last year.
Lock's 57.3 completion percentage was 35th, his passer rating (75.4) was 32nd and his interceptions (15) were tied for most in the NFL. Even advanced stats pointed to Lock being a bottom-5 quarterback.
That's why it was no surprise the writing was on the wall as George Paton took over the team this offseason and shopped almost everywhere for a new quarterback.
The Broncos felt out a trade for Matt Stafford and poked around Carson Wentz. They were in on Deshaun Watson for a while, but that seems to have cooled. And one day before the latest rumor of Aaron Rodgers to the Broncos took shape, Paton shored up his quarterback room by trading for Teddy Bridgewater.
"It was amazing. I remember the day he got hurt like it was yesterday," Paton said of that fateful fall practice in Minnesota when the two were with the Vikings back in 2016. "Just to see him come back and rehab when they told him he probably wasn't going to play again. It was a long shot. Just to see him come in everyday and work with a smile on his face. Like I said, the perseverance and hard work. It was never woe is me and he never felt sorry for himself. He just kept grinding and working. That's the type of person Teddy is."
Bridgewater battled back from that injury but eventually found himself in New Orleans where he would play a major role in the Saints' success in 2019. He started five games and played efficiently, completing 67.9 percent of passes with nine touchdowns and only two interceptions.
That effort was enough to earn him the starting job in Carolina in 2020, where his numbers were only so-so; but, were they better than Lock's?
In 15 starts last year, Bridgewater completed 69.1 percent of his passes (5th-best) for 3,733 yards (17th) and 15 touchdowns (24th) with 11 interceptions (9th-most).
Lock in 13 starts: 57.3 percent completion (35th), for 2,933 yards (21st) and 16 TDs (20th) with 15 INTs (worst).
But what about more advanced stats?
Bridgewater's clearly better there, too. As imperfect as it may be, his passer rating is much better than Lock's (92.1-75.4) as is his QBR (64.2-48.8). Bridgewater's accuracy continues to shine when looking at his on target percentage, at 80.5 percent, which was fourth-best among qualified players. Lock's was way down the board at 68.9 percent. Similarly, Lock's 22.9 percent bad throw percentage (uncatchable balls) was the worst among starters while Bridgewater's was more respectable (13.0).
What does it all mean?
Neither one of the two quarterbacks the Broncos currently have are superstars. Neither one will elevate the offense to the level it needs to be to win the Super Bowl, although Bridgewater may be competent enough to push Denver to a playoff berth and maybe a win or two there.
Bridgewater is a middle of the road quarterback for the most part, but he's also pretty damn efficient when he wants to be. He needs to limit those too-high interception numbers, but he should be able to lead the Broncos offense to more wins this year if he wins the QB competition.
Lock is a gambler who showed he's still too green to take Denver into the playoffs as their starter. He loves to throw the ball into coverage — even double-coverage — and hates to throw it away even when he's pressured.
If Lock wins the competition, he must be more accurate by utilizing better footwork. He must be willing to take a sack at times instead of scrambling and making a late throw which results in an interception. He has to be smarter with the ball and find his way to the middle of the pack in the NFL, rather than being objectively one of the three worst QBs in the league.
Bridgewater may not be a superstar, but competent is better than overconfident in the NFL in terms of quarterbacking.