Ian Desmond won't play baseball this year.
And that, after months of negotiation between the MLB and the Major League Baseball Players Association has made a shortened season possible only recently.
Desmond, who is the fourth-highest paid player on the Colorado Rockies, explained on Instagram tonight that he's not playing in 2020: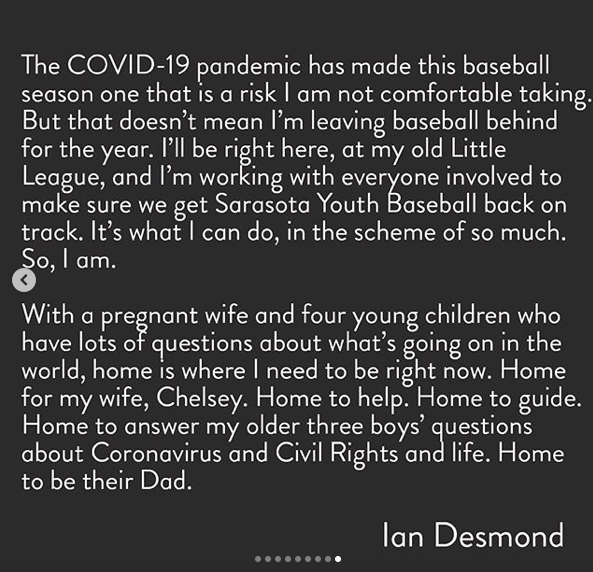 (Read his entire statement on racism, sexism and homophobia in baseball here.)
As he explains, he's a father of four young children and a pregnant wife.
And, who can blame him?
Yes, he's due to make $15 million this year, but this is a pandemic we're talking about here. This is a still mostly unknown virus; we don't know exactly how it affects everyone or who it will kill. As we pass the 500,000 worldwide deaths mark, and the United States is experiencing not a second wave, but a prolonged first wave of infections which never subsided; Desmond looks like the smart one here.
Some players want to be paid, and there's no doubt all the owners want their share of the profits.
According to the USAToday, the MLB is set to lose some $640K per game. And that was just in terms of attendance, not including other sales (like jerseys) or TV deals.
Now, the MLB has finally announced an even more abbreviated 60-game regular season, but the MLBPA has yet to approve of it. The current plan is to start on July 23-24, but Desmond, it turns out, isn't the first player to decide to forgo playing nor the giant paychecks.
According to CNN, Ryan Zimmerman, Joe Ross and Mike Leake have informed the Washington Nationals (first two players) and the Arizona Diamondbacks (Leake) they will not be playing in 2020.
So, Desmond may not be the first domino, but it seems he is among the first wave of those to fall.
That begs the question: Who's next?
Hey, if there were ever a time for baseball — America's pastime — to save us, to lift us up, it would be right now. This has to be one of the most bleak moments in the history of this country, and baseball seems like the safe bet in terms of getting sports back up and running.
Baseball is played outside. Check.
Most of the time, players are not near one another. Double check.
And, there's very little contact between players. Check, mate?
However, players — like Charlie Blackmon — have contracted the virus without even being in spring training or in the dugout with one another. What happens when they are playing and one man in the clubhouse gets COVID-19? He could easily spread it throughout the team without anyone realizing it.
Forget basketball — which is played indoors and with much more physical contact — and forget completely about football; baseball was supposed to be the saving grace for our sports needs.
Now, with some starting the sit-out, expect more to join.
What we will learn in the next week-to-10 days is how much of the league will forgo the season in favor of securing their health. We could see a massive wave — like the American lack of response to COVID-19 — in terms of sit-outs.
And we, as Rockies followers, may look at Desmond as only the tip of the iceberg.
(Note: The NBA is still schedule to re-launch on July 30.)