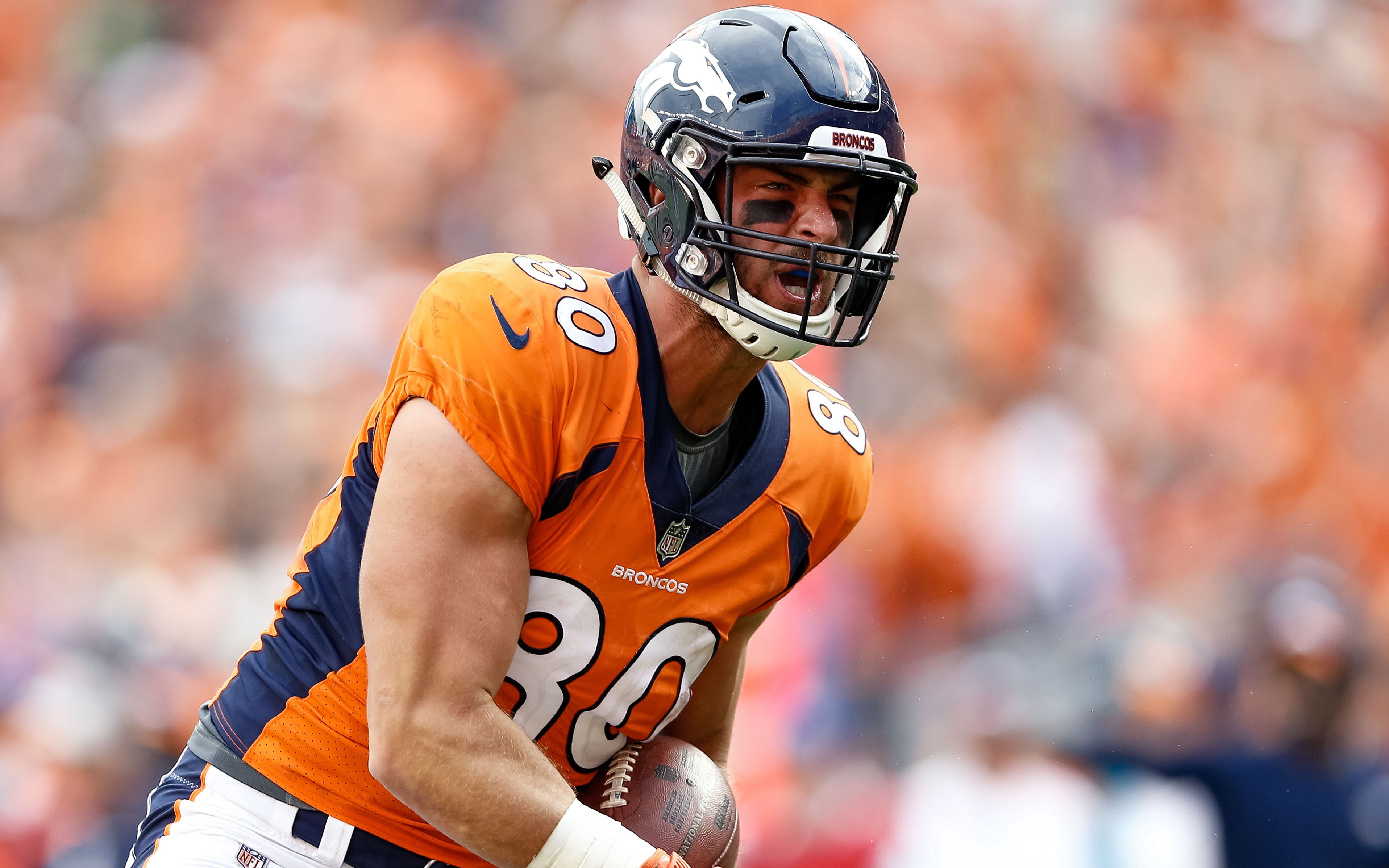 Following the 2017 NFL Draft, the Broncos' fifth-round selection of tight end Jake Butt was viewed as one of the biggest steals of the draft. Now, whether or not Butt will even be on the team just three years into his career is up in the air.
Butt was widely viewed as a top second round prospect as the college regular season wrapped up. That all changed though when he tore his ACL in a 33-32 loss at the hands of Florida State in the Orange Bowl. It was his second torn ACL in just three years. Butt's stock plummeted as he wouldn't be able to play his rookie season, but the Broncos–in desperate need for tight end help–rolled the dice on the Wolverine tight end.
After spending his rookie season on the sidelines, Butt was ready to steal a spot atop the tight end depth chart and showed promise. Through three games, Butt had eight receptions on 13 targets for 85 yards. But a torn ACL following Week 3's matchup with the Ravens would sideline him for the rest of the season, his third in a little over four years.
The only player to ever come back from three ACL tears is newly-acquired Charger, Thomas Davis, who suffered three in three years. Davis not only came back from the devastating injury three times over, but he came back better than ever.
Before his first ACL tear, Davis played in 69 games, in which he recorded 388 tackles, 11 sacks, eight forced fumbles, and three interceptions. In the seven seasons since his third ACL tear, Davis has racked up 711 tackles, 17 sacks, 10 forced fumbles, 10 interceptions, and was named a first-team All-Pro in 2015.
While Davis' case should provide some hope for Broncos fans, it should be noted that he's the extreme outlier. Butt fell three rounds because teams knew it was fairly unlikely that anyone would return to their pre-injury form after two tears, but now after three tears, the odds of him making a full recovery are even longer.
Up until the draft, it seemed likely that Butt would have a roster spot in 2019, as the Broncos still desperately needed a tight end. However, following the top-20 selection of tight end Noah Fant, Butt's roster spot has become far less secure.
Butt will now not only have to compete with the newly re-signed Jeff Heuerman for reps but the clear future of the position for the Broncos in Noah Fant as well, both of which are nearly guaranteed to have a roster spot in 2019.
Most teams only carry three tight ends, and while Butt should be considered the frontrunner for that third spot, he should receive some stiff competition.
Troy Fumagalli was the rare member of the 2018 draft class that didn't make a large contribution to the team his rookie season, but don't write him off yet. The former fifth-round pick was a stud at Wisconsin and was named both an All-American and the best tight end in the Big 10 his last year with the Badgers.
Fumagalli is also a much more polished blocker than Butt, as he was widely viewed as one of the top blocking tight ends in his entire draft class. While Butt is the better receiver of the two, it should be noted that the Broncos don't really need another receiving tight end.
In new offensive coordinator Rich Scangarello's offense, the tight end's ability to make plays in the passing game is just as important as his ability to block and clear lanes in the running game. While both Heuerman and Fant are willing blockers, no one will be mistaking them for an inline tight end any time soon. It would make sense for the Broncos to keep a blocking tight end on the roster to make up for the lack of protection coming from their top two tight ends.
The odds are stacked against Jake Butt. Will he be the second professional athlete in the history of American sports to return from a third ACL tear, or will he one of Denver's more notable cuts and another name on the list of missed picks from their 2017 draft?