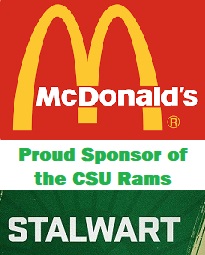 In the Colorado State Rams 41-20 win over Utah Tech on Ag Day, quarterback Brayden Fowler-Nicolosi balled out. He went off against the Trailblazers, throwing for a school-record 462 yards with four touchdowns. He even rushed for another score, and was a major reason why the Rams won with ease.
Fowler-Nicolosi played so well, he was named Mountain West Conference's Freshman of the Week.
Brayden Fowler-Nicolosi threw for a career-best 462 yards and four touchdowns in CSU's 41-20 win over Utah Tech 😤

His 462 passing yards were the third-most in a game in Colorado State history and a freshman program record 👏#AtThePEAK | #MWFB | #Stalwart pic.twitter.com/3HhAYDauzZ

— Mountain West (@MountainWest) October 2, 2023
He also was Honorable Mention by the Earl Campbell Award.
Week 5 Honorable Mention: @CSUFootball QB Brayden Fowler-Nicolosi (Aledo HS, TX) #RamGrit pic.twitter.com/yaqy1nOf2r

— Earl Campbell Award (@CampbellAward) October 3, 2023
Breaking down Fowler-Nicolosi's success
Rams fans will remember that Clay Millen was the team's starting quarterback in 2022 and to start the season, too. Millen suffered after a huge hit against Washington State, was pulled, and subsequently benched by Jay Norvell.
The last three games, Fowler-Nicolosi has been stellar, helping the Rams to a 2-1 record as the team's starter.
In his first start of the season against the vaunted CU Buffs, he went 34-47 for 367 yards, 3 touchdowns, 3 interceptions. Of course, the last pick was the nail in the coffin for CSU as it came in double overtime and in the end zone. There's still room for growth from the redshirt freshman, but more on that in a bit.
At Middle Tennessee State, BF-N completed 30 of 43 passes for 321 yards with 2 touchdowns and 1 INT. After starting slow, Fowler-Nicolosi stepped it up in the second half and CSU scored 21 unanswered to win their first game of the year.
Last week, though, was his best yet.
He went 26-32 for 462 yards with 4 TDs, 2 INTs and ran a score in, too. Those 462 yards were the third-most in a single game in Colorado State history and it was the most for a freshman in school history.
Fowler-Nicolosi's QBR is 24th in the nation
Only three games into the season, and it's clear Jay Norvell made the right choice in playing BF-N over Millen.
Currently, he's completing 72.5% of his passes—which is actually better than Millen's amazing 72.2% last year—for 1,360 yards with 11 touchdowns and 7 interceptions. His passer rating is 168.7, while his QBR is 77.0, each which rank 24th in the nation.
Brayden Fowler-Nicolosi is currently 24th in the nation in QBR. He's way ahead of Shedeur Sanders (36th), too. #CSURams #RamGrit #CUBuffs pic.twitter.com/rLBQAXHe3K

— Rich (midnight blue 🌠and sunshine yellow ☀️) (@RichKurtzman) October 3, 2023
As you can see, it's even better than Shedeur Sanders. QBR is ESPN's own stat which accounts for not only completion percentage, but it also factors in how a player performs depending on the score of the game, location on the field and more. It's like passer rating but brings in many other key elements to rate how well as QB is playing.
On top of all that, Fowler-Nicolosi is 25th in yards and 21st in average yards per play (9.6).
Last season, the Rams were arguably the worst offense in the nation at 12.3 points per game (129th). This year, they're putting 2.5 times the points on the board on average (32.3, 48th). And the new quarterback is a huge reason why.
Of course, he's benefitted by not only better blocking this year, but also the standout performances of Tory Horton, Dallin Holker, and Louis Brown, among others.
Horton went wild in that Utah Tech game, with 10 receptions for 227 yards and 3 touchdowns. He's on pace for 1,620 yards and 18 touchdowns which would be second-most and most in a single-season at CSU (Rashard Higgins, 2014).
Holker will tie the Rams single-season record for touchdowns by a tight end with his next score. He has 5 TDs with 26 receptions for 362 yards. If he stays on his current pace, Holker will enjoy the second-most yards in a season for a Rams tight end (Trey McBride, 2021).
Brown went over the century mark against CU—along with Horton and Holker, the first time three players did so in a game at CSU—but has been quiet since. Sophomore Justus Ross-Simmons deserves a shoutout for his catch-and-run abilities, too.
Next up for Colorado State (2-2) is the kickoff to Mountain West Conference play at Utah State (2-3). Kickoff is scheduled for 6 p.m. MT this Saturday, Oct. 7.