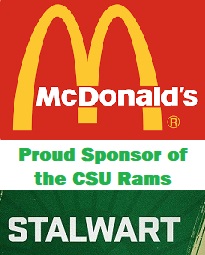 In an up-and-down game for the Rams, Tory Horton helped elevate Colorado State to a 41-20 victory.
On their annual Ag Day, in which CSU looks to schedule a should-be win, the Rams had to push to separate themselves from the Trailblazers at Canvas Stadium. Through two lightning delays and halftime, the Rams led by only four points, at 21-17. But the second half was all CSU; the pumpkin and alfalfa scored 20 points after the break in a variety of ways. But Horton's third touchdown of the day was the nail-in-the-coffin score.
Let's look at who's stock soared and whose fell after the win.
Stock Up
Tory Horton
Horton reasserted himself as the true superstar of the team. Dallin Holker was making a push as the team's best receiver, with back-to-back 100-yard games against CU and Middle Tennessee State, but Horton showed he is the real deal.
The senior receiver started off the day with a 21-yard touchdown reception score from Brayden Fowler-Nicolosi. He followed it up with a 76-yard catch-and-run score on the team's next drive. That massive touchdown pushed the Rams ahead 14-0 and seemed to be a tone-setter, although the Trailblazers wouldn't be deterred.
He continued to catch passes all day long, pushing his total to 10 for 227 yards and a third touchdown late in the fourth quarter the sealed the win. His game was so great, Horton was in striking distance for the most yards in a game by a Rams receiver (265, Olabisi Johnson, 2016).
His six touchdowns on the year tie his career-high, so he'll easily go over that, and he's on pace for 1,620 yards, which would surpass his previous high by nearly 500 yards. And his 540 yards on the year put Horton in 7th among receivers this season.
Dallin Holker
Holker has been on fire ever since BFN took over at quarterback in Week 2. He came up only six yards short from a third-straight 100-yard receiving game, with 4 catches for 94 yards and touchdown.
That touchdown was spectacular. Holker caught the ball and weaved in and out of defenders on his way to the end zone. It was a 42-yard catch-and-run to the painted area.
😳 @D_HOLKER doing @D_HOLKER things! 🔥 pic.twitter.com/LoXy1vAzZV

— Colorado State Football (@CSUFootball) October 1, 2023
That was his fifth score of the year, meaning one more will tie the CSU team record for tight end scores in a year (6). Just like Horton, Holker will be playing on Sundays in the NFL soon.
Mohamed Kamara
Well, why not highlight the Rams three biggest stars? Kamara, too, enjoyed a great game. The nation's leader in sacks per game put another 1.5 sacks on the board in the win over Utah Tech. He also had 3 tackles for a loss.
That gives Kamara 6.5 sacks on the season, and in only 3.5 games. Unfortunately for him, Jonah Elliss of Utah got 2.5 sacks in his game, so he holds onto the lead for most sacks in the country (7.5-6.5). But still, Kamara is in second and on pace to set a new CSU single-season record for sacks (16, Brady Smith, 1995).
Stock Down
Brayden Fowler-Nicolosi
The redshirt freshman quarterback played a good game, but definitely not a great one.
Yes, he enjoyed 462 passing yards and four touchdowns, but he also turned the ball over three times. Two of them were interceptions and he also fumbled the ball once. The fumble and first interception led to 10 points for the Trailblazers and kept Utah Tech in the game in the first half.
This was one of those rare games in which the winning team was actually a -2 in turnover differential, and if the Rams were playing a better team they may have ended up losing.
Fowler-Nicolosi needs to find a way to not turn the ball over as much, especially like the late pick within the Trailblazer's 5-yard line.
Louis Brown
Brown did a few things in the kickoff return game—totaling 57 yards on two returns—but he was a basic no-show in the receiving game.
Brown was one of three players to go over the century mark against CU—Holker and Horton were the others—but he had zero receptions in this game and only 1 for 15 yards against MTSU.
The good news is the rest of the Rams receivers went off, including transfer Dylan Goffney and Justus Ross-Simmons. But, it would be great if Brown got it going again.
Rams running defense
Colorado State was out-rushed 164-112 by Utah Tech. Not only that, the Trailblazers ran for an average of 4.7 yards per carry, which is just too much for CSU to give up.
On the year, they've allowed 118.8 yards per game and a 3.4 YPC average.
Next up for Colorado State (2-2) is the kickoff to Mountain West play. They face Utah State (2-3, 0-1 MWC) on the road next Saturday with a 6 p.m. MT kickoff.