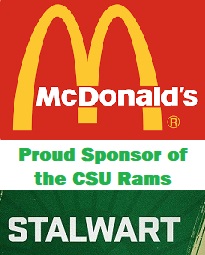 Colorado State football may have had a somewhat rough start to their season, sitting at 1-2, but stars like Mohamed Kamara and Dallin Holker are reasons for optimism.
In Week 1, CSU tried to find ways to get the offense going and failed. But when head coach Jay Norvell had the guts to change from Clay Millen to Brayden Fowler-Nicolosi, the Rams offense took off. Tory Horton has been solid, but the team's best receiver has actually been the tight end, Holker. They've averaged 33 points per game the last two weeks, narrowly losing to CU in double overtime before beating Middle Tennessee State 31-23 last week.
And both Kamara and Holker were huge in each of those contests.
Currently, Kamara leads in sacks per game while Holker is in a tie for most receiving yards for a tight end this year.
Mohamed Kamara, sack machine
Kamara is the kind of pass-rushing monster the Colorado State Rams have lacked for many years. In fact, he's the most dominant sack man since Shaquil Barrett graced the CSU sidelines a decade ago. Barrett recorded 12.0 sacks in 2013.
And this year, Kamara is on pace to surpass Shaq Barrett with ease.
2.5 games into the season, Kamara has five sacks, which is the highest sack per game average in the nation.
A stat correction – which isn't reflecting on national sites yet – from Saturday gave @CSUFootball's Mohamed Kamara 2.0 sacks vs. MTSU, moving him to 5.0 on the season.

That's 1.6 per game, good for the top spot nationally. pic.twitter.com/wBYXmzI1PD

— Colorado State Stats and Info (@CSUStatsInfo) September 26, 2023
In Week 1, he had one sack against Washington State. Then in the Rocky Mountain Showdown, he was such a menace that Shedeur Sanders tried to poke his eye out. Kamara finished that classic contest with two sacks but was also ejected for targeting when his helmet struck Sanders on a sack.
So, that meant sitting out the first half of the Middle Tennessee game. Kamara wasn't deterred; he still racked up two more sacks in that second half and also had a scoop-and-score touchdown.
We like trick plays… 😆 pic.twitter.com/btUR26Udio

— Colorado State Football (@CSUFootball) September 24, 2023
Three weeks into the season for the Rams and Kamara is 2nd in the nation in total sacks with 5.0. Only Jonah Eliss of Utah (5.5) has more, but in four games. The Rams star pass rusher also has 2 forced fumbles, which is tied for the lead in the nation among the leading sack men, too.
Kamara is on pace for 20.0 sacks this season, which would easily be a new single-season record for Colorado State. Brady Smith totaled 16.0 sacks in the 1995 season, which is currently the all-time mark at the school.
Dallin Holker, nation-leading tight end
While Kamara has been holding down the defense, Holker has been a stud for the offense.
The transfer tight end from BYU is currently tied for the lead in receiving yards for a tight end with 268. He's tied with Ja'Tavion Sanders of Texas in terms of yards, but Holker's also scored four touchdowns. Those four scores are also tied for a lead among tight ends, with three others—Jack Westover (Washington), Tyler Warren (Penn State), and Holden Staes (Notre Dame).
Simply, Holker is the best tight end in the country right now.
He was one of three Rams to enjoy a 100-yard receiving day against CU—Tory Horton and Louis Brown were the others. It was the first time in Colorado State history three players went over the century mark in the same game.
And Holker followed that up with a second straight 100-yard day last week; he had 11 receptions for 112 yards and 1 touchdown at Middle Tennessee. That means he's averaging 110.5 yards per game with Fowler-Nicolosi as his quarterback.
If Holker stays on this current pace, he'll finish with 1,072 yards and 16 touchdowns. Only Trey McBride's 2021 season included more receiving yards for a CSU tight end (1,121). And the most TD receptions in a year at CSU was 6 (Cory Sperry, Kivon Cartwright).
Holker's been spectacular in the middle of the field and on crossing routes, too. He's been a huge reason why the Rams air raid offense is finally soaring high this year, averaging 30 points per game so far.
Also, a shoutout is due to Horton, who's 313 receiving yards are currently 40th-best among receivers in the nation. He's also on pace to set new, personal career-highs for a single season (1,252 yards, 12 touchdowns).
No doubt about it, all three of Kamara, Holker and Horton will be playing on Sundays as Next Level Rams.
This Saturday is Ag Day for Colorado State, a special gameday. Not only do the Rams host Utah Tech (5 p.m. MT), but the Ag Day BBQ is back, too. Fans can find tickets to both events for as little as $40 and get more details here.