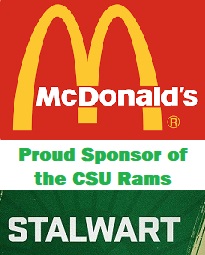 Can an underdog team like the CSU Rams be both hyped and disciplined in the same game?
The answer, it seems, is no.
For years, the Colorado State Rams have been a listless team. They'd get down to better teams and roll over. They'd quit.
They were anything but lifeless on Saturday night, in Boulder, with the eyes of the nation watching and waiting for Deion Sanders' CU Buffs to blow them out.
Coach Prime and the Buffaloes are the hottest thing in college football right now. And deservedly so.
Prime's a superstar. His brand is bigger than the whole of the CU program. And he's created something incredibly special, with his sons playing quarterback and safety, two of the stars of the team.
Meanwhile, no one was talking about Colorado State—the team looked at as a speed bump on the fast track to possible championships this year—until Jay Norvell made a comment about Coach Prime's hat and sunglasses wearing during interviews.
Well, while those comments "made it personal" for Prime and Co., Norvell's Rams were undoubtedly pumped up as well.
The line between being hyped and undisciplined blurred by CSU
Let's be honest, the Rams were a complete and total afterthought. Not just in the eyes of football observers across the country—and all of Prime's celebrity friends in attendance—but in the eyes of Colorado, too.
When asked about the 130-year old Rocky Mountain Showdown, Coach Prime admitted he still has to study up more on the rivalry games.
And Colorado State took that personally.
Just before his hat and sunglasses comment, Norvell said this during his weekly coach's show in the leadup to the Showdown, "We had to do a bunch of ESPN videos and that's great, I love them," Norvell said. "But our kids came out of those videos really with a chip on their shoulder. They're tired of all that stuff. They really are tired of it."
Whether it was all the one-sided hype of Sanders and Colorado or not, whatever Norvell said to his team worked.
Colorado State was like a ram possessed—they hit hard, and sometimes even with their horns.
But the Rams didn't just play a hyped-up game, they pushed past the point of pumped to undisciplined and downright dirty. And, simply, that's on Norvell and his coaching staff.
Henry Blackburn's hit on Travis Hunter was not only late—as the ball already floated over the receiver and bounced on the ground—but it was the definition of unsportsmanlike.
Speaking of unsportsmanlike, Shedeur Sanders tried to gouge Mohamed Kamara's eyes, and wasn't called.
Dirty stuff from Shedeur Sanders. Clearly tried to poke Kamara in the eyes.
pic.twitter.com/jObKGrvWvz

— Justin Michael (@JustinTMichael) September 17, 2023
It wasn't just Colorado State who lost their cool. But, it was overwhelmingly the CSU Rams who played undisciplined football.
To wit, they were called for an incredible 17 penalties for 182 yards (10 for 87 yards for CU).
Besides knocking Hunter out of the game with a rib injury, Kamara knocked himself out of the contest when he was called for a targeting penalty, hitting Shedeur Sanders in the head while sacking him. Kamara was an absolute pass rushing beast all night long, racking up two sacks and pressuring Sanders the entire game. The Rams lost their best pass rusher when he did that; it was undisciplined and hurt the team.
Norvell and his staff needed to reign the Rams in a bit. Or, is is too much to ask a team to be emotionally charged while also being smart?
Norvell and CSU Rams should have gone for 2-point conversion in OT
The second mistake from the Rams coaching staff was getting conservative in overtime.
Novell's air raid offense finally got off the ground against Colorado. In fact, the 21 points put up on CU in the first half was the most against an AP-ranked team since 2008 and BYU. And it was more points than Norvell's Rams put on the board in a full game the entire 2022 season.
Last night, Colorado State out-gained the explosive Buffs offense in yards 499-418; that's a tremendous feat considering the quarterback Sanders and the many other playmakers CU has on offense.
And CSU's first score came on some trickeration; a throwback from Brayden Fowler-Nicolosi to Tory Horton turned into a Horton passing touchdown to Dallin Holker.
It was innovative and it worked. From there, CSU's offense featured lots of short and intermediate routes, many of them crossing routes, and they worked great.
But when the game got down to the deciding moments, Norvell's play calling was too conservative.
After leading 21-14 at halftime and then 28-20 in the fourth quarter, the Buffs came all the way back. Sanders led his team 98 yards in less than two minutes to tie the game up. It was legendary, like John Elway's "The Drive."
Then, in overtime, the Buffaloes scored first. Colorado State answered; a Tory Horton touchdown reception. And then Norvell decided to kick the extra point and extend the game.
Instead, he should have gone for the 2-point conversion and the win.
Colorado State had all the momentum in the first half. They even had it late in the 4th quarter. Look at the win probability graph from ESPN. CSU had a 98.8% chance of winning with 50 seconds to play.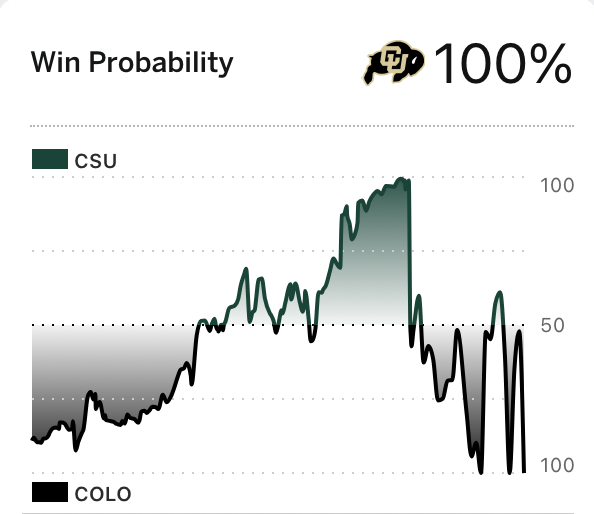 Then, it swung wildly in CU's favor. When Colorado State scored their answer touchdown in overtime, the Rams had a slight advantage in win probability. That was time to go big or go home.
Former NFL lineman Geoff Schwartz, among others, agrees:
Catching up on the end of the CU/CSU game.
Colorado State should have absolutely gone for two after they scored in overtime. They had gashed CU all night on crossing routes. Could have called their one play they've saved for this situation also.

— Geoff Schwartz (@geoffschwartz) September 17, 2023
After tying it up at 35, the Rams gave up another touchdown to the Buffs, who then elected to go for the 2-pointer. CSU never answered, partially due to another personal foul penalty, but would have had to go for two, too.
Both teams were exhausted by the time they got to overtime. On the road, against the No. 18 team in the nation, Norvell should've gone for the win.
Ultimately, there was a lot of good in this game for Colorado State.
Fowler-Nicolosi enjoyed a great game besides his three interceptions. He can clean those up. Kamara and the defensive line were great against the elusive Sanders, but they need to commit less penalties. And if he has a chance to beat a better team on the road, Norvell has a chance to go for the win next time.