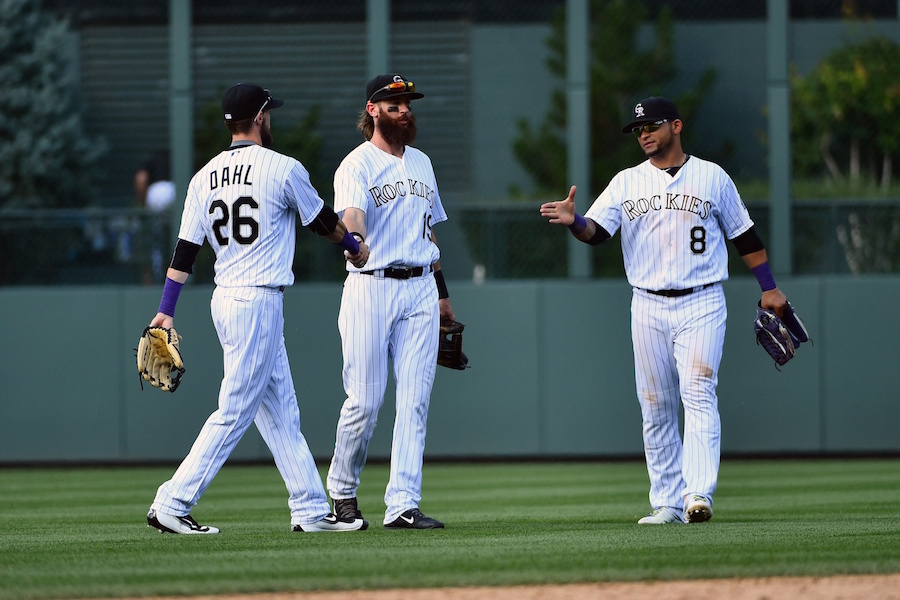 Colorado Rockies manager Bud Black doesn't have much use for social media in his job, but if we were to categorize his outfield situation it would be easy to say, "It's complicated." But that's not necessarily a bad thing.
With less than a month remaining before players report to Spring Training, the makeup of the Rockies' outfield for 2018 remains in a state of mild flux. Black has three proven major league talents, along with several young prospects ready to take the next step. But he also has a hole at first base that he may need to fill with one of those proven talents. What Black does at first base will likely play a big role in how the outfield takes shape for a very important 2018 season.
The Veterans
It's a certainty that, barring injury, reigning N.L. batting champ and two-time All-Star Charlie Blackmon will patrol center field. After that, things are more complicated.
Gerardo Parra produced one of the better statistical seasons of his career in 2017. Parra batted over .300 (.309) for the second time in his career, while driving in a career-high 71 runs. Defensively Parra was deployed primarily in left field, but he did play some right field and even a little first base. Parra has a Gold Glove in both left field (2011) and right field (2013), so Black should feel more than confident playing Parra at either corner outfield position.
Gone (and still available in free agency) is longtime Rockies right fielder Carlos Gonzalez. His contract expired at the end of 2017 and the Rockies have allowed the three-time All-Star and Gold Glove winner and 2010 batting champ to test free agency. So far there have been no takers. Gonzalez spent the majority of his career in Denver and became a fan favorite and clubhouse leader. A return to Colorado isn't out of the question, but several factors will play into whether or not he's needed.
Chief among those factors is how Black intends to use last year's big free-agent signing, Ian Desmond.
Colorado signed Desmond last offseason on a five-year, $70-million deal with the idea of converting him to first base. Desmond logged meaningful big-league innings at shortstop and all three outfield positions, earning two All-Star nods, before his arrival in Denver. A broken hand in Spring Training derailed the effort to move him to first base and general manager Jeff Bridich had to fall back on Mark Reynolds. When Reynolds burst out of the gate with a blazing start to 2017, Black had no choice but to consider other options for Desmond once he returned to the lineup. Desmond played 27 games (22 starts) in left field in 2017, and he could return there in 2018. But it sounds like Black still hasn't given up on the idea of Desmond playing first base.
In fact, Desmond's name was the first off Black's tongue last week when the skipper was asked about the situation at first base.
"You look at last year," Black said on Saturday ahead of the final stop in the annual Rockies Caravan, "we had Ian Desmond projected to possibly play first base. He went to spring training as our first baseman, right? Then, you know, we signed Mark and then things happened like they do. Mark emerged because Ian broke his hand, but, you know, at first base Ian is there."
Desmond is there because Reynolds, like Gonzalez, is a free agent without a home. Colorado singed the veteran on a minor league deal in 2017, and Reynolds more than delivered on that contract with a .267 batting average, 30 home runs and 97 RBI, not to mention sterling play at first base. The 34-year-old Reynolds played well enough to earn a multi-year deal somewhere, although he remains unsigned as of publication.
So, with Reynolds possibly out of the picture and Desmond still being top-of-mind at first base, that leaves one starting outfield spot potentially up for grabs.
Fans would no doubt like to see Gonzalez back, but the Rockies are also anxious to see if David Dahl is fully healthy and ready to step into a full-time role at the major league level.
The Prospects
Dahl sparked Denver's curiosity with a fiery debut in 2016. In 63 games, the then-22-year-old hit .315 and slugged 23 extra-base hits in 222 at-bats with the big-league club. He opened his career with a 17-game hitting streak, tying Chuck Aleno (Cincinnati, 1941) for a MLB record. Dahl's numbers in the minors were just as impressive, hitting .307 and compiling 802 total bases for seven different teams. The 10th overall pick in 2012, Colorado would love to find a permanent place in the majors for the left-handed hitting Dahl.
Complicating Dahl's place on the big-league club is a complicated injury history that has caused him to miss significant time in three of his six professional seasons.
Dahl missed all of 2017, starting with a rib injury suffered in Spring Training. That compounded into a back injury in July and the Rockies shut down Dahl for the remainder of the year. In 2015, Dahl missed most of his season with the New Britain Rock Cats (Class AA) after colliding with a teammate and suffering a lacerated spleen. He played in just 10 games in 2013 with the Asheville Tourists (Class A) before a torn hamstring ended his season.
If you were following the pattern, 2018 should be a healthy year for Dahl. (We'll hold our collective breath in 2019.) He's progressing nicely in his rehab, and Black expects him to be ready to go come Spring Training.
"[Dahl] is in Arizona," Black said. "He is progressing real good as far as his health. He's at the complex, as are a number of players, but he's taken some swings at a pretty high intensity. It's not full batting practice I mean that's common (how many stages) we are still a month away from position players but he's in the cage he's swinging he's running he's throwing he's lifting weights there is a process to the amount of weight he's lifting but he's building right now there are no concerns."
That's big news for the organization, who would love to see their top-10 pick contribute significantly here in his seventh pro season.
Dahl recently posted a video to Twitter that proves he's getting back into form. Now it's a matter of getting back up to major-leage game speed after a year off.
"He didn't play much last year," Black continued, "So, I think he's got to reestablish himself. It's hard to basically not play then just jump in there and produce. But he's capable, I mean he's got a lot of tools."
Those tools Black referenced are probably most similar to Charlie Blackmon. Although Dahl is a right-handed thrower, he hits with power from the left side and could be a longterm replacement for Blackmon's bat in the lineup. Blackmon becomes a free agent next year, and the Rockies will have a tough choice in retaining his services along with D.J. LeMahieu or trying to keep Nolan Arenado, who hits free agency in 2019 and will command hundreds of millions of dollars. Dahl, if healthy, could not only play a significant role in 2018 — in either left or right field opposite Parra — but also in 2019 and beyond should the Rockies let Blackmon move on in free agency.
Speedster Raimel Tapia is also in the mix.
"I think he matured," Black said of Tapia's 2017. "He bounced up and down last year a lot. Overall, [he] showed some big league skills. He's got a skill set that plays in the big leagues with his speed and his bat-to-ball skill. He can run a ball down, steal a base. He's an exciting player."
The left-handed Tapia, who turns 24 on Feb. 4, saw action in 70 games for the Rockies last year and offers an intriguing speed element that has been lacking for Colorado in recent years. Tapia recorded only five stolen bases in seven attempts at the big-league level, but he has 132 in 637 minor-league games. He also has 38 triples on his résumé, and the expansive outfield at Coors Field could see those numbers climb.
Also knocking at the door is Mike Tauchman, another player who profiles much like Blackmon (as a left/left centerfielder). Tauchman has just 27 MLB at-bats to his credit, but the Rockies think so highly of him that he's no longer listed among their top 30 prospects — effectively moving him into the same category as Dahl and Tapia, as major-league ready.
It's Complicated – And That's Okay
With only 25 Opening Day roster spots available, Black won't be able to carry Blackmon, Parra, Desmond, Dahl, Tapia and Tauchman all as outfielders. Even if Desmond is at first base, Black will likely carry only four outfielders as he did to start 2017. That will leave one of those budding major leaguers, Dahl, Tapia and Tauchman, out of the picture. Another one will be pushed out should Reynolds return (or another option emerge at first base) and push Desmond back to a primarily outfield role.
All of that makes it harder for Gonzalez to return, even on a small-money deal, but the loss of his clubhouse leadership and his 10 years of MLB knowledge has to make the front-office brass at 20th and Blake think long and hard. Gonzalez struggled through much of 2017, but came on when it mattered most to help seal a playoff berth. He's still only 32 years old.
Is his experience and leadership worth more than the upside Dahl, Tapia and Tauchman present and the major league experience they would gain? It's a debate that will gain intensity every day that Gonzalez remains unsigned elsewhere.
Is Dahl going to return healthy and major-league ready? Will Desmond officially make the move to first base? The questions are piling up as the days are counting down to the start of Spring Training.
Colorado has big expectations in 2018, with players and coaches alike not shying away from saying a World Series berth is their goal. With so many talented outfielders at their disposal, Bud Black and the front office can be patient and selective before deciding which four outfielders open the season on the big-league roster. It's complicated, and that's actually a good thing.