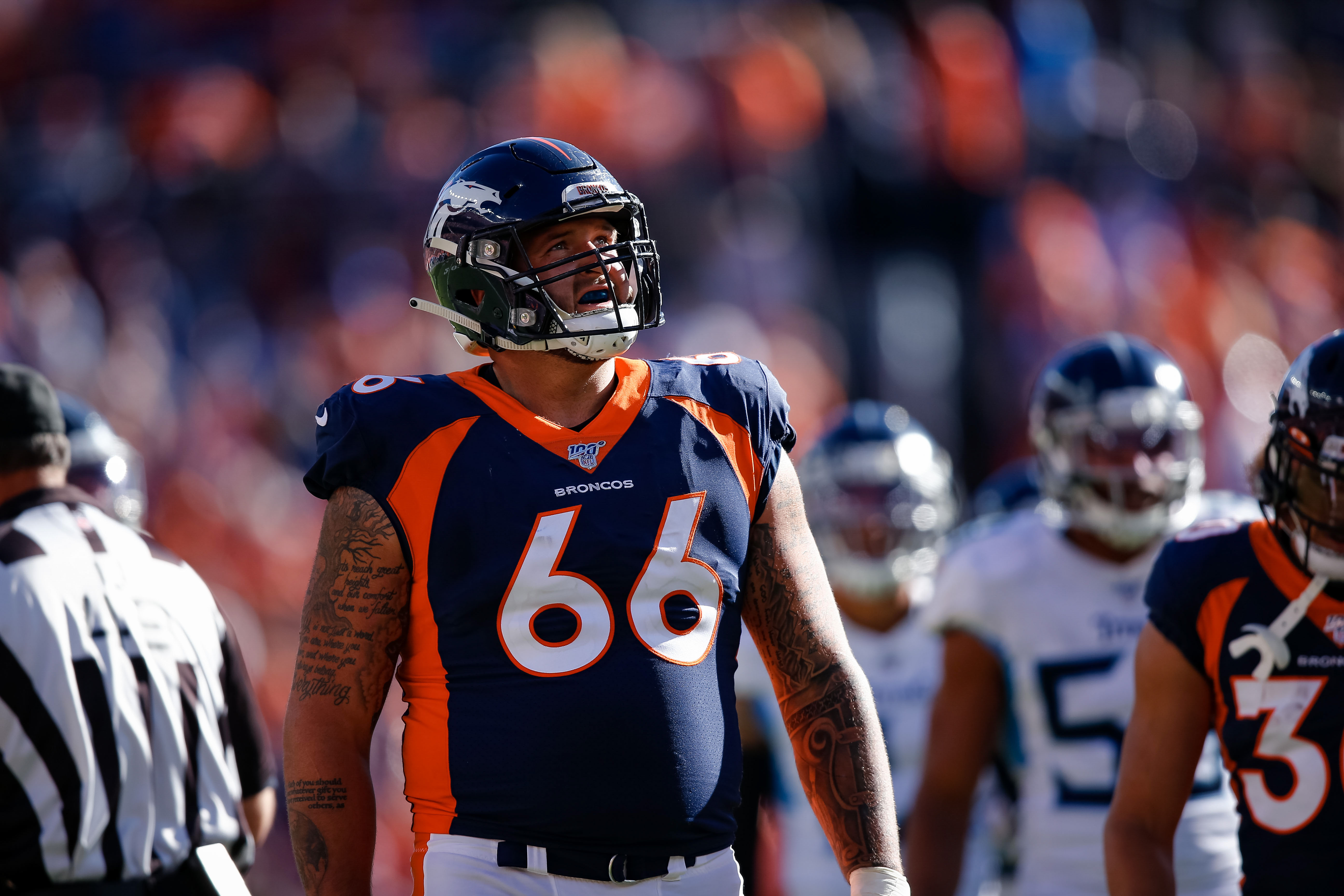 The Denver Broncos have the makings of a stellar offensive line. And certainly, left guard Dalton Risner is a big key to the team's success.
In his third year, Risner is poised to enter the league's elite at his position. Pro Football Focus has caught on and identified the youngster as one of their five linemen to break out across the league.
The assumption was made that the 25-year-old could have made the jump to Pro Bowl level play in 2020 after a phenomenal rookie season. However, Risner was unable to position himself into the same conversation with Quinton Nelsons of the world.
A lot of talk about the Broncos focuses on the quarterback battle, the upside of the wide receiver room, or the potential greatness of the secondary. For this team to win in 2021, though, the offensive line must enter the upper third of the league. For that to happen, Risner must leap the game's elite. Here is why that will happen this season.
Tenacity is what separates Broncos' Risner from the rest
Most linemen in the NFL have only adequate attributes and one does not make it to the NFL without being a physical specimen.
However, the piece of the puzzle the homegrown talent has is his tenacity. Risner plays each day as though he won't get another opportunity.
The desire he displays on each rep is rare in the NFL. Most players turn it down or ramp it up as needed. Not No. 66. Risner has zero quits and his desire to be great is what will propel him towards the elite players at his position this season.
Dalton Risner literally threw Phillip Lindsay into the end zone 😱 @I_CU_boy pic.twitter.com/qFrAQaliAk

— The Checkdown (@thecheckdown) September 26, 2019
Broncos' Risner shows good elite traits to bully opponents in the run game
Though there is an argument to be made Risner is a quality road grader, this is the area he can improve the most.
Per PFF, the Broncos guard is ranked 27th among all guards in their Wins Above Replacement metric, while his PFF run grade of 63.2 ranks him as the 24th-best run blocker among 42 qualifyings left guards in the NFL.
Not all guards are created the same. But there are traits to look for when evaluating NFL guards, with each having its own strengths and weaknesses. However, the game's elite has a solid mixture of awareness, strength, footwork, pad level/leverage, and consistency.
As defenses evolve, linemen must be more aware of the entire field than ever before.
Today's modern guard has to be able to deal with stunts, twists, and blitzing defenders rather than just the guy who starts in front of them.
Luckily for the Broncos, the Wiggins, Colorado native shows awareness in spades. Even as a rookie, Risner showed a keen eye for what is happening around him. In this play, Risner shows elite awareness to look backside on a running play to seal the backside for the running back.
It's good to have a pulling guard that looks back inside once getting through the hole to seal it off. LG Dalton Risner had himself a heck of a game. #broncos pic.twitter.com/qvBcPlSp1d

— Broncos Country (@ApolloTheVictor) August 10, 2019
Furthermore, per Sports Info Solutions (SIS), the heady lineman has zero penalties in the run game in 752 opportunities. Additionally, SIS identified that Risner only missed 13 assignments in two seasons or 1.7% of his reps.
The Broncos' guard's headiness allows him to play fast and get to where he needs to be. This leads to highlight Risner's immense physical talent. Risner's strength is outstanding whether he meets a defender in the hole, in the second level, or on the move. The Cowboy from Wiggins is simply a bully (on the field). His strength is visible in the run game. Once he gets his hands on you, the rep is over for you.
One bright spot for the @Broncos: rookie LG Dalton Risner (@Dalton_Risner66). 😤 pic.twitter.com/6BZxfaWQjx

— Jim Nagy (@JimNagy_SB) September 10, 2019
Regardless of the blocking scheme, guards must have good footwork, quick feet, and balance. The elite guards can get into the right position whether they move laterally or in a straight line, and tight spaces.
The ability to pull is a Mike Munchak staple and it is essential in this offense. This is where Risner shines. He shows the ability to get into position and move defenders backward.
Three big blocks on Phillip Lindsay's 30-yard TD. Watch Dalton Risner, Andy Janovich and Diontae Spencer … pic.twitter.com/yoIVKYuxsk

— Nicki Jhabvala (@NickiJhabvala) November 4, 2019
Watch for the heart and soul of the offensive line to take a massive step forward in the running game this year.
Risner excels in pass protection
As of now, Risner checks in as an adequate run blocker, but he is a phenomenal pass protector. His ability to stifle 300-pound defensive tackles who want to demolish his quarterback is simply outstanding. He does so with wonderful play strength, leverage, and acute awareness.
When evaluating guards, you look for how they anchor one on one and if they are patient when uncovered. Meaning, do they sit back if there is no one to block and anticipate danger? Elite guards use their awareness to jump to late pressure instead of just doubling down because a defender is not immediately in front of them.
Here is a prime example of Risner utilizing all three aspects of strength, quickness/footwork, and awareness in making pass protection look easy.
#TeachtapeTuesday via Broncos LG Dalton Risner using processing, quickness and play strength to pass off & pick up a stunt pic.twitter.com/ocQNHbk8oS

— The Scouting Academy (@TheScoutAcademy) August 25, 2020
The former Kansas State product has some room to grow in the art of pass protection, but not much. The left guard has graded in the "82nd percentile of all guards in pass-blocking grade on true pass sets," per PFF.
In 2020, Risner was called for zero penalties and only relinquished one sack.
SIS graded out Risner well, but the data also shows he has room for improvement. Though the percentages are small, Risner had 4 more blown assignments (17-13) in the passing game last season than his rookie campaign. A more competent offense around him and continuity should help clean that up.
Conclusion
Risner has everything you're looking for in an offensive lineman. The former college standout played all over the line. He has versatility and then Risner had the athleticism and intelligence to play tackle, guard, and center in his college career.
Entering the professional game Risner stood out from day one, but a small dip inconsistency in year two prevented his jump into the elite category.
This year, that leap will occur. The Wiggins Cowboy is just too good for it not to happen.
His familiarity with Garett Bolles on his left, and another season with Lloyd Cushenberry III to his right should continue to help him become more consistent as a pass blocker.
If Risner's consistency in the run game matches his skill set, there will be a third-year jump for Risner. With another year at left guard and more tutelage of the game's best offensive line coaches in Mike Munchak, Risner will be a Pro Bowl player in 2021.