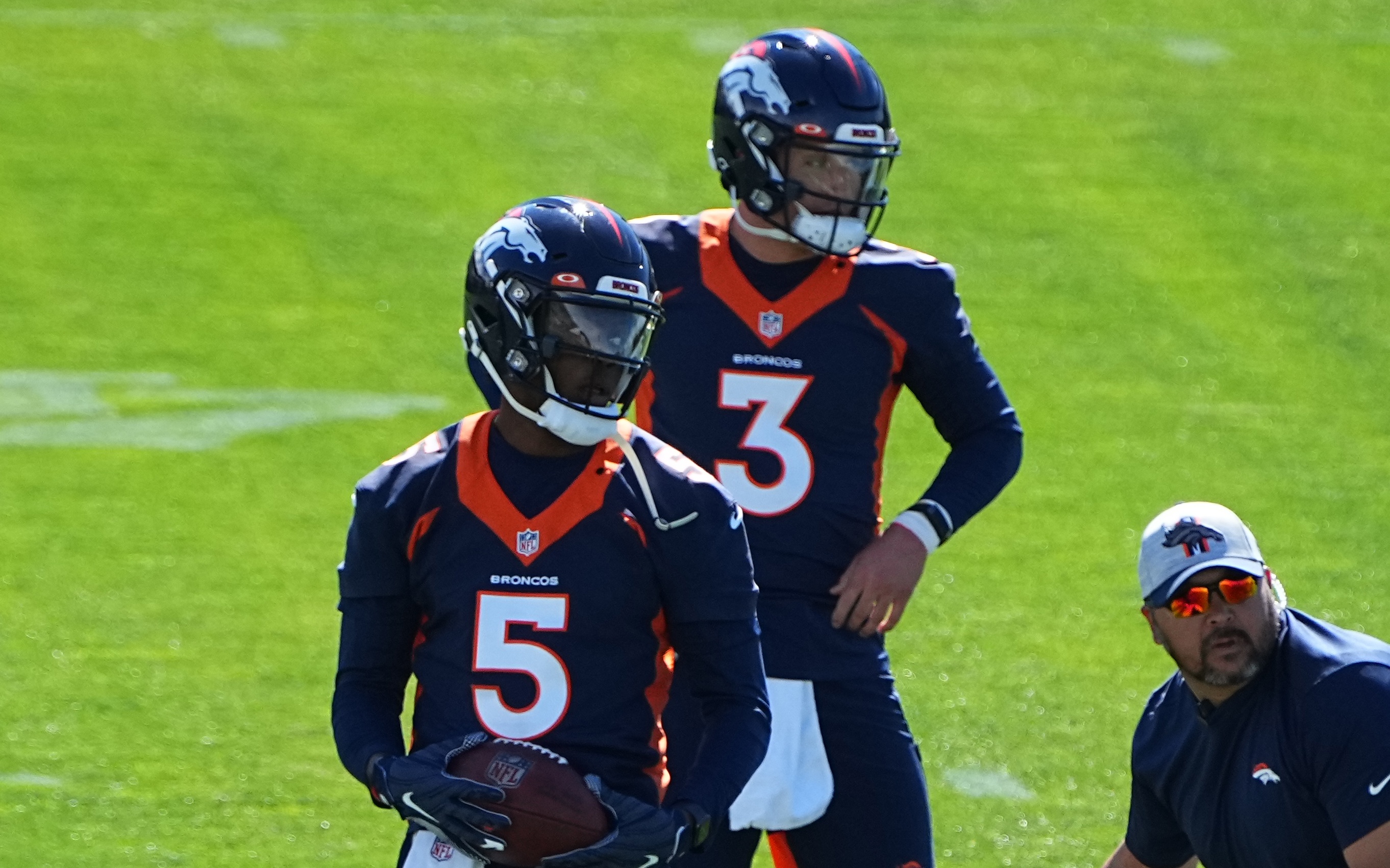 Everyone who plays fantasy football covets the title of league champion. That's true whether it's for the cash prize or simply to lord success over friends, family or coworkers.
The Denver Broncos have a bevy of players that could lead anyone down the path to success but this article will be focused on the quarterback position.
The numbers in 2020
According to fantasypros.com, Teddy Bridgewater and Drew Lock finished the 2020 fantasy season ranked 19th and 23rd in points respectively and neither player came into the 2020 season projected in the top-20 for fantasy quarterbacks.
Bridgewater was the more consistent fantasy option, though to say he was truly a fantasy asset would be overexaggerating. In his 15 starts last season, he managed to break into the 20+ point range five times but was never able to eclipse 30+ points.
He also finished the season with extremely lackluster numbers posting only 9.6 and 5.7 points in his final two games of the season.
Lock had equally unstable fantasy numbers last year finishing in the rankings below Carson Wentz and just above Daniel Jones, players that would be considered far from fantasy football royalty. In 13 starts Lock scored 20+ points four times and surpassed the 30+ point mark once in Week 9 versus the Atlanta Falcons. Lock also had a -1.2 point outing when he was forced to leave the game against the Pittsburgh Steelers early with an injury.
Even though Lock's projections didn't have him in a draftable range, there were some who believed he was a strong sleeper candidate to have a break-out season. An article was even penned called "In Defense of Drew Lock" on dynastynerds.com giving an extremely in-depth defense of his underwhelming 2020 season citing a number of statistics and the impact of COVID-19 on his development.
What to expect in 2021
ESPN's 2021 fantasy rankings includes neither Bridgewater nor Lock in their top 25 prospects list, below players like Jameis Winston, Kirk Cousins, Tua Tagovailoa, and Justin Fields.
This could be for multiple reasons but first and foremost is that Lock and Bridgewater are currently battling for the starting job in Denver. Realistically, it is hard for fantasy gurus to project a particular quarterback's outlook when they are uncertain whether they will be playing meaningful games. So far through OTAs, the competition is still neck-and-neck
but as training camp chugs along this is something worth monitoring.
Not only is there uncertainty about who might win the quarterback job in Denver, there are rumors a new challenger could enter the building.
Aaron Rodgers has been notedly frustrated with the Green Bay Packers organization and a number of rumors have him with clear ties to the Denver Broncos. When a player of that caliber has the potential to be on the move, the guys he may replace are going to take a serious dip in their projected productivity.
Additionally, neither quarterback has given pundits and analysts enough good tape or elite on-the-field performances to stick their necks out and take a chance on them. Even if you take Lock and Bridgewater's best games from the 2020 fantasy season, they still would struggle to pace the elites like Rodgers, Dak Prescott, and Russell Wilson who are always vying for fantasy dominance.
Thus far, the argument for rostering either Lock or Bridgewater isn't a very good one. With so many unknowns at this particular position, confidence in either guy is hard to come by. That doesn't mean it shouldn't be considered though.
The case for Teddy
Bridgewater was, as stated above, a top 20 fantasy quarterback last season with his leading weapons being DJ Moore, Robby Anderson, and Curtis Samuel. Not a bad trio of offensive weapons but Carolina did not offer nearly the same depth and potential that there is with this Denver Broncos offensive roster.
With the return of Courtland Sutton, another year of experience for Jerry Jeudy and KJ Hamler, the expected emergence of Noah Fant and the steady play of Tim Patrick, Bridgewater should have a number of deadly weapons in his arsenal. All of which should allow him to thrive on the field.
That doesn't even bring into the equation veteran Melvin Gordon and rookie Javonte Williams, both of whom are adequate, if not very good pass-catchers. If he cannot prove to be a fantasy asset surrounded by all of that talent, then he will struggle to do so anywhere.
Bridgewater was also missing his most impactful player last year for the majority of the season in Christian McCaffrey. In PPR leagues, in the 2019 season, McCaffrey led all running backs in fantasy scoring with 471.2 points and it wasn't even close. Aaron Jones came in second place with 314.8 points, a total of 156.4 points less than him. One can see why having an injured McCaffrey may have derailed Bridgewater's productivity to a degree, even though backup running back Mike Davis was a very competent fill-in.
Bridgewater will also be adapting to a new system with players he has never played with before. Even for a savvy vet, it takes time to build rapport with teammates and learn a new system so a slow start could be expected for Bridgewater coming out of the gate.
The case for Drew
Lock had an opportunity to lead the Broncos last season and failed to do much of note. The team finished with a record of 5-11 and missed the playoffs again for the fifth straight season causing many to lose faith in him and his ability to take a leap.
An argument for the lost time during COVID-19 could be made when referring to the development of Lock's overall game. Being a young quarterback in the league is one of the most pressure-filled jobs in professional sports and the more opportunity one gets to learn and create a routine, the more comfortable they can get in the role.
In the same way that the offensive weapons will benefit Bridgewater, they should also benefit Lock.
Before Sutton's injury in Week 2 last season, he and Lock seemed to be developing trust and chemistry. Now they will need to re-establish that but if they can, the Pro Bowl level receiver can give Lock a new level of threat that he just did not have last season. Continued reps with the young receivers Hamler, Jeudy and Fant should also bear fruit.
With an expected-to-be-elite defense in Denver in 2021, Lock should get plenty of opportunities to get the ball in good field position. That often was not the case last year. The Broncos were a league-worst -16 in turnover differential, much of that due to Lock putting his defense in bad spots, but Denver also didn't generate takeaways.
A healthy secondary with newcomers Kyle Fuller and Patrick Surtain II should bolster an already talented group and a healthy Von Miller will be able to generate much more pressure than they did last year without him, giving Lock more chances to score and
keep games competitive.
The Verdict
Bridgewater and Lock both have something to give but have not proven they are worth using draft capital on. Even if one establishes themselves as the Week 1 starter, chances are they can be added in free agency.
If one wants to justify taking either guy, Bridgewater will be steady, but most likely won't give a star performance Lock could give with that high octane 1-week gem. However, Lock is just as likely to register a single-digit scoring week. Start either of them at your own risk.
Fantasy football is a bit like meteorology, people predict outcomes based on the data provided but, with one shift of the wind, that data can become useless. Because of the roster surrounding them, either of these guys could be a sleeper and wind up being a steal. But the likelihood of either being your fantasy football savior is slim-to-none.
The single caveat — in terms of having an elite fantasy football QB on the Broncos — being Rodgers. If somehow George Paton produces a miracle and Rodgers finds his way to the Mile High City, do not hesitate to put him at the tip-top of quarterback rankings and consider taking him early. He can take this Denver Broncos franchise and any fantasy team to the playoffs at a minimum, and give anyone a real shot at winning it all.