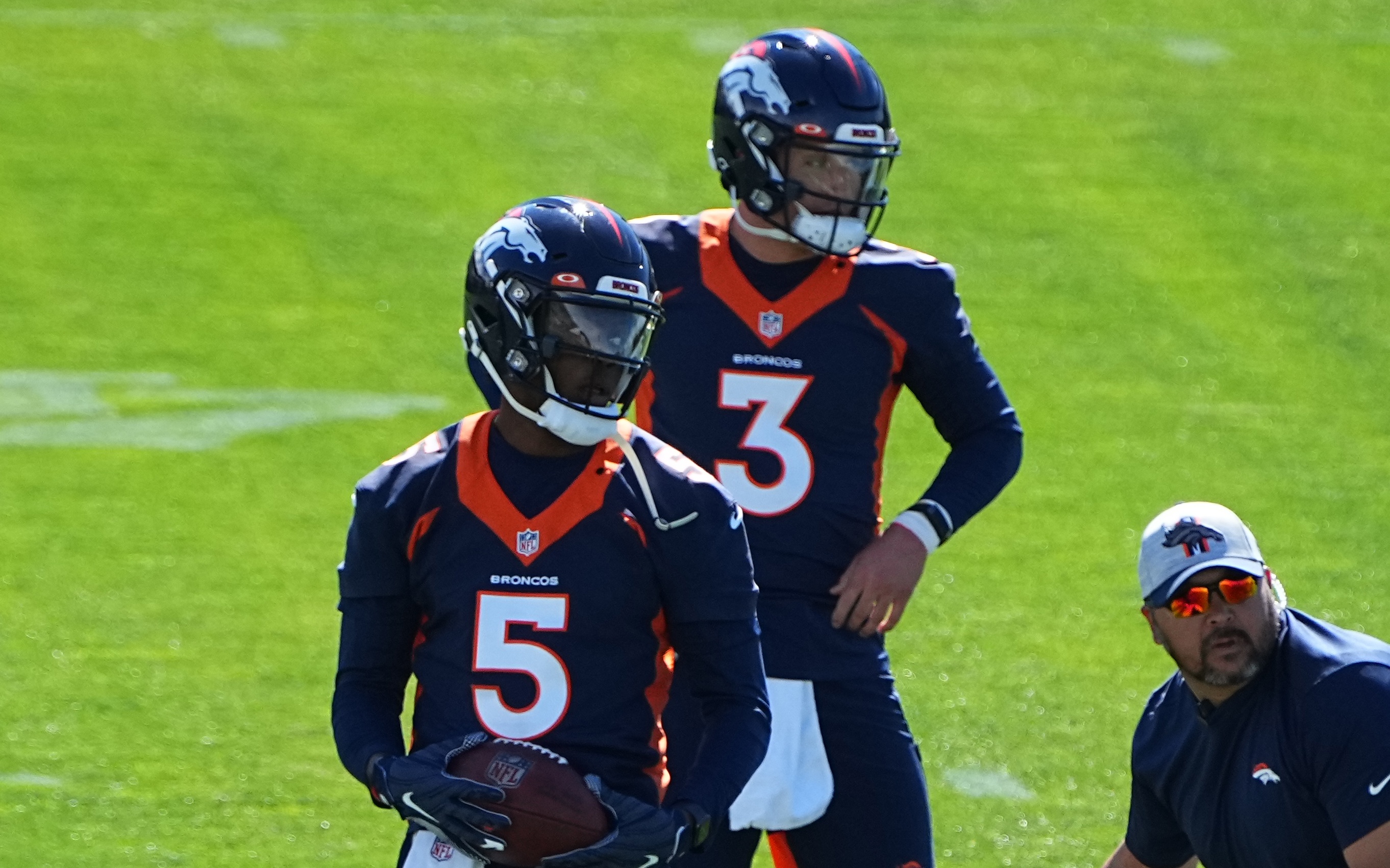 In Colorado, June means blue skies, warmer temperatures, longer days; summer has finally arrived.
And after a long, hard year in a pandemic, this June is extra special because the world seems to be getting back to normal. The Denver Broncos are in near-full attendance at OTAs, building chemistry and creating storylines along the way. Venues like Red Rocks are open once again, where we saw Ben Harper last week and were just happy to be back at the world-famous amphitheater. Similarly, weddings are back, and with them brings awkward conversation with strangers.
Luckily, for so many of us here in Colorado and across the west, the Denver Broncos are a common thread that bring people together.
Yesterday, after not attending one for 15 months, my wife and I enjoyed a friend's wedding here in Fort Collins. And the two Colorado natives sitting at our table wanted to know, "What's up with the quarterback situation with the Broncos?"
Clayton, an old friend and work buddy from our food service days, asked, "What do you think of Drew Lock?"
How does one distill two-plus years of online arguments, columns, features and analysis into a sentence?
"Well, he was arguably the worst quarterback in the NFL last year," I said, knowing that could immediately hurt feelings and create divisions at the dinner table.
Love his potential, or hate the idea of another sub-par QB leading the Broncos, one thing is for certain: Drew Lock is the most divisive player in Denver since Tim Tebow was the quarterback.
I asked Clayton his thoughts on Teddy Bridgewater, to which he explained eloquently, "With Bridgewater, we know what we're going to get. But with Lock, no one knows yet what his potential could be."
My wife, who begrudgingly puts up with my football obsession, asked, "Isn't he really young?"
Yes, yes he is. And that's the crux of the argument, the point of hope for some Broncos fans who believe he's the answer at quarterback. The dude is only 24 years old, he's had to work with two different offenses and coordinators and he's had to work through two different injuries to his throwing arm in his first two years.
The excuses/explanations for his awful 2020 season are plentiful — his No. 1 receiver was injured last year in Courtland Sutton — but the simple truth is that this is a make-or-break offseason for Lock.
That's because Bridgewater — who has long known knew GM George Paton going back to their Minnesota Vikings days — is in town and already building chemistry with Jerry Jeudy and Noah Fant.
The way I think of Bridgewater is as follows: He's more of a game-manager than Lock, and probably won't have as many jaw-dropping plays as the younger QB, but he's steady and is the better option for Denver right now. For 2021.
While the QB competition will rage on throughout training camp (don't read the misinformation tweets out there), as head coach Vic Fangio explained, I expect Bridgewater to win the battle and be the Broncos starting quarterback in September.
Does that mean Drew Lock won't get to play? Not necessarily. If Bridgewater struggles mightily through say, 4-6 games, hopefully Fangio will make the tough call and put Lock in, to see if that sparks the offense.
But, Bridgewater was the fifth-most accurate quarterback in the NFL last year. Just that giant leap in accuracy from Lock (57.3-to-69.1 percent) will undoubtedly help Denver's talented receiving corps make more plays, and it should help the offense score more points, too.
"What about Aaron Rodgers?" new acquaintance Brett asked.
"It looks like he will stay in Green Bay this year," I answered.
The current belief around the league is the Packers are going to remain dug in and not trade Rodgers. But, it's not a done deal yet, as Packers' President Mark Murphy said the situation with Rodgers has "divided the fan base."
In all likelihood, it'll be either Bridgewater or Lock (or a combination of both) leading the Broncos offense. And, considering they should have a top-5 defense, all the team really needs is someone consistent, limiting turnovers and finding a way to put more points on the board than last year (20.2 PPG).
If Bridgewater or Lock can do that, these Broncos are likely playoff bound. If somehow Rodgers is traded to Denver, the team is automatically Super Bowl contenders.
Hey, it is the most important position in all of American sports. And, that's why all Broncos fans want to know, "What's up with the quarterback?"