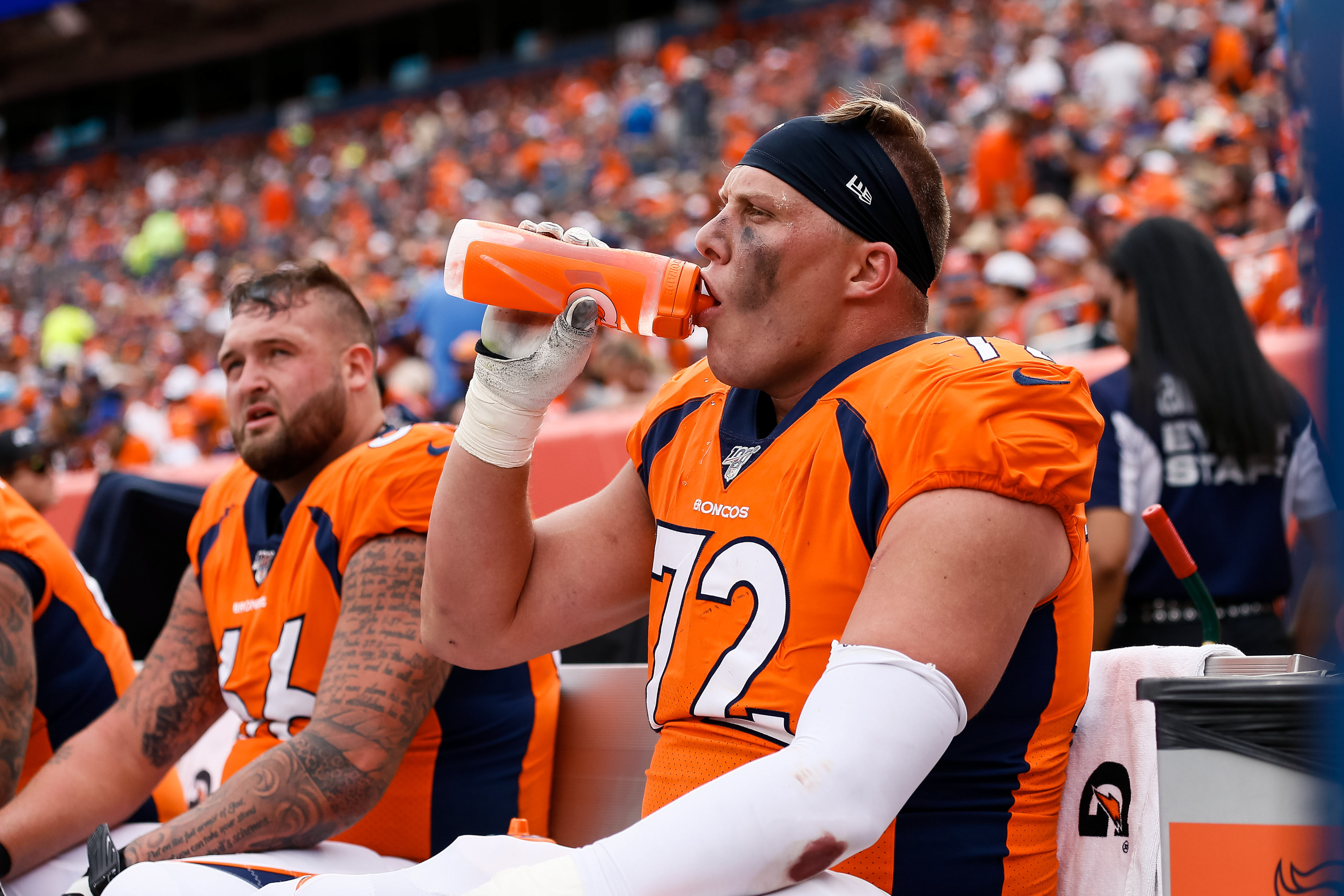 "Holding. Offense. Number 72."
These are the words that Denver Broncos fans have been accustomed to hearing from officials throughout game day.
Garett Bolles, the Broncos 2017 first-round pick, was drafted to be an anchor on the offensive line. Instead, he's been a tug boat on the field, compiling 28 holding penalties in his first two full seasons in the NFL.
Bolles' play was rough out of the gate in the 2019-20 season, but during the Broncos win over the Los Angeles Chargers in Week 5, the 27-year-old was not just serviceable in pass protection, he was excellent.
As Rich Kurtzman of Mile High Sports wrote earlier in the week, Bolles' pass blocking grade was the fourth-highest for an offensive lineman in the NFL last week. Bolles notched an 84.6 grade and is looking to build off his success moving forward this season.
Bolles has dealt with heavy criticism since he entered the NFL; however, despite the negative press surrounding his play, Bolles has continued to work on his craft while ignoring outside noise.
"I ignore it," Bolles said of the criticism. "People are going to talk and people are going to say stuff, but I'm going to ignore it. I've dealt with adversity my whole life. It's nothing that's going to change for me. You've just got to fight through it and continue to show people what you can do. They drafted me here for a reason. So I'm just going to do whatever I can to continue to get better every week and improve on the things I need to improve on and do what I know I can do. That's what it takes."
The Broncos are looking to earn their second victory of the season with the Tennessee Titans coming to Denver for a Sunday showdown.
A primary reason the Broncos were able to defeat the Chargers was because of the intensity the team brought on offense. Should the Broncos want to conquer the Titans, that intensity, especially from the offensive line, will be critical. Bolles hopes to keep things loose and fun in the trenches.
"This is a game that you've got to have fun," Bolles said. "You know it's going to have ups and downs, but that's the fun part of it. It's a new challenge every week that we've just got to go out and accomplish the gameplan. [Offensive Coordinator Rich] Scangarello puts up a great gameplan, and we've just got to continue to do what we do. Like I said, the offense moves when us five upfront do what we're supposed to do. So if we do that, we'll have a good chance of coming out with a win."
The Titans defense has been one of the best in the league this season.  Tennessee allows an average of 15.2 points per game this season, which ranks fifth in the NFL.
Despite earning a victory last week, the Broncos' offense sputtered in the second half. Should Denver want to succeed on offense, the offensive line will need to provide Joe Flacco with ample time to generate positive plays.
"They like to rush the passer, they move around a lot, [DT Jurrell] Casey is a big-time guy in the middle that causes a lot of havoc," Bolles said. "We really just have to have an A-game and continue to trust what [our coaches] teach us and just do what we do. Last week, I felt like we did a lot of good things, so we've just got to build on the good things and correct the small things."
Although the 2019-20 season has not started well for the Broncos, there is feeling that Denver could be turning things around after earning their first win of the season last week.
Bolles feels that continuity has helped the Broncos' offensive line improve as the season has progressed. If the Broncos want to have a chance against the Titans' potent defense, Bolles and company will need to continue to work together.
"We're all really close, and it's just a moment of time for us to click," Bolles said. "I think the time right now is where we're clicking, and we feel like we're at our best and that's what is going to take to continue to move this team forward."