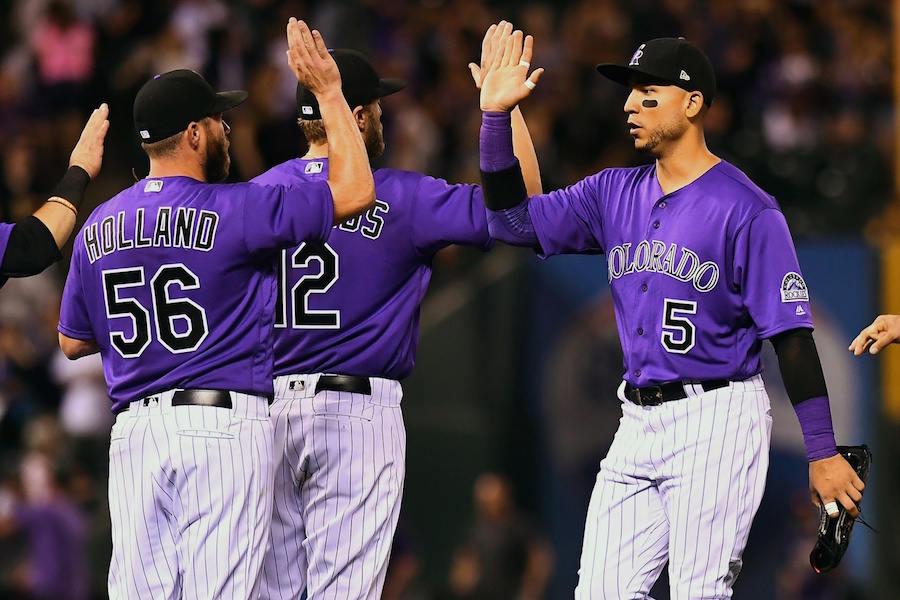 If I'm grading at home, as I'm sure you are, I'll give Jeff Bridich and the Colorado Rockies a good, solid "B+" for their efforts prior to Monday's trade deadline.
In years past, the Rox were consistently bringing home report cards filled with "I's" – as in incomplete.
Getting an "A" much less an "A+" would have been damn hard. In fact, it's probably fair to say that nobody really got an "A" other than perhaps the Dodgers and Yankees. The two seemingly richest ballclubs in the majors went out and fetched ace hurlers Yu Darvish and Sonny Gray. Darvish publically said he wouldn't go to Colorado, and had the power to do so with his no-trade clause, while Gray was acquired via three of the Yankees' top-15 prospects.
Gray sure would have been a nice pick up, as would have been, oh let's say, Orioles closer Zach Britton, who's price tag was presumably too high (look, no team in MLB was able to meet Baltimore's demands). Johnny Cueto might have been nice, but his contract has some potentially sticky implications; he stayed put in San Francisco, as well.
Hey, the Rockies can't win 'em all.
But they did win two.
First, they acquired Phillies reliever Pat Neshek, a two-time All-Star that will certainly bolster the back end of the Rockeis bullpen. Then, in somewhat of a surprise move, they hauled in Rangers catcher Jonathan Lucroy, another two-time All-Star. In simpler terms, Bridich acquired two players who can immediately make the Rockies pitching staff better. At least that's the plan.
And I'm fine with it. The Rockies got better and didn't mortgage their own bright future. For the first time in a long time, the Rockies told the baseball world, "With just a little help, we're good enough to compete in the postseason right now, but we're also good enough to compete for years to come."
Bravo, Bridich, bravo.
When it comes to the here and now, Neshak's benefits are obvious; Lucroy strikes me as a "clever" move, one that should be applauded. Catcher has been a bit of a hit-or-miss proposition in Colorado this season, so bringing in a veteran, whose job will be to guide a very young staff through unchartered waters down the stretch, is a shrewd way to improve pitching without landing a pitcher. Lucroy hasn't had the greatest season thus far from the plate; he's hitting .242 in 77 games this year with 15 doubles and four home runs. He has 27 RBIs on the year and an OPS of .635. Still, he's a veteran presence the Rockies need, especially if they're going to make a real run at (or in) the postseason.
Both moves could work beautifully. Or, maybe they don't. But that's not the point. What's important is that the Rockies were wheeling and dealing – wisely, of course – and actively trying to get better.
It's been said and written many times of late, but a shot at the postseason in Colorado isn't exactly "typical." In fact, you could argue that such an opportunity is rare. It feels like Bridich acknowledged that, something that should be appreciated by Rockies fans.
But it's bigger than just that. The Rockies are building something down on the farm and they didn't blindly toss it all away for one shot (literally, with the single-game Wild Card format). There are no guarantees that prospects become the next Nolan Arenado, but to their credit, the Rockies are building from the ground up and it's finally starting to show up at 20th and Blake. That's to be valued, too.
Additionally, and this can (and will) be debated, but I like the fact that slumping veteran Carlos Gonzalez wasn't moved. Perhaps Bridich tried. Perhaps the value just wasn't there. Or, perhaps not unloading Gonzalez for prospects is simply sending the right message within the Rockies clubhouse. Slumping or not, CarGo deserves a shot at this run – perhaps more than any Rockies player.
The bottom line is that these aren't the same Rockies. Not the ones who have typically thrown in the towel by Aug. 1. Not the ones who made zero noise – good or bad – at the trade deadline. Not the ones who happily rode out the rest of the season with gimmicky promotional days (see "bring your dog to Coors" and countless bobblehead days) that spun the turnstiles no matter the team's record. Those days are annoying when the local nine are floundering at the bottom of the standings; they're just fine when the playoffs are on the line.
These Rockies are in it to win it, now and going forward.
And that's a beautiful thing.