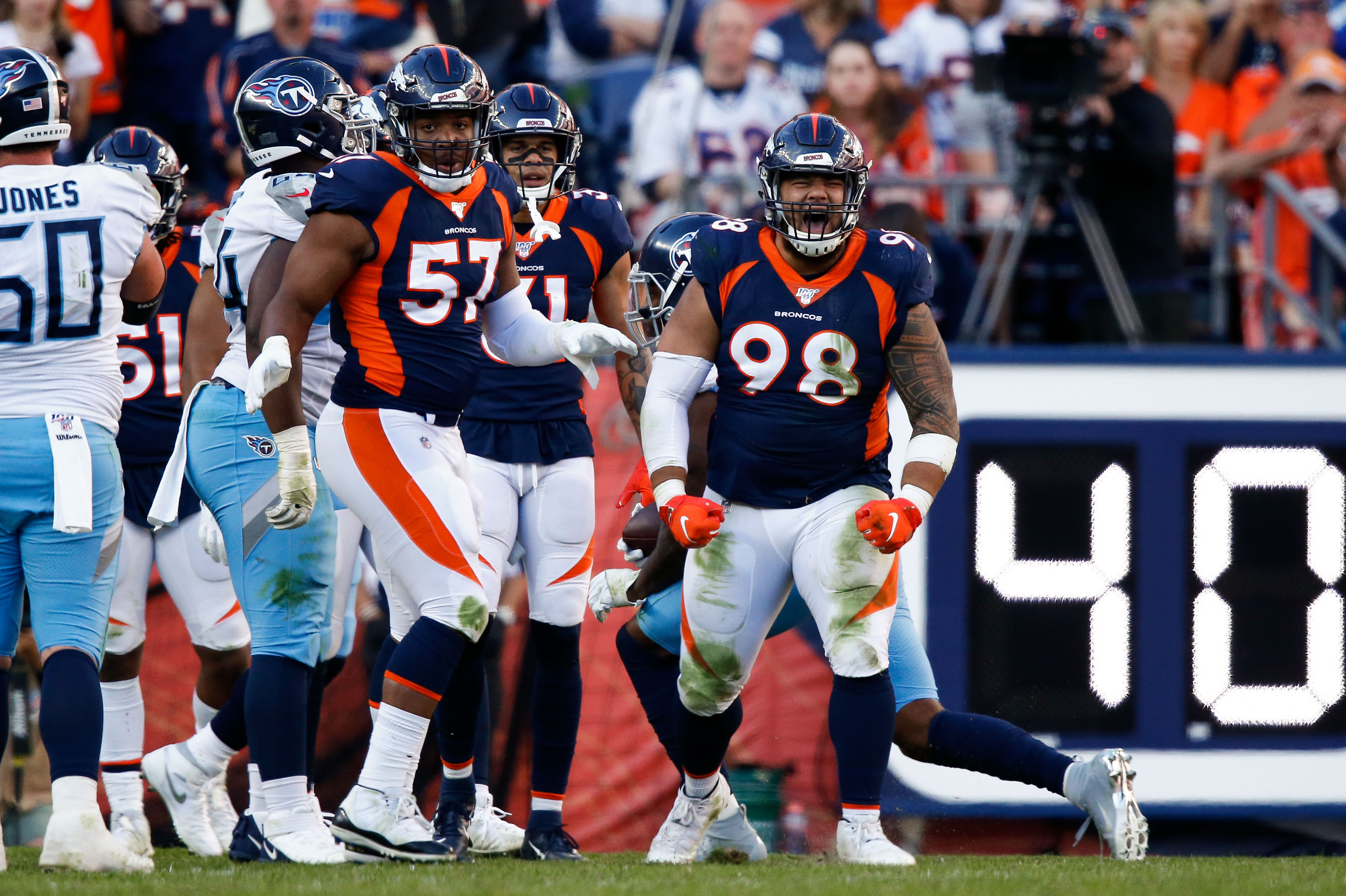 The Denver Broncos defense looks to be elite in 2021. One player that is rarely mentioned in their impending dominance is nose tackle, Mike Purcell.
Purcell's impact on the success of the Broncos defense flies under the radar, but should not.
Players like Von Miller and Bradley Chubb may get the headlines, and deservedly so. However, Purcell's impact may be just as important. His impact goes beyond sack totals or quarterback hits. There is a case that number 98 is an unsung hero of this defense, and has been since arriving in Denver.
The Broncos nose tackle's journey started in May of 2013. He signed as an undrafted free agent out of the University of Wyoming by the San Francisco 49ers.
Far from a sure thing, the Colorado native was a part of 27 NFL transactions from 2013 to 2019.
With stints in San Fransico and Chicago, Purcell had several stops aligned with Vic Fangio's defenses.
How Mike Purcell got his chance with the Denver Broncos
Purcell was brought in as a depth piece when he was signed by the Broncos. Seen as "just a run-stuffer", he was a long-shot to make the final roster.
As the league devalued larger nose tackles, Purcell's style of play seemed to be a dying breed.
Once the games began, Purcell's play continued to impress the coaching staff.
The imposing defensive lineman's strength and hand placement were noticeable in the team's first preseason game.
Mike Purcell (@m_purcell64) gets inside hand placement, controls his gap & gets knockback on his blocker. Destroys the run play! #Broncos #BroncosCountry #StopTheRun pic.twitter.com/kSyNCMHadj

— DLineVids (@dlinevids1) August 2, 2019
The depth chart continued to change. Purcell climbed from afterthought to the roster bubble.
As he continued to perform, conversations behind the scenes leaned in his favor.
Purcell's play over in his final exhibition effort of the 2019 preseason solidified his spot on the final 53-man roster.
How to make the roster, by Mike Purcell. 💪

His spot isn't *guaranteed* for the #Broncos yet, but Zach Kerr was released this morning and these plays were just from the FIRST HALF of one of the Broncos' 4 games so far. pic.twitter.com/y36Oxfl7NI

— Sayre Bedinger (@SayreBedinger) August 26, 2019
Even though he had earned his place on the roster, he had yet to earn consistent playing time.
Fangio had the future linchpin inactive 3 of the first 4 games to start the season. Purcell did not see consistent action until week 5 against the Las Angeles Chargers.
Purcell becomes a part of the Broncos plan
The diamond in the rough impressed the front office after being inserted into the starting defense during the middle of the 2019 season.
Purcell went from being a depth piece to an instrumental part of the Broncos' plans. The run stuffer earned a new contract, proving him some security for the first time in his career.
Per Spotrac, Purcell signed a 3-year extension worth up to over $14,800,000.
The #Broncos are giving DT Mike Purcell a 3-year extension in total worth $14.8M with 6.8M guaranteed, source said. https://t.co/2nsh4V9zyY

— Ian Rapoport (@RapSheet) October 6, 2020
A nice payday for a player who many did not anticipate would make the roster.
However, it should not be a surprise if you looked beyond Purcell's stat sheet.
Mike Purcell's impact on the D the past 2 years has been significant.
Since entering the starting lineup, the defense is simply just better.
In games that big number 98 has played in, the Broncos have surrendered just 21.1 rushing yards per game while allowing about 102.0 rushing yards per game and a mere 336.2 total yards per game.
When Purcell is out of the lineup over the same span, the Broncos give up a whopping 27.8 points per game allowed. The rush defense gives up a nauseating 148.1 rushing yards per game and their total yards per game jumps to over 376.
Not having Mike Purcell (DNP) would be a really tough blow for a Broncos DL that's already been slaughtered by injuries.

Their insane depth should hold them above water, but Purcell's been an immovable ball of energy at the heart of DEN's front this season pic.twitter.com/YOVn1viH6s

— Taylor Kyles (@tkyles39) October 8, 2020
Why his injury last year showed his importance
Purcell's impact on the opposition's ability to run the ball was on full display in his absence.
The Broncos give up well over 4 yards-per-carry without their nose tackle. With him on the field, opponents gain just over 3.5 yards per attempt.
This statistic is amplified by the amount of nickel defense called in the NFL today. Meaning, the Broncos played with 5 or more defensive backs more than not.
The pressure for the defensive line to hold up with less linebacker support makes Purcell's impact more impressive.
Now, do not lose sight of his pass rush presence. His ability to occupy multiple blockers in the passing game allows other players one-on-one opportunities. Additionally, his stout run play frees up Miller and Chubb to play upfield.
The Broncos need Purcell in the middle to be the defense they want to be through the 2021 season, and he's worked hard to get back on the field.
"In all my years that I've played, I haven't had a big injury like this," Purcell said in an interview with denverbroncos.com. "I've had little nicks and bangs here and there, but to go on IR really hurt. It wasn't fun at all. I wouldn't say I let my team down, but in a sense, that's the way it felt. I'd do anything to be out there on that field with them."
These remarks are music to Fangio's ears. It also conveys how much he wants to be back with his teammates. On top of his stellar play, his locker room leadership was sorely missed.
After Purcell underwent surgery on his foot to fix a torn ligament, he is now months past it and eager to make plays again.
"It wasn't easy," Purcell told denverbroncos.com. "I was frustrated. … I can sulk all I want, but my focus at that point was to get back."
Fans must take note of the importance of the local product, and this unsung hero is desperately needed for 2021 to be the successful season Broncos Country hopes it can be.