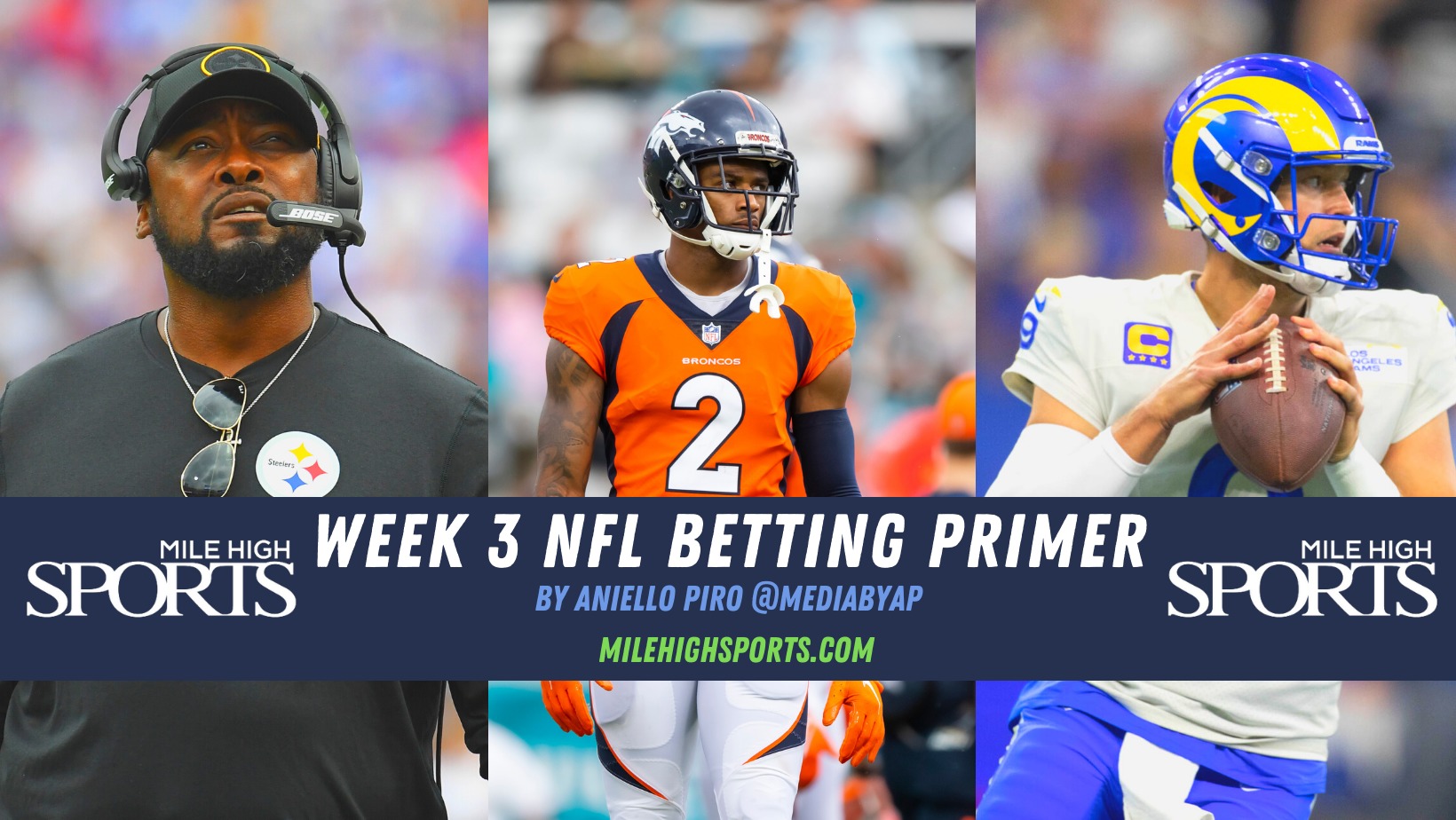 NFL betting is back! Week 3 is upon us, and to get you ready for the weekend of betting ahead, we are back with another betting primer. Last week we crushed the NFL betting slate by fading the panic, and we look to follow it up with another solid week this Sunday.
We introduced a podcast element to the primer last week, and we will continue with that here for Week 3. My man Assed Ahsan is back hopped in the booth with me, and we went around the horn with thoughts on each and every NFL game for the coming week from a betting perspective. Listen below or click here.
The overall goal of this primer is to paint a picture of the weekend NFL betting slate so you can dive into it with your head on straight. Sports betting is here, and if you are going to bet, you might as well get an edge, right?
Manage your bankroll. Stick to your units. Shop your lines.
This week we are going to take a nice long look at winless teams as underdogs ATS.
Onward to Week 3.
Early Slate:
Los Angeles Chargers (1-1) @ Kansas City Chiefs (1-1): KC -6.5, LAC +6.5, o/u 54.5
Both of these AFC West teams lost games they could have won in Week 2. While the Chargers are a developing team, seeing the Chiefs finally fall with Pat Mahomes and Co. in September was interesting. Was that the first kink in the armor for the mighty Kansas City Chiefs? As we documented in the Week 1 primer, the Chiefs were not great at covering spreads last year. Kansas City easily has the highest ceiling of any NFL team, but will they play like it?
The Chargers showed an ability to run up the scoreboard last year with Justin Herbert, but it's clear he is still learning to mesh with rookie head coach Brandon Staley. I hate chasing narratives, but I think this is a get-right game for the Chiefs. The road team has covered in 12 of the last 16 head-to-head meetings, and the Chargers are 4-1-1 ATS in their last 6 meetings in Kansas City but last week was one of the worst losses the Chiefs have had in recent memory.
They are back at home in the early time slot. The first game at Arrowhead was a nail-biter. It's time for the Chiefs to get back to their dominating ways. I like the Chiefs, and I'll lay the points here. I just haven't seen enough out of Herbet yet this year that makes me think he can hang in this hostile environment with the Chiefs smelling blood after last week. If the Charges hang around in this game that'll tell you a lot about both teams.
Chicago Bears (1-1) @ Cleveland Browns (1-1): CLE -7, CHI +7, o/u 46
This should be a damn fun game if the Bears' defense can show up like they did last week. Justin Fields is set to make his first career start against a Browns team with legitimate championship aspirations. Fields makes this game a wild card as he's essentially the exact opposite of Andy Dalton. He can move, throw on the run and expand the game in a variety of ways. The tape is also limited on the kid. Will he be ready for the moment?
If Cleveland is truly a team capable of winning the AFC, they should come out and win this by more than a touchdown. Chicago shut out the Bengals in the first half of last week, and if their defense can play well for four quarters, I love the point here. I think Cleveland will win, but the Bears are capable of keeping this one close. The Browns have covered just one in their last six home games and allowed 21 points to the Houston Texans at home last week, who covered the +13. I'm just not sold whatsoever on the Browns. I picked the Ravens to win the North and don't like laying points with a team that has proved very little in my eyes. Dogs have been barking this season.
Arizona Cardinals (2-0) @ Jacksonville Jaguars (0-2): ARI -7.5, JAX +7.5, o/u 52
So I know we said we are looking for winless teams ATS against teams that have potentially overachieved through the first two weeks. Arizona should have lost in Week 2 (that missed field goal was the final leg of a 7-leg parlay for me), but the Jags have looked like arguably the worst team in football along with the New York Jets. Outside of an opening drive TD from, the Jags offense was stagnant, although the team played a more complete game than they did in Week 1.
Arizona is the superior team and has covered the last three vs. the Jags. They went on the road and destroyed the Tennessee Titans in Week 1 and put up another 30-point performance in Week 2.
This game is all about discipline for me. Kliff Kingsbury is meh as a head coach and looks like the type of coach who could overlook a game like this against a struggling Jags team. If the Cardinals are locked in, they should cover this easily. Even the defense can slip up a little bit, I don't know how the Jags can keep up with Arizona's high octane offense. It just doesn't feel like the Jags will figure this out anytime soon. They can be a live dog in a game in which the favorite overlooks them. This screams trap game honestly, with over 90% of the tickets on Arizona ATS are we ready to trust Kingsbury as a heavy favorite on the road? It might not matter because of Kyler Murray. Bet wisely here it could be a trap game.
Washington Football Team (1-1) @ Buffalo Bills (1-1): BUF -7, WFT +7, o/u 45.5
I'm going to be honest. I have no idea how to feel about this one. This line opened Buffalo -9.5, so the ship has sailed on taking the football team at the best number. The Bills routed Miami last week, but the Dolphins lost Tua, so the game is a bit skewed. I like to think of Week 1 as a wash for most teams, but the Bills are hyped to be a championship team. Perhaps they hit their stride, but that Week 1 loss was undoubtedly uncomfortable to watch for Bills backers.  If this is the team many think they are, they should come in and take care of business with ease.
Taylor Heinicke looked good outside of a couple of mistakes last week. I don't think the drop-off is that crazy from Fitz to Heinicke, and he should only get better with time. Seven points is a sizable number for even the best of teams to have to cover on the road. That said, the Bills have covered 7 of their last 8 against Washington. It's take the points or pass for me.
Indianapolis Colts (0-2) @ Tennessee Titans (1-1): TEN -5.5, IND +5.5, o/u 47.5
This game will play a pivotal role in the development of the AFC South this season. The Colts lost two home games they could have won, and the Titans came back against the Fugazi Seahawks last week. If Carson Wentz can't go, it will be Jacob Eason and rookie Sam Ehlinger under center for the Colts.
Due to the uncertainty of Wentz, I'll be locking in a bet for this game on Sunday morning most likely. If Wentz is out, the line should creep up, and I'll be firing. The Colts have managed to stay in games because of their defense against two prolific teams in the Seahawks and Rams. They should be able to do the same against a division opponent that has been shaky through two games. Frank Reich has won four of six head-to-head matchups against the Titans since taking over as head coach in 2018. I like the idea of fading the Titans here after a big road win.
Road team is 5-0 ATS in their last five meetings. Indy is awful at covering spreads in Week 1, but they have covered their last five in Week 3. The Colts have also covered 5 of their last 6 on the road.
Atlanta Falcons (0-2) @ New York Giants (0-2): NYG -3, ATL +3, o/u 47.5 
If the Giants won last Thursday this line is probably closer to -5.5 for the Giants. That said, I think the divisional juices were flowing last week, which is why the game was so tight. This is another crapshoot game and is a degenerated dream.
At some point, the experience of Matt Ryan has got to come through, right? He threw two pick-6's last week against the Bucs, which spoiled a Falcons cover. The final score did not indicate how tight the game was, which excited me about the Bucs-Rams game.
Here's a fun trend I'll be chasing: the under is 10-1-1 in h2h meetings between these two since the year 2000. I'm not sold not on the Giants whatsoever. Calvin Riddley scored last week, and rookie Kyle Pitts was finally integrated into the gamelan with 73 yards on five catches for Atlanta. Danny Jones will probably do Danny Jones things, and while it's at home, the Giants just suck.
Take the points or pass. If you are feeling ballsy, take the Falcons on the ML.
New Orleans Saints (1-1) @ New England Patriots (1-1): NE -3, NO +3, o/u 42
The Saints were my comeback-to-earth team of the week for Week 2. Who are the Saints? The team we saw in Week 1? Or the team from last week? I'm inclined to believe the Saints are closer to the team we saw last week across the entire season. Sean Peyton is a great coach, yes. Jameis Winston has talent, yes. But it's not easy to just pass the guard from a franchise GOAT like Drew Brees. The only exception is the Packers.
The Saints remind me a lot of the Patriots last year, minus the opt-outs. They are going to regress this season. This season, I'm bullish on the Patriots and think Bill Belichick will scheme up something extra complex for Winston with the Patriots defense. Winston likes bait, and I think the Pats will dangle some out there and pounce. The Carolina defense gave him problems last week, and I think the Pats D will do the same. This is Winston's first game in Foxborough, and I don't think it will be smooth. I like the Pats ML and the under for this game. I like the -3, but can see this being so low-scoring that the Pats push or fail to cover the three.
Under is 9-1 in Patriots last 10 games and 5-0 in the Saints last five. Over is 6-2 in the previous eight head-to-head meetings, but I think this one will be tight. Forty-two is low-hanging fruit, though.
Baltimore Ravens (1-1) @ Detroit Lions (0-2): BAL -8, DET +8, o/u 50
The Ravens are riding high after their home victory against the Chiefs last week. The Lions on the other hand failed to score any points in the second half of their game with the Green Bay Packers and wound up losing despite having a lead entering the half. This could be a letdown spot, and the Lions did play hard in all four quarters of their Week 1 matchup with San Francisco and wound up with a backdoor cover against the spread. If Lamar Jackson is a full go, I'll consider the Ravens.
I like them in the full game and will probably end up throwing them in a moneyline parlay this weekend. Baltimore has covered three in a row against Detroit. A lot of the action is coming in on Baltimore, and I like fading when the public is loaded up but on a side, but I'm not sure how Detroit can hang around if Lamar plays as he has in the first two games.
Cincinnati Bengals (1-1) @ Pittsburgh Steelers (1-1): PIT -3, CIN +3, o/u 44
The Steelers will look to bounce back against the Bengals this week @MediaByAP and @RiggsPicks talked bout the game from a betting perspective on @MileHighSports

Game odds:
PIT -3
CIN +3
o/u 47 #NFL #BettingTwitter pic.twitter.com/CCz3yeX2f4

— Denver Sports Betting Show (@DenverBets) September 24, 2021
I really like this game after talking with my guy Riggs from RiggsPicks.com. I have Riggs on the Denver Sports Betting radio show every Thursday at 3:30 p.m. He's a local handicapper who knows his stuff. We cashed Panthers -6 for right units on Thursday Night Football, as I'm writing this. This was one game we honed in on particular, and think it's a great spot to take the Steelers.
So many people are down on Pittsburgh this season, especially after their home loss to the Las Vegas Raiders last week. I'm not as down on them as the public is and love them in this spot. Heinz Field is a challenging environment to play in, and while Joe Burrow is one tough son of a gun, the Steelers should be able to pull this one out in front of the home crowd. Another divisional game here, but the Steelers are the better team.
The Bengals are like the little Browns for me. I like them but not enough to bet them in this spot. Got to prove it to me first, and no, beating the spineless Vikings in Week 1 is not proving it to me. The public was bullish on Cincy last week, and that made for an excellent opportunity to bet the Bears, which was cash money. Steelers are undervalued here. I'll lay the points at home.
Afternoon Delight: 
New York Jets (0-2) @ Denver Broncos (2-0): DEN -11, NYJ +11, o/u 41.5 
Here we go with the hometown team. Another point Riggs brought up on the show this week is how the Broncos are a double-digit favorite in a game with a total of just 41.5. You are giving yourself thin margins if you want to play the Broncos ATS and the under, which appear to be the two early leans with this game.
The Jets look awful per usual, and already questions are swirling about if Zach Wilson is cut out to be a starting quarterback. He threw four interceptions last week, and you best believe the Broncos will not make life easy for him in their first home game of the season. The Broncos are winning this game, but 11 points is a ton. This line has teetered between -11 and -10.5, and anyone taking the Jets, I salute you. I'd say play the Broncos OR the under. It's risky to rock with both, and I lean the full game under, but I'm really honing in on some first-half plays here.
I'll take a look at the first half under 21. The Jets have scored three points in the first half so far this season, and the Broncos' defense will be the best defensive unit they have faced yet. Denver has scored 10 points in each of the first halves they have played in this season. The Broncos will have ample scoring opportunities throughout the game, but let's hope Zach Wilson can hold off on the risky throws in the first half and play "boring" football. I'm also on the Von Miller to record a sack train. He has three through the first two weeks and has shown no signs of slowing down. I hope you bet his season sack total over 9.5. The Broncos will get to 3-0.
Miami Dolphins (1-1) @ Las Vegas Raiders (2-0): LV -4, MIA +4, o/u 44
Jon Gruden is 28-38 ATS off a win even and worse when on a multi-game win streak with an 8-18 record ATS. The Raiders have been one the most surprising teams through the opening two weeks of the season and they return home to face a Dolphins team who will be without Tua Tagovailoa and instead will start Jacoby Brissett. Let's just call a spade a spade, Tua has not been good this season. Brissett is tenured and knows how to play in this backup-type role. I think he is good enough to keep Miami in the game, along with the Dolphins defense.
Last week, the shock of losing Tua paired with a vengeance from the Bills resulted in a poor overall effort from Miami, but they should be locked in and ready to go with a little more clarity. I like taking Miami at +4 and down to +3.5 because it feels like a field goal game. Raiders are on top of the world, let's see if they can stay there. I also lean towards the under here. Think it can be an ugly come-back-to-earth game.
Tampa Bay Buccaneers (2-0) @ Los Angeles Rams (2-0): TB -1, LAR +1, o/u 55.5 
The game of the week and my favorite play of the week. The defending champs against the team I think will be playing in the NFC Championship game later this season. The Bucs are off to a solid start with wins over the Cowboys and Falcons last week, but Tampa has looked far from dominant. Botched game management from Mike McCarthy and two pick-6's from Matt Ryan have resulted in a couple of padded victories for the Buccaneers to open the season, but now they head to Los Angeles as a slight favorite against Sean McVay and his new quarterback Matt Stafford.
I was on Stafford for MVP at 17/1 before the year, and it's down to 10/1 ahead of Week 3. He's looked as advertised though two weeks. The Rams torched the stout Bears defense and earned a road win against the Colts last week. It's tough to bet against the GOAT, but I don't think Tampa is running it back, and the public is still living in the ora of their championship run. The Rams will bring everyone back to earth, and the one way to beat Tom Brady is to get pressure. Nobody is better at that than Aaron Donald.
The Rams are not a sleeper play in the NFC. Many people like them, just not as much as some of the other teams. This is a game where the Rams can prove it to themselves and the football world they are ready to make another run back to the big dance. This line opened with the Rams as the favorite but has flipped due to all the public money coming in on Tom Brady and company. Give me the Rams on the moneyline. All day.
Seattle Seahawks (1-1) @ Minnesota Vikings (0-2): SEA -1.5, MIN +1.5, o/u 55.5 
Last week, the Fugazi Seahawks were out and about, blowing a two-score lead in the 4th quarter against the Titans. You just love to see it.
Is there any team more absurd than the Vikings? They are always good enough to be in the middle of the pack but never bad enough to get a top pick which is why the franchise has been in a state of oblivion for decades. This season is off to a rough start with two losses that could have easily been wins.
This is the afternoon game I have the least amount of interest in, but it could wind up being a competitive one. The home team is 6-2 ATS in the last eight home games. I think the Seahawks will be an average team this season. Russ Wilsons' heroics are the only things keeping them relevant. He could just go off and decimate a Vikings team that has shown the ability to bend and break consistently. I'm inclined to take the home dog here because the Vikings have to pull one out eventually, right? Why not against the Seahawks at home? This game could also be a shootout, much like last week, so if you think that's the case, look at the over and throw a few darts on some TD props.
Sunday Night Football: 
Green Bay Packers (1-1) @ San Francisco 49ers (2-0): SF -3.5, GB +3.5, o/u 50
Another fantastic game that will be a treat to watch. Will Aaron Rodgers finally get a win in San Francisco? The Packers have been strange to watch this season. They've played six awful quarters and two solid quarters off football, which has resulted in a 1-1 record.
The 49ers went out and earned two road wins off the bat, trumping the Lions and Eagles. You know I'm high on the Rams. I just think they're the best team in the division by a country mile, so I'm down on the Fraudy9ers. The favorite has covered four of the last five head-to-head matchups, and the 49ers have owned Rodgers in recent memory. In November of last year, the two played, and the Packers won, but the 49ers were decimated with injuries.
San Francisco bounced the Packers from the playoffs in 2019 and beat them earlier that season. Kyle Shanahan clearly has a knack for shutting down Rodgers when he has a healthy roster. The Packers defense is vulnerable, so it'll be interesting to see how the 49ers use both of their quarterbacks. That said, this is a new 49ers team without defensive anchor Robert Saleh.
Green Bay has been shaky, but they will have to break through at some point, and I think Rodgers could round into form this game. He's such an interesting character who moves at his now pace, so the Packers will go as far as he can take them. If Rodgers plays like an MVP, I love Green Bay in this game with the points and on the Moneyline.
I shade towards the over as well. Over is 9-3 in the last 12 meetings and 5-2 in the previous seven meetings in San Francisco.
Monday Night Football: 
Philadelphia Eagles (1-1) @ Dallas Cowboys (1-1): DAL -4, PHI +4, o/u 52 
My boys are in primetime on Monday night against the Eagles. I'm always confident we can win any game and cover any spread, but I think we really should be able to handle the Eagles in the first home game of the season. That said, Philly has looked nice through the first two weeks, and Jalen Hurts has some potential to confuse the Dallas defense. These divisional games are always challenging and tend to be tight when the teams are close to full strength. The home team has covered in five consecutive games, and the favorite is 8-3 in the last 11 head-to-head matchups.
The Eagles are 1-4 ATS in their last five meetings in Dallas and just 2-5 ATS in their last seven meetings with the Cowboys. Dak Prescott is bouncing back to his top form and he the first game in front of the home crowd is sure to be emotional.  I think he will light it up. Fifty-two is a big number as it could be a closer game, but Dallas should be able to win and pull away in this one to get to 2-1.
The Eagles are the one team that I can see being a pain for Dallas this year in the division. Tony Romo is high on them, and their head coach Nick Sirianni is trying to eject some extra energy into the rivalry by wearing a "Beat Dallas" shirt. What a clown.
Cowboys.
***
Aniello Piro is our Digital Media Manager. Piro has covered every professional sports team in town at one point or another and has been with Mile High Sports since he was in high school. AP currently covers the Denver Nuggets and Colorado Rockies for Mile High Sports and hosts the 20th and Blake Podcast + the MHS Nuggets podcast. Piro recently graduated from the Metropolitan State University of Denver with a bachelor's degree in journalism and a minor in communication studies. You can follow AP on social media to stay up with his NFL Betting primers @MediaByAP