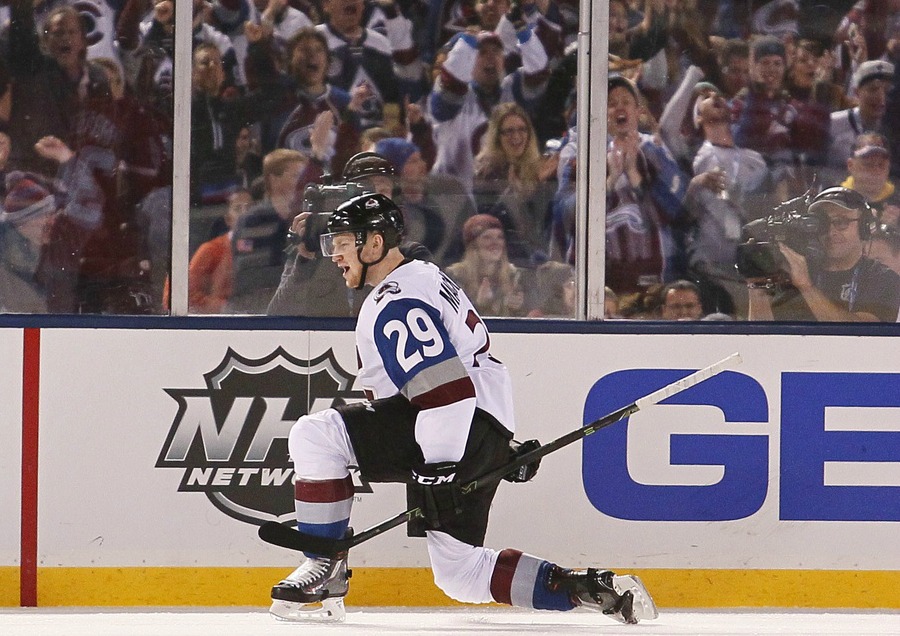 When the Colorado Avalanche drafted Nathan MacKinnon first overall in the 2013 NHL Entry Draft, they did so with the hope that he would develop into a franchise center. As of Friday, he will at least be paid like one.
The Avalanche announced on Friday that they had signed MacKinnon to a seven-year extension. Though the team did not disclose the financial terms of the deal, the contact will reportedly have an average annual value of $6.3 million.  Before coming to terms, MacKinnon was a restricted free agent.
"Signing Nathan to a long-term contract was a priority this offseason," said Avalanche general manager Joe Sakic. "He is going to be a key part of our team for many years to come and it was important to secure his rights moving forward."
With the $6.3 million cap hit, MacKinnon leapfrogs both Matt Duchene and Erik Johnson (both of whom carry a cap hit of $6 million) to become the Avalanche's highest paid player. The 20-year-old is now under contract until 2023, when he will be eligible to become an unrestricted free agent.
In 72 games last season, MacKinnon scored 21 goals and 52 points.  In 218 career games, he has 59 goals and 153 points.
The Avalanche are now left with three restricted free agents still in need of new deals (Tyson Barrie, Mikhail Grigorenko and Duncan Siemens). Both Barrie and Grigorenko have elected to take the Avalanche to salary arbitration, but are still able to negotiate a new deal beforehand.
Sakic has done well at managing his cap space thus far this offseason.  According to General Fanager, the Avalanche still have over $7.75 million remaining, though that includes the two-way deals for both Rocco Grimaldi and Turner Elson. At best, one of the aforementioned two will make the team, and it is quite possible neither will; meaning the Avalanche could have as much as $9.25 million at their disposal.  Either way, the Avalanche should have enough room to get everybody signed.