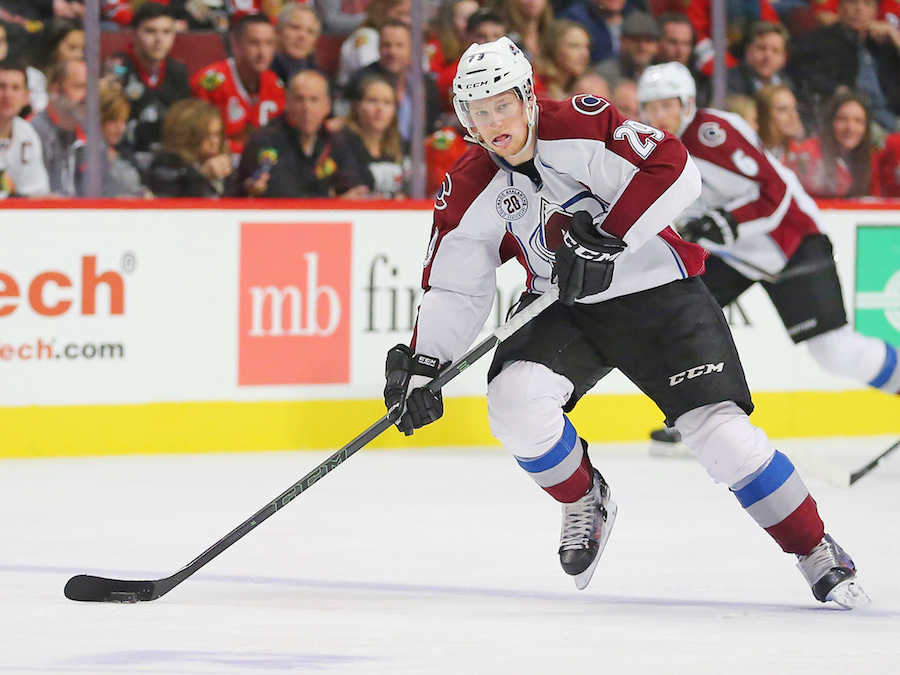 "In sports, it seems to me you want as much consistency as possible. Consistency for an offensive line in football, consistency of a starting five in basketball [and] consistency of a starting rotation in baseball," Eric Goodman posited to Colorado Avalanche center Nathan MacKinnon on Tuesday.
For MacKinnon, currently tied as the team's leading scorer, the only consistency that really seems to matter right now is finding the back of the net. MacKinnon joined Goodman and Les Shapiro on Afternoon Drive on Mile High Sports AM 1340, speaking frankly about the perceived inconsistency in Colorado's line assignments and personnel rotations of late.
With only 23 games left and a Wild Card spot on the line, logic would say that head coach Patrick Roy should have his lines figured out by now. However, the only thing the Avalanche appear to be consistently doing is putting out new line combinations almost every game. (Jeremy Jerez recently blogged on this very topic.)
When asked if he was frustrated with the constant shakeups in the lines, MacKinnon offered a simple "no."
While that consistency Goodman speaks of has its benefits, MacKinnon sees value in changing things up.
"Obviously when you're clicking and you have some chemistry you want to keep it. But with Pat [Roy], he mixes it up, which I like. You don't want to get in a rut and do the same thing over and over again and get bored with each other."
It seems that the only thing MacKinnon is clear about as a player is that he is a center. What line he skates with has little impact on how he goes about his business.
"I mean I'm playing center. I don't know if I'm first, second or third." For MacKinnon, it doesn't necessarily matter where he falls on the depth chart. "It's irrelevant," he says.
He reminded Goodman and Shapiro that he was listed as third center on the stat sheet and yet he still played 21 minutes against Buffalo this past Sunday. Productivity is really what counts for MacKinnon. Whether he goes in as the first line or the third, what's important is the time spent on the ice and the goals scored.
Even with the lack of consistency, MacKinnon is happy the goals are coming and the team is currently in a position to make the playoffs.
"Offensively we've scored a ton of goals this season," he told Goodman and Shapiro. "Our power plays have been good. Obviously you want to stick with guys… but it's always good to keep it fresh and I think Pat has done a good job."
The latest shakeup has MacKinnon skating with Jack Skille and Alex Tanguay when they take on the Canadiens at home on Wednesday.
"Me and Tangs [Tanguay] have good chemistry, we just need to get going here. I haven't played with Skills [Skille] this year, but he's so fast and so strong. We were just talking, for us to be successful we have to use our speed."
Listen to the full conversation with Nathan MacKinnon in the podcast below…
Catch Afternoon Drive every weekday from 4p-6p on Mile High Sports AM 1340 or stream live any time for Denver's biggest lineup covering what's new and what's next in Colorado sports.