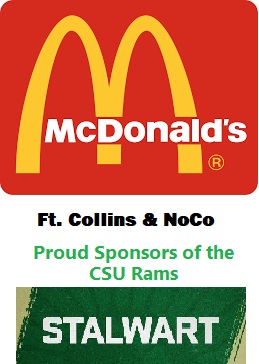 In somewhat random news of the day, the Philadelphia 76ers will hold their training camp at Colorado State University in Fort Collins, Colorado.
That news from 76ers reporter Lauren Rosen on Twitter this morning:
Official @sixers news:

The team will travel to Fort Collins, Colorado (at @ColoradoStateU) for its inaugural training camp under Head Coach Nick Nurse.

Media Day kicks off training camp week in Camden on Oct. 2.

— Lauren Rosen (@LaurenMRosen) September 11, 2023
Training camp for the 76ers will be from Oct. 3–6 in the brilliant college town one hour north of Colorado's capital city, Denver.
It's a random selection for location by Nick Nurse, who doesn't have any connection to Colorado State. As far as CSU connections to the 76ers, there are a few players in David Roddy and Jason Smith. Roddy, the star of the 2021-22 team that went to the NCAA Tournament, was drafted by Philly only to be traded to Memphis. He enjoyed a solid season coming off the bench last year for the Grizzlies, with 6.7 points and 2.8 boards per game.
Smith, arguably the greatest player in CSU men's history, was drafted by the Miami Heat but traded to Philadelphia that same day in 2007. He spent three years in Philly, playing two seasons, averaging 4.0 points and 2.8 rebounds per game there. Smith bounced around the NBA with his best years coming in New Orleans with the Hornets and then the New York Knicks.
Joel Embiid playing in Colorado?
Joel Embiid of the 76ers was the NBA's Most Valuable Player last year.
But, many argued it should have been Nikola Jokic winning his third-straight NBA MVP. Whenever the two play against one another, it's must-see TV because both Embiid and Jokic play the same position.
The irony is, Embiid hasn't played in Colorado since 2019 and the Nuggets easily cruised past the 76ers in Denver back in March on their way to their first-even NBA Championship. Here's NBA writer Matt Moore commenting on imagining James Harden going out to the bars in Old Town Fort Collins, and on Embiid playing in Colorado.
OK, I'm DYING at the idea of Harden hanging out in Old Town. https://t.co/FIH6bzF1Cy

— Hardwood Paroxysm (@HPbasketball) September 11, 2023
I know, it's crazy. Can you imagine Embiid playing basketball in the state of Colorado https://t.co/QfZKVTdODH

— Hardwood Paroxysm (@HPbasketball) September 11, 2023
The 76ers will not practice against Niko Medved's Colorado State Rams per NCAA rules.
However, the Colorado State Rams non-conference schedule was recently released, and it's one of the toughest slates in team history.
CSU faces Boston College, Creighton or Loyola (Chicago), Washington, CU in the Rocky Mountain Showdown, Saint Mary's, and Loyola Marymount among others. CSU men's basketball season tips off on Nov. 6 as the Rams host Louisiana Tech at Moby Arena.