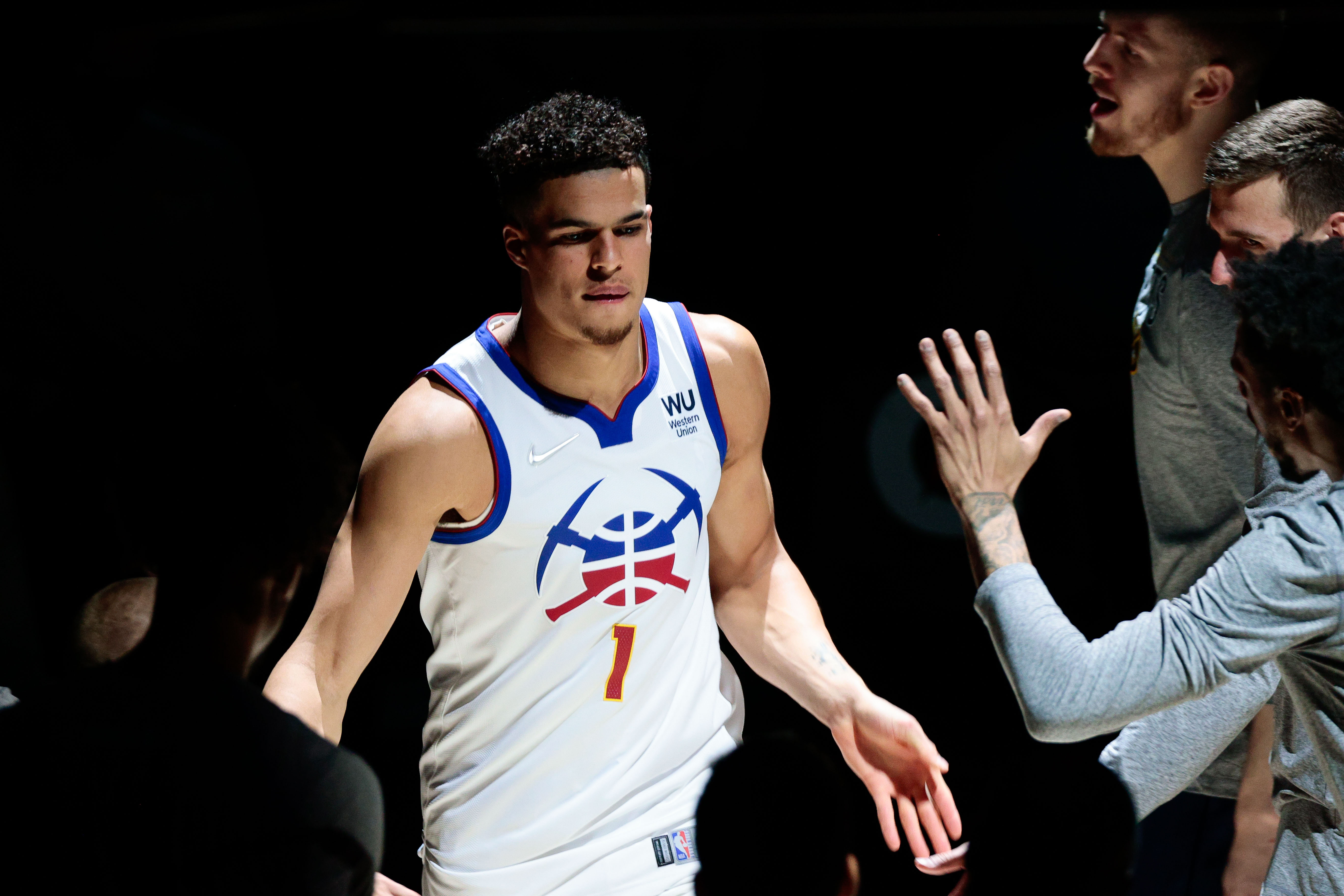 Today, Thursday August 11th, marks roughly the halfway point between the last game of the 2022 NBA Finals (June 16th) and the expected start date for the 2022-23 NBA season (October 18th). The Denver Nuggets have already begun to hold informal workouts for their role players and rookies, and as more and more players return to Denver, the preseason will begin in earnest.
Between now and then, Nuggets fans will continue to grow antsy. There's a different energy about the Nuggets this year with some higher expectations. Players can feel it. Coaches can feel it. Fans can feel it. This upcoming season will hopefully be the first among several championship contention years for Denver. The time to prepare for that possibility has already begun.
But what are Nuggets fans thinking about ahead of the 2022-23 season? I asked for some questions in this week's edition of the Mailbag. Nuggets fans delivered.
Let's dive in:
---
Will preseason have some extra excitement to it this year?

— Omar (@Beastin25_8) August 9, 2022
There's a lot to be excited when the Nuggets play, even if it's only preseason. Watching Jamal Murray and Michael Porter Jr. get back on the court will have a different feeling for fans this year. One never knows just how much they miss watching their favorite players until the opportunity is taken away from them. Fans are starving to see Murray and Porter back in action.
Beyond those two, there are several intriguing wrinkles to this preseason. The Nuggets are debuting a new starting five heading into the season featuring Kentavious Caldwell-Pope. Their biggest free agent signing, Bruce Brown, is expected to play a unique role as well. Fans will be excited to watch the newcomers, including rookies Christian Braun and Peyton Watson, as the team hopes to realize their championship potential.
Bones Hyland is always must-see television. His connection with the fan base is well known, and entering his second season, it's reasonable to expect improvements to various aspects of his game while filling a larger role.
And then of course, any time Nikola Jokić plays, an angel gets its wings.
---
What is your biggest non-health concern for the Nuggets entering the 22-23 season?(fit, coaching, chemistry, depth, ect.)

— Peter Martin (@Bucketsince88) August 10, 2022
I'm glad you eliminated health as one of the concerns, because injuries and absences will have as much of an impact as anything.
Outside of health related concerns, the biggest question mark is the frontcourt depth. Michael Porter Jr., Aaron Gordon, and Nikola Jokić is one of the strongest frontcourt trios in the NBA. Currently projected to be their respective backups are Davon Reed, Jeff Green, and Zeke Nnaji, with a mix of Christian Braun on the wing and DeAndre Jordan in the middle. That's not great, and the biggest point of weakness will be the lineups when Jokić sits.
Can the Nuggets cobble together playoff caliber lineups when Jokić is resting? Will those lineups involve immense staggering, thus limiting Denver's minutes with their starting unit? Can they afford to play Jokić 35 minutes a night in the playoffs? Will he have to play 40+ minutes per game instead?
The Nuggets haven't won the minutes with Jokić ON the court during the last three playoff runs. Most of that is circumstantial, and the Nuggets have gone to great lengths to rectify that deficiency. It has opened up a hole in their frontcourt depth though, and that's a concerning – but necessary – price to pay.
---
How confident are you in Zeke this coming season?

— BonesStan (@DNVR4LIFE) August 10, 2022
After writing about Zeke Nnaji in an article last week, I'm about as confident in Nnaji as one can realistically be with a 21-year-old getting ready to play a major role. Nnaji has proven enough that he deserves an opportunity to be Denver's first frontcourt player off the bench when the regular season begins, but he's still so inexperienced and unknown that the Nuggets will have to have contingency options.
The JaMychal Green trade was made in part to clear some minutes for Nnaji in the frontcourt. They believe in Nnaji taking that next step. The Nuggets also decided to retain Jeff Green, who played 75 games last year and nearly 2,000 minutes for Michael Malone last year. Uncle Jeff represents a major trust guy for Malone, who will most likely look to counteract second year guard Bones Hyland and newcomer Bruce Brown with some veteran leadership in the frontcourt off the bench.
Whether that means both Green AND DeAndre Jordan, who the Nuggets also signed, play bench minutes remains to be seen. The Nuggets could certainly use Nnaji's floor spacing and versatile defense, probably more so than having a second 10+ year veteran on the court.
The regular season is long though. Every bench player is likely to get some form of opportunity to solidify a rotation spot over the first 20 games of the season. It will be up to Nnaji to earn his minutes, because they certainly won't be handed to him.
---
How important is it to rest Jokic regular season &how many games, so he's not gassed in the 2nd round? He's amazingly durable but can the Nuggets count on that? How do they compensate for inevitable limitations of Zeke &Jordan at the 5 Do they get backup C at the deadline?

— Cugel12 (@Cugel121) August 10, 2022
The year the Los Angeles Lakers won their most recent title, LeBron James played 67 out of 71 regular season games. There was a big stoppage in the middle due to COVID though. James played over 2,300 minutes though. He's a bionic machine.
The year the Milwaukee Bucks won their most recent title, Giannis Antetokounmpo played 61 out of 72 regular season games, about 85% of the games. He played just 2,000 minutes leading up to the playoffs.
Last year, Stephen Curry played 64 out of 82 regular season games. He had missed six games spread throughout the year before missing the final 12 due to injury. He played 2,200 regular season minutes but had a small minute restriction in the first round of the playoffs before ultimately returning to full strength.
Nikola Jokić has played no fewer than 2,336 minutes in each of the last five regular seasons. His iron man availability should be celebrated, but he also has carried a massive burden for the Nuggets in each of the last four years. He missed two games in 2018-19, none in either of 2019-20 or 2020-21, and finally missed eight games in 2021-22, six of them to a thumb sprain early in the year.
If I were the Nuggets, I would sit Jokić every 10th game to ensure he plays no more than 74 games again this year. Any injury time beyond that can also be tacked on. The REAL rest will come from a slightly reduced offensive burden due to the returns of Murray and Porter. Hopefully, Jokić can do a little "in-game resting" while the rest of the starters pick him up for a change.
---
Is there any way the Nuggets bring in Mello for a look, I think they need more bench scoring.

— Christopher Fuller (@Christo80437755) August 11, 2022
Carmelo Anthony's relationship with the Denver Nuggets has remained icy over the years. He once wondered why Nuggets fans were booing him as he suited up for the opposing playoff team. He also shared his hopes to have his number retired, which just so happens to be Nikola Jokić's #15 (and it's definitely Nikola Jokić's number now).
It's difficult to foresee Melo and the Nuggets agreeing to a reunion, but let's say there's interest on both sides. Does Melo help the Nuggets? Perhaps. Bones Hyland can only score so many points off the bench, and the Nuggets will need to find offense in some unlikely places while all three of Jokić, Murray, and Porter sit. Perhaps a Bones Hyland, Bruce Brown, Davon Reed, Carmelo Anthony, Zeke Nnaji lineup makes some sense as a second unit during the regular season.
When it gets down to it though, the Nuggets will be staggering their starters in the moments that matter. Murray will play next to Bones at some point, and Porter is basically a shoo-in to play some backup forward minutes himself. Next to those offensive players, the Nuggets will most likely employ 3&D options. Does Melo factor at all into that version of the Nuggets? Probably not.
I would pass, but there's merit to the idea if Porter misses extended time again.
---
My best case scenario: MPJ to be healthy and having a good year so the nuggets can trade him at the deadline. New GM's usually mean there is a shorter leash for guys drafted from the last regime. Thoughts? What do you anticipate the market for healthy MPJ is?

— Ryan Poland (@ryanpoland1) August 10, 2022
I understand this point of view because Nuggets fans just don't want their hearts ripped out again by injury. After losing the past two playoff runs due to major injuries to stars, it would be horrible to see it happen for a third straight season. The Nuggets should do everything they can to avoid that scenario, which means easing Murray and Porter back into things and giving them ample rest opportunities.
But to head those issues off at the outset and trade MPJ during the middle of the season? That seems like a horrible idea for a variety of reasons.
First issue: his value just isn't that high on the open market. Could a team talk themselves into making a gamble? Sure. Are they willing to assume all of the risk of that contract and send the Nuggets back some important pieces in return? Probably not.
A good example for this would be the difference between sending MPJ to Atlanta or Cleveland. The Atlanta Hawks might see Porter (a good friend of Trae Young) as a final piece of their young core that can contend for years to come. Are they going to send the Nuggets back De'Andre Hunter and Bogdan Bogdanovic in return? Probably not. John Collins? Doubtful. The Hawks might value him highly, but not high enough to trade pieces that would be helpful to Denver.
On the other end of the spectrum, Porter is the exact kind of player the Cleveland Cavaliers might be willing to take a chance on…for the right price. They already have Darius Garland and Jarrett Allen locked in. They're not trading Evan Mobley. That means a deal for Porter probably includes either Lauri Markkanen or Kevin Love as the centerpiece. Whoopie.
The Nuggets are holding onto MPJ, and that's a good thing. He's really good.
Porter's value, even if he stays healthy through the trade deadline, isn't going to be high enough to justify moving him. If the odds of Porter playing playoff games this year are around 70% (which is fair), then that percentage likelihood is more valuable to the Nuggets than whatever they can get for MPJ in a trade.
---
Can the nuggets win the title with a solid B MPJ or do they need an A+ MPJ?

— chris (@oneinaMiller) August 11, 2022
Speaking of MPJ being really good, this is the exact reason why the Nuggets have to hold onto him. The B-version of MPJ is him replicating what he did during the 2020-21 season. Around 19 points and seven rebounds per game while hitting a bunch of threes and spacing the floor well for Denver's offense. That's a 'B'. The 'A+' scenario is where he experiences a breakout, going from 19 points to 23 or 24 points per game, diversifying his offensive game and improving at least marginally as a playmaker and defender. THAT version of MPJ makes Denver the favorites, not just a contender.
So, do the Nuggets NEED MPJ to be the A+ version of himself to win a title? Absolutely not. Him being that good certainly increases their margin for error, but it's not a necessity by any means. If every player on Denver's roster is just as good as they were the last time they stepped on the floor, then that should be good enough to win a title. It might not happen, but the Nuggets are good enough as is. They don't need miracles. Just health and continuity.
---
Giving DC Comics some love especially since our best player is named The Joker, who played the best Joker in the movies?

— Mister Nunes (@YouKnowMeAsLen) August 10, 2022
When Jokić first started playing, there was a serious debate about whether his nickname should be Joker or Big Honey, given to him by Will Barton in his rookie season. Both are strong nicknames, but Joker has won out over the years, and Jokić has certainly taken to that nickname a bit more.
I haven't watched every Batman movie. I didn't see Cesar Romero's rendition other than a few clips here or there. I did see Jack Nicholson, Heath Ledger, Jared Leto, and Joaquin Phoenix play the role though, and all of them of course brought their own spin to the character.
The debate really is between Nicholson and Ledger, but for my personal preference, it's Heath Ledger all the way. The Dark Knight is one of my favorite movies of all-time, and Ledger is the biggest reason why. He's an absolute maniac, and his mannerisms are incredible. The tension throughout that movie doesn't work unless Ledger pulls off that performance, and it's that tension that turns The Dark Knight into an art form on its own.
RIP Heath Ledger.