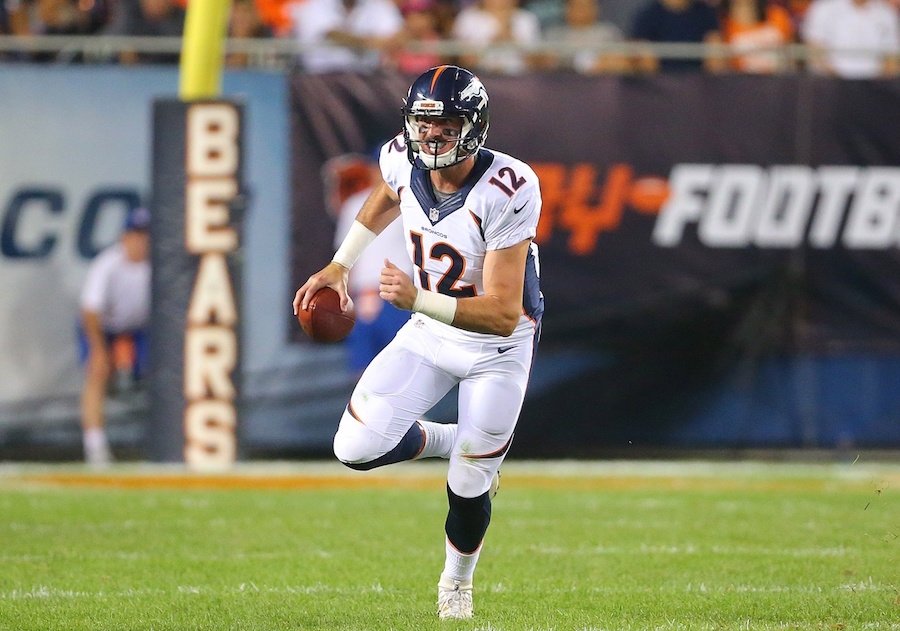 This just in: Paxton Lynch has a cannon.
Perhaps that's not such a secret actually. His coach at Memphis knew it. John Elway bet big on it. And now that Broncos fans everywhere have seen it – albeit in just one half of one preseason game – they're pretty sure about Lynch's golden arm, too.
Still, Lynch has just seven passes, one half and not even a full NFL training camp under his belt. It's not enough info – not enough to move him up the depth chart.
Or is it? Have you heard what his teammates are saying?
"We were in the locker room talking just now and this dude has a rocket," wide receiver Emmanuel Sanders told Vic Lombardi yesterday. "He's comparable to Matthew Stafford. When I was at the Pro Bowl, Stafford's ball has that whistle effect. Paxton's has the same.
"He can sling it."
Cornerback Chris Harris was on SiriusXM NFL Radio yesterday and weighed in: "Paxton has the best arm and the best upside of all the Broncos quarterbacks."
Pass catchers and pass defenders agree, there's darn sure something there.
Therein lies the issue. How do the Broncos deal with knowing they've got a "rocket" sitting third on the depth chart?
It took all of one preseason game for the chatter to start – and from credible sources. Just imagine what it might be like if he turns in another solid performance. For that matter, imagine the quiet murmur growing louder if he plays well and the two guys in front of him don't. The general consensus has always been "when" and not "if" when it comes to Lynch. Before camp, the hoards of talking heads and scribes with scruples were fine with throwing out approximations well into the season – "Week 10" or "Week 6 if things aren't going well" – but just one week into the preseason, there's a hesitation to underestimate the rookie. At least there should be.
As Mile High Sports Radio's Gil Whiteley aptly pointed out on Twitter after the Chicago game, "Sorry, but @PaxtonLynch has put himself back in this competition. He passed every test. His on-field skills are there."
Whiteley then said, "Next is against No. 1s."
Will it be? Should it be?
The short answers: No and yes.
John Elway and Gary Kubiak didn't ask me (or Gil), but here's what I'd suggest: This week, against San Francisco, utilize the same exact strategy (a quarter apiece for Trevor Siemian and Mark Sanchez and a half for Lynch), but let Lynch fling it around a bit more. (Sure, Kapri Bibbs earned the additional carries, but we know more about the running backs than the quarterbacks at this point.)
If he still looks just as good as Sanchez or Siemian, then move him up to No. 1. (Note: I didn't say demote either of the other guys; in Denver, it's okay to have more than one No. 1.)
Then, in the practices that follow, allow Lynch to take equal snaps with the top offensive weapons, against the vaunted Broncos defense. If he handles that, preseason game No. 3 shouldn't be a dress rehearsal, it should decide the No. 1.
I've never been a football coach or GM, but I've worn a Band Aid. Sometimes it's best to just rip it off.
Then again, when Lynch was at Memphis, the coaching staff there called a mid-season meeting during his redshirt (freshman) year. All of the coaches saw the talent; the majority of them wanted to pull the redshirt. Justin Fuente, the Tigers' head coach at the time, decided against it. Lynch started the next season and, well, here are.
Elway and Kubiak have, more or less, have created a "redshirt" season for Lynch. Will they – should they – resist the same temptation that faced Fuente?
There's no doubt, the temptation will be there. Scratch that, it is there. Already.
A rocket arm does not a quarterback make. There's just so much more to the position. But the fact that Lynch is already impressing makes this a competition worth watching. Closely.