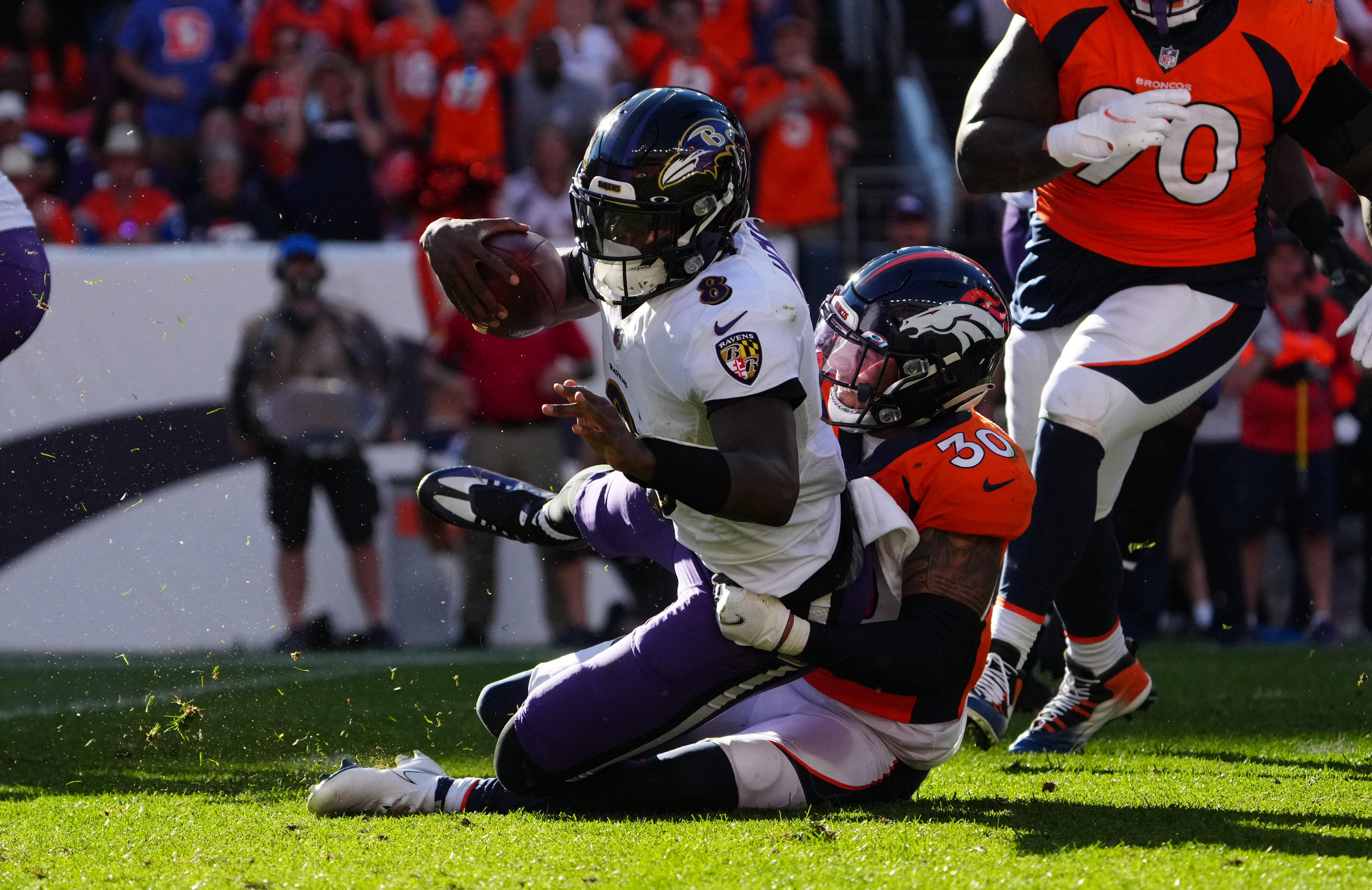 There weren't many positive highlights for the Denver Broncos in their 23-7 loss to the Baltimore Ravens this past week. 
However, one person came out of that game with his stock higher: rookie safety Caden Sterns.
Sterns has quickly proven that he was a steal in the draft at pick No. 152. It's no wonder that he's become a fan favorite in Broncos Country. 
We've already taken a look at the stories of underdogs Tim Patrick and Brandon McManus. Let's take a look at Denver's newest addition to that club.
A Star in the Making
Sterns grew up in Cibolo, Texas, and began playing football almost immediately.
Starting out as a running back, he helped lead his middle school football team to a Texas state championship.
He attended Steele High School and became a starter in his sophomore year. His impact was unquestionable as he played in all three facets of the game: wide receiver on offense, safety on defense, and a returner on special teams.
Although he thrived at every spot he played, Sterns starred the most as a safety. By the time he graduated, he had totaled 11 interceptions and 235 tackles.  
Sterns was a five-star recruit and rated as the No. 1 safety in the country by 247Sports and Rivals. He had offers from nearly every major college football program in the country.
Initially, he was dead set on attending Louisiana State University. The University of Texas wasn't even on his radar.
Sterns was raised by his single mother, Brandi. To make ends meet, she worked multiple jobs, working as a clothing store manager during the day and at a treatment center at night.
"We didn't have a lot of money," Sterns said. "But me and my brother were never told that because she busted her ass every day to give us everything we needed." 
Brandi wasn't ready to say goodbye to her son. With the University of Texas being only 90 minutes away from their home, she convinced him to take a visit to the campus.  
Mama Brandi's mission was a success as Sterns announced he was switching his commitment from LSU to UT instead that same weekend.
College Career Setbacks
In his freshmen year, Sterns started 13 games and tied UT's freshman record with four interceptions. He also finished with 62 total tackles, 46 solo tackles one sack. His season was cut short when he suffered a knee injury in the Big 12 championship game loss to Oklahoma.
Following the season, he was named the Big 12 Defensive Freshman of the Year and selected to the first-team All-Big 12  
Unfortunately, he never replicated his impressive first year.
His sophomore season was plagued with injuries.  After missing most of the team's spring practices while trying to recover from knee surgery, he suffered a big blow when he was hit with a high ankle sprain during preseason camp.
Later in the season, he dealt with another knee injury after getting hurt against Oklahoma State. He only played in nine games and ended the season with 59 total tackles and 0 interceptions. 
Sterns played only seven games in his junior year before declaring for the 2021 NFL Draft on November 30, 2020. He opted out of the remainder of the season.
Because of injuries, Sterns went from an undeniable first-round draft pick to a projected day three selection in a short two-year span.
Sterns was drafted in the 5th round, 152nd overall, of the 2021 NFL Draft by the Denver Broncos on May 1, 2021. On May 11, 2021, Sterns officially signed his rookie contract.
Making a Name For Himself
In the Week 1 win over the New York Giants, Sterns didn't play a single snap. However, Ronald Darby's hamstring injury sent him to the Injured Reserved list and forced the team to shuffle around some positions.
In Week 2 against the Jacksonville Jaguars, Patrick Surtain moved into Darby's spot and Sterns into the dime cornerback position.
Sterns earned some notoriety in Week 3 against the New York Jets with an interception even though he only played in 13 snaps.
Last week, Sterns cemented himself as an integral member of the Broncos team despite only playing in seven of their 73 snaps.
He sacked Lamar Jackson twice, being the first rookie defensive back with a two-sack game since 2016. Vic Fangio argued that his most impressive play was breaking up what would have been a 44-yard completion downfield by Sammy Watkins.
Caden Sterns AGAIN!
Second sack of the day #HookEm pic.twitter.com/ccUNRJJEfr

— Will Baizer is leaving the Big 12 (@WillBaizer) October 3, 2021
He credits his mother for all of his success.
"[My mom] made sure that I was able to play football," he said the day he was drafted. "Things like that cost money, and she did everything in her power to give me the things necessary to play football. I'm glad that I have somebody like that in my life that's there all the time for me. That's my mom, my best friend, and she's everything to me."
With 34-year-old Kareem Jackson in the final year of his contract, Sterns has an opportunity to leap into a starting position next year. The sky is truly the limit for this rookie.
Sterns will have another opportunity to build his credibility when the Broncos visit the Pittsburgh Steelers on Sunday at 11:00 AM MT.