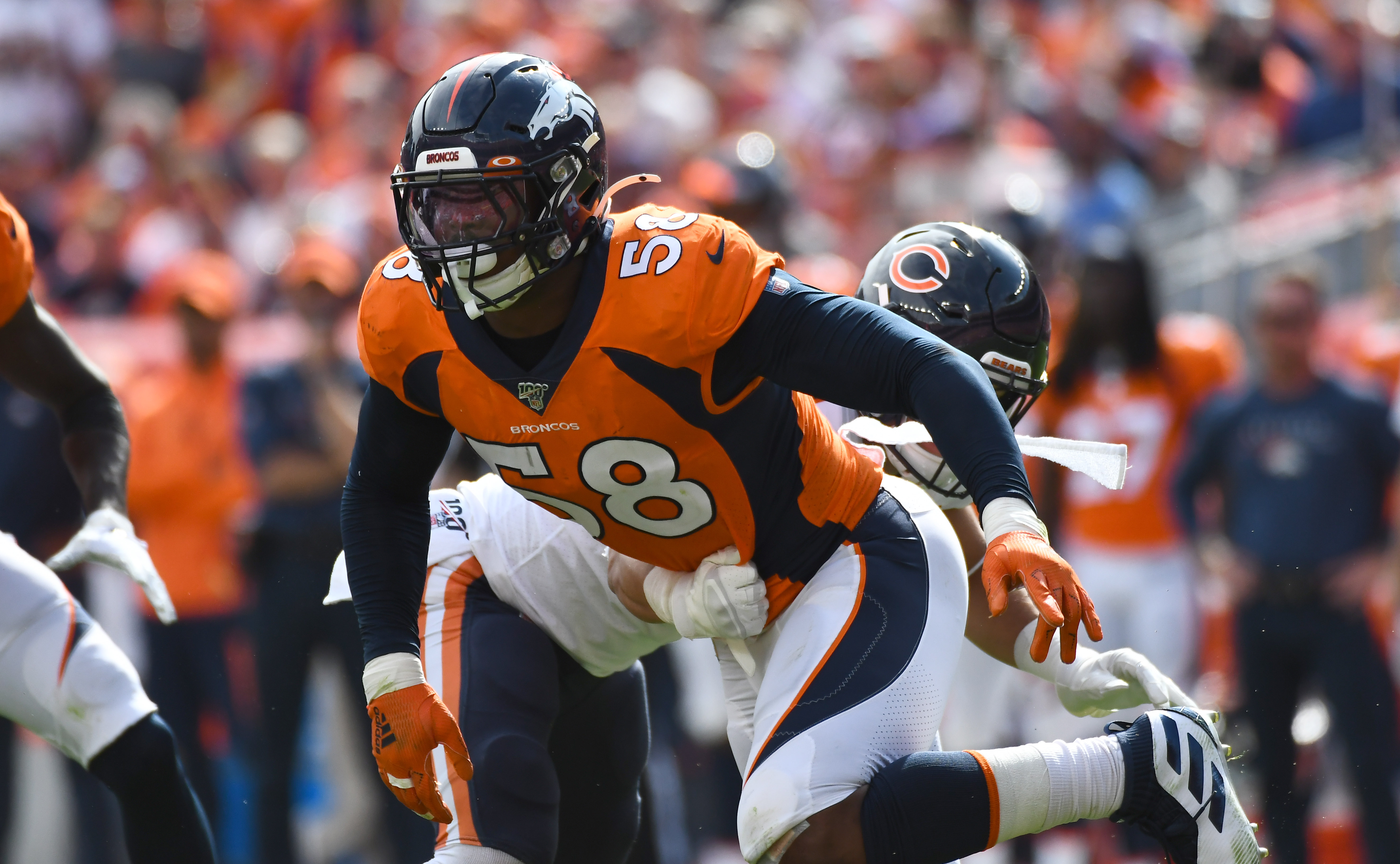 The Denver Broncos boast one of the best pass rushers in the game, Von Miller. However, media reports outside of the Denver market continue to dismiss him.
Expectations are high for Miller heading into the season from those who cover the team. Most around the Broncos believe the former Super Bowl MVP will have a monstrous 2021 campaign.
However, Miller is slept on in publications all over the NFL media landscape.
Pro Football Focus had their Top 32 EDGE Defender Rankings, and Miller fell from seasons past and outside the top 10. Good but not elite players like Demarcus Lawerence and Danielle Hunter cracked rankings ahead of the Broncos star pass rusher.
Respected NFL Journalist Doug Farrar also thought at least 11 other players were better at the position than Miller when he created his list.
Recency bias is in full effect as Miller's missed last season due to injury, but the narrative of his decline from most is over the top.
Last season, Miller was primed to explode before a freak ankle injury disrupted his career. Now he is back and physically ready to dominate the league once more.
What the league seems to forget is how good Miller is. In 2019 Miller "had a down year" and still was a beast. That version of Miller was dominant without a formidable counterpart on the left side and below-average pieces behind him.
Just imagine what the Broncos Icon will do this season with a healthy side-kick in Bradley Chubb and the best secondary in football behind him.
His teammates understand the impact of having No. 58 on the field.
"We joke about–obviously everyone doubts his age and stuff like that. I think the first week he [commented] on how he's still whooping all these people's butts. They were 22, 23 years old. That's just who he is. Just similar to Peyton [Manning]–whatever these guys put their minds to, they're able to accomplish. That's just the kind of competitors that they are and the athletes that they are. So, I'm just excited for him to be back out there and to see what the defense altogether can do with him." Brandon McManus – Denver Broncos Placekicker
A reminder of just how is Von Miller is
When we think of Miller, we often categorize him as a defender or by the position he plays. However, Miller is simply of the greatest players of this era.
His excellence ranks up there with the likes of Tom Brady, Aaron Donald, and others. PFF has ranked Miller with a score of 90+ more than any other active player in the NFL.
Active players with the most seasons recording a 90+ PFF Grade:

1. Von Miller – 8
T-2. Tom Brady – 7
T-2. Rob Gronkowski – 7
T-2. Aaron Donald – 7 pic.twitter.com/RwzVlBLFLT

— PFF (@PFF) July 1, 2021
The Broncos sack leader has gotten to the quarterback consistently, often making game-changing plays. He has done so without much help from his offense and overall roster. to further grasp his greatness, Miller has done damage consistently and on a team that has not made the playoffs since 2015.
Being able to be a game-wrecker when you are often double or triple-teamed and without the threat of a potent offense is nearly impossible, yet he makes it happen game in and game out.
Even after missing several games in 2013 and the entire 2020 campaign, Miller has more sacks than any other active player in the league. His name sits atop other elite players like JJ Watt, Justin Houston, and Chandler Jones.
Active NFL sack leaders:

1. Von Miller: 106.0
2. JJ Watt: 101.0
3. Justin Houston: 97.5
4. Chandler Jones: 97.0
5. Ryan Kerrigan: 95.5
6. Cameron Jordan: 94.5
7. Calais Campbell: 92.0
8. Jason Pierre-Paul: 89.0
9. Carlos Dunlap: 87.5
10. Aaron Donald: 85.5

— Pro Football Network (@PFN365) June 28, 2021
Furthermore, Miller also ranks in the Top-5 in total QB pressures per Next Gen Stats. All doing this without playing a single game last season.
Week 1 on @SNFonNBC 🍿@ChicagoBears | @RamsNFL

Since 2016, Aaron Donald (346) and Khalil Mack (250) rank first and third in the NFL in total QB pressures.

The rest of the top 5: pic.twitter.com/sFMAw9ewdM

— Next Gen Stats (@NextGenStats) May 12, 2021
With the pieces around him this season, Miller will have more one-on-one opportunities to create havoc than he has since 2016.
Using his career averages you can easily expect at least 13-14 sacks, 15-17 TFL, 25 QB pressures.  However, this season will be more than average for him.
Why Miller will be elite again in 2021
Now the NFL is a "what have you done for me lately" business, as is the attention of most media.
Miller was out of sight, out of mind last season. NFL analysts are caught up in who caught their eye last season, and Miller was not on the field to do so.
However, I caution those out there who doubt Miller lost it. Even if, and it is a big if, Miller lost a step he is still better than anyone who lines up across him.
Edge defenders traditionally age well, so it is safe to assume he still maintains phenomenal athleticism. Especially his explosive first step.
.@VonMiller's first step. 🤯

(via @nflthrowback) pic.twitter.com/GUHwOk0Zkh

— Denver Broncos (@Broncos) March 26, 2021
Miller often is into the backfield before the tackle is in his kick step by using timing and phenomenal quick-twitch explosiveness.
Adding to his arsenal, the game-wrecker brings more than just get off.
Here Miller uses more than just his freak athleticism to bend around the edge and make his way to the quarterback. What many miss the mental side Miller has that are leaps and bounds above the rest.
Von said EXCUSE ME. So nasty 😤 @VonMiller @Broncos pic.twitter.com/7WQgHbSr2w

— The Checkdown (@thecheckdown) August 9, 2020
Here Miller sets up the right tackle for this move all game long. Just like a prizefighter, Miller used other moves to set up his knockout blow, the "dip", when the game was on the line.
The man is so good, other NFL players come to learn from him at his Pass Rush Summit every year.
With his blend of pass-rushing moves, elite athletism, and savvy, there is no way Miller will not be challenging for the Defensive Player of the Year Award.
Conclusion
The league may have forgotten just how good Von Miller is. Again, I warn you not to fall into that trap.
Miller is a future Hall of Famer and has shown no signs of slowing down. With the additions in the secondary and returning players on defense, Miller will have more than enough time to get to the quarterback.
His teammates know how good he is and what his presence provides the team. He brings elite play at a prime position. Miller will also be motivated to produce for one last big contract.
Miller is ready for one heck of a comeback season and will be ready to earn his first DYOP. This season will be one for the books as this generational talent adds yet another phenomenal chapter into his Hall of Fame resume.
.@VonMiller makes his return next season. 💯 pic.twitter.com/wfCKZ1J9GH

— NFL (@NFL) June 4, 2021