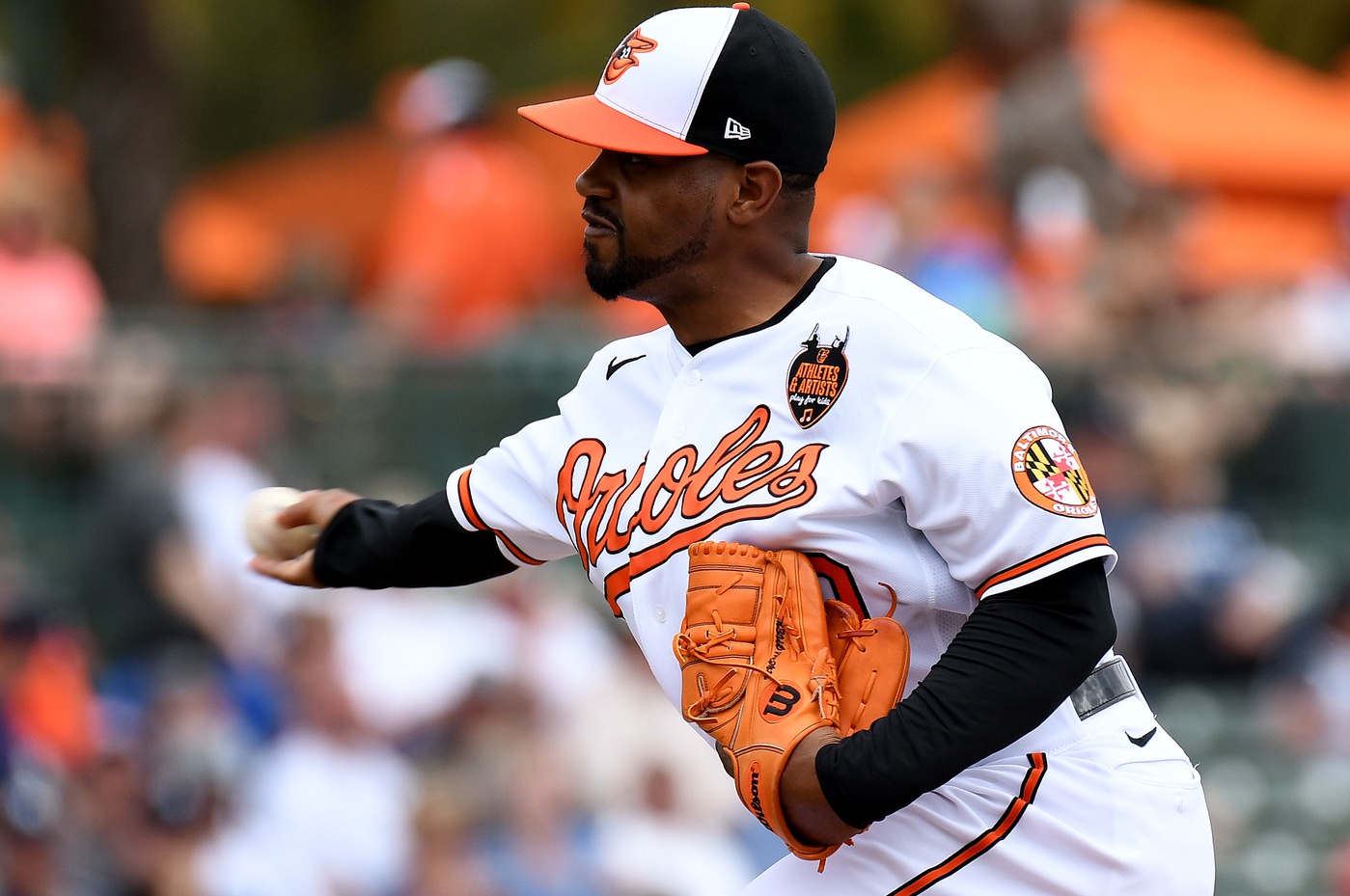 The Colorado Rockies on Sunday acquired relief pitcher Mychal Givens from the Baltimore Orioles in exchange for a package centered around prospects Tyler Nevin and Terrin Vavra, according to an announcement by the club. Givens represents an immediate upgrade in the bullpen, which has struggled this season since getting off to a great start.
Colorado's relief corps ranks in the bottom 10 in baseball in rWAR, as we covered in our trade deadline preview. Givens himself has been worth a little more than half a win, ranking him tops among Rockies relievers. With the addition of the 30-year-old right-hander, Colorado's bullpen—though still below replacement—jumps up a few spots in terms of rWAR ranking.
Givens largely has the strikeout to thank for the success he's enjoyed in his big league career. In parts of six seasons, he has struck out 10.9 batters per nine innings; this season, he's sitting at a career-high 13.2 K/9 and has whiffed more than 37 percent of the batters he's faced. Givens has done that with a mostly fastball-slider repertoire, with a good change-up mixed in from time to time. He averages nearly 95 mph on his fastball and throws the change at 82-84, giving him great velocity separation. And Givens has been good at limiting hard contact in his career, too, though not as much this season; opposing batters hit the ball hard just 28.3 percent of the time against him, but that has shot up to over 40 percent in 2020.
One thing that could get Givens in a little bit of trouble while donning purple pinstripes is that he's mostly a fly-ball pitcher. His career ground-ball rate is just 37.9 percent, and it's even lower—26.9 percent—this year. Those type of numbers will play OK in most of the ballparks the Rockies play in, but as we know, Coors Field is known for greatly rewarding just about any sort of in-the-air contact.
Givens, who spent some time as the Orioles' closer last season but will likely slot in as a setup man for the Rockies, will have plenty of opportunity to see how he performs at Coors Field. The Rockies will have him under club control through the end of the 2022 season, at which point Givens will be a 32-year-old free agent.
Tyler Nevin and Terrin Vavra were both top 10 prospects in the Rockies organization at the time of the trade. Nevin, drafted in the first round in 2015, has appeared in more than 100 games in a season just once in his minor league career but has generally hit well. Last season at pitcher-friendly Double-A Hartford, Nevin hit .251/.345/.399 with 13 homers. That batting line seems a little bit low, but because of the suppressed offensive environment of the Eastern League, his production at the plate was actually 22 percent above league average. The year before that, Nevin hit .328/.386/.503 for High-A Lancaster.
Vavra, a third-round pick in 2018, posted a .318/.409/.489 line for Low-A Asheville a year ago. The 23-year-old middle infielder walked as many times (62) as he struck out, making him one of the more intriguing offensive prospects in the organization.