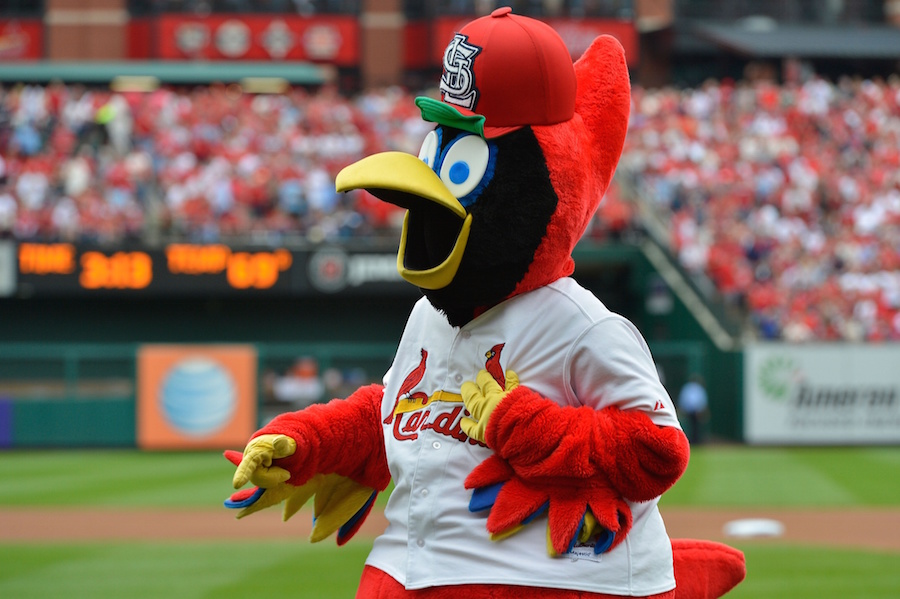 The Colorado Rockies can kill two birds with one trip to St. Louis. They head to the Gateway City for three games with the Cardinals starting Monday.
First, they can give themselves a chance to pick up at least one easy win in the series (and probably a series win).
More importantly, they can grab a frontline starter they very much need if they are going to make a run to and in the National League playoffs.
The St. Louis Post-Dispatch on Sunday reported that the Cardinals are "open for business" as the July 31 trade deadline approaches.
Despite being only 4.5 games out in the Central when the story broke, Cardinals president of baseball operations John Mozeliak appears to be thinking more long-term and is willing to deal. At the center of that willingness – and perhaps the Rockies' interest – is veteran starter Lance Lynn.
According to the Post-Dispatch, Colorado was one of as many as eight teams scouting Lynn's last start (a no-decision loss to the Mets in which he allowed one run on three hits over six innings).
Lynn carries an 8-6 record and 3.30 ERA into the three-game series with the Rockies, leading the Cardinals' starters in earned run average. For his career the 30-year-old right-hander is 69-45 with a 3.36 ERA. He's never posted a losing season in four full years in the Major Leagues, although he missed all of 2016 after undergoing Tommy John surgery.
While he's not necessarily a dominant frontline starter like, say, Chris Archer, Lynn would slot in quite well in place of Tyler Chatwood. Currently out on the 10-day DL with a calf strain, Chatwood has struggled mightily this season and could be utilized in a bullpen role should the Rockies make a move for Lynn. In the event Chatwood recovers his form as a starter, any one of the Rockies' impressive rookie starters who are seeing their innings count climb could also be moved to the pen.
Prying away Archer (or someone of his ilk) is going to cost a mint (not to mention the Rays are only 3.5 games out in the AL East). Rockies GM Jeff Bridich has already suggested that his top priority is bullpen help, so coughing up what would likely be two to three top prospects and probably a major leaguer for a true No. 1 might be asking too much.
The price for quality staters has skyrocketed thanks to the Cubs, so Lynn will still come at a steep cost. He's in the last year of a contract, however, so Colorado would have more leverage going after Lynn than they would someone like Archer, or even a plus bullpen arm. Plus, Lynn hasn't been afraid to go toe-to-toe with some of the best in the game, and he has been successful in places important to the Rockies.
At Coors Field he's 1-1 lifetime in four starts. More importantly, he boasts a 2.84 ERA over 25.1 innings pitched. He has a very impressive 1.105 WHIP in Denver and has allowed only one home run there against 98 batters faced.
In the nearly-as-hitter-friendly confines of Chase Field, home of the Diamondbacks (with whom Colorado is presently on a collision course in the Wild Card), he's 3-0. However, his numbers don't quite jump off the screen like they do in Denver. His 3.67 ERA is above his career average (3.36), as is his WHIP of 1.556 (vs. 1.278). His overall numbers (home and away) against Arizona are much better. He's 4-0 lifetime, with a 2.94 ERA in eight starts.
Against the Los Angeles Dodgers, he's 3-1 with a 3.69 ERA in seven career starts. He matched Kershaw nearly pitch-for-pitch in his only start against L.A. this year, going eight innings and allowing one run on two hits. (Kershaw went nine, allowing three hits and one run in an extra-innings win for the Dodgers.)
Beyond being a solid fit and a short-term financial risk, a trade for Lynn would also give the Rockies a chance to grab a series win against the Cards.
Colorado will already be at an advantage in the first game, as the Cardinals have to travel home after playing the Sunday night game against division rival Chicago.
Lynn is scheduled to start the second game. If the Rockies are really serious about acquiring his services, they could make the move on Monday and clear the path for Jon Gray to face a spot starter. It wouldn't guarantee a win, but it would put Colorado in a strong position to pick up that game.
Bridich could tell the Cards, "Lynn is our guy, but I don't want my potent lineup potentially giving him a loss for a second time this season. (Lynn allowed four runs on six hits over five innings in a May 28 loss to the Rockies.) Let's get this deal done, give him an extra day of rest and we'll start him on Wednesday in the series finale."
How about that for some great baseball theater? Lynn gets his first MLB start not in a Cardinals uniform in St. Louis. Chalk that up as a win for Lynn and for the Rockies, both short-term and long.