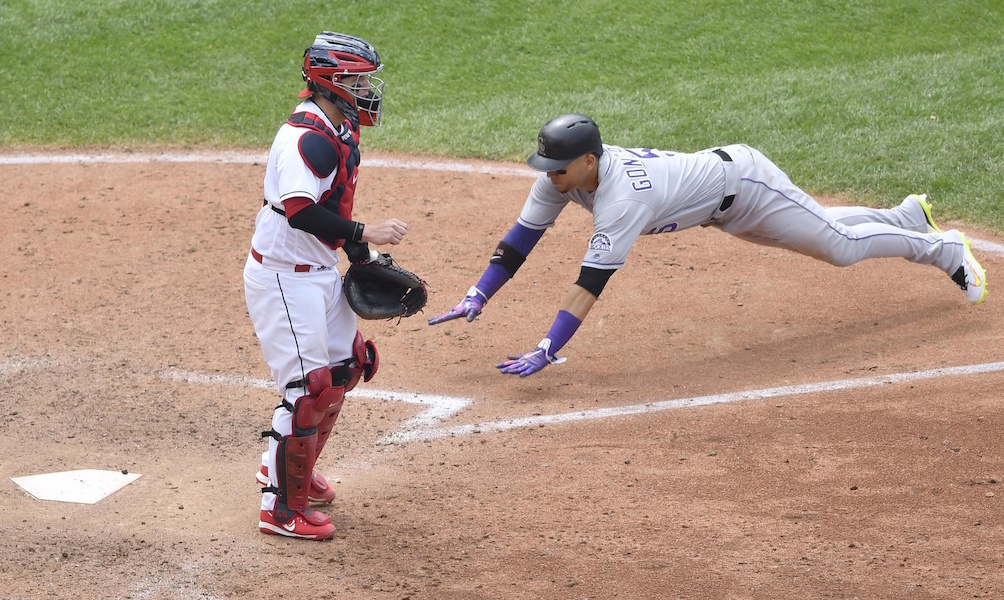 Following Tuesday's gut-wrenching loss to the Cleveland Indians, the Colorado Rockies could have hung their heads going into a short turnaround on Wednesday afternoon. They had entered the ninth inning Tuesday with a chance to hang a loss on Corey Kluber despite only scoring one run, but gave away the victory. It would have been no surprise if they entered Wednesday's 12:10 p.m. start a little downtrodden. But that's not how this year's Rockies team operates.
"I think we've shown a great deal of resiliency and resolve all year. That's how I see it," Manager Bud Black said after Wednesday's dramatic 12-inning victory. "We talked a little bit this morning about our group and bouncing back [from the walk off loss], and whether its easier to come back after a day game or whatever. It doesn't matter to us."
The loss Tuesday – Greg Holland's second consecutive blown save – didn't matter, nor did the fact that the Rockies trailed 2-1 going into the ninth inning. That resolve Black spoke of shined through, as Carlos Gonzalez and Jonathan Lucroy combined with back-to-back one-out hits to tie the game and send it to extra innings.
The bullpen, which has struggled off and on through the season, put forth a yeoman's effort to earn the win. After 5.0 innings from Antonio Senzatela, five Rockies relievers combined for 7.0 scoreless innings. Most notable was a perfect 12th from Tyler Chatwood, recently relegated to the bullpen after struggling as a starter, who earned the second save of his MLB career.
The result, while pleasing to Black, was no surprise. Coming into each game with fresh eyes has been his club's vision all season long.
"If this game would have been a day off, would have been a night game – our guys [have] been good all year about flipping the page and moving on to the next game. And that's either after a tough loss or a great win. You can't rest on your laurels, and you can't hang your head after a tough one. And our guys haven't done that," Black said.
"That was good to see that type of game today and us win it," he continued. "That was a good one, for sure. I know that as disappointing as it was [Tuesday] night, it's just as gratifying or more today."
The Rockies are off on Thursday before beginning a weekend series with the Marlins in Miami on Friday.