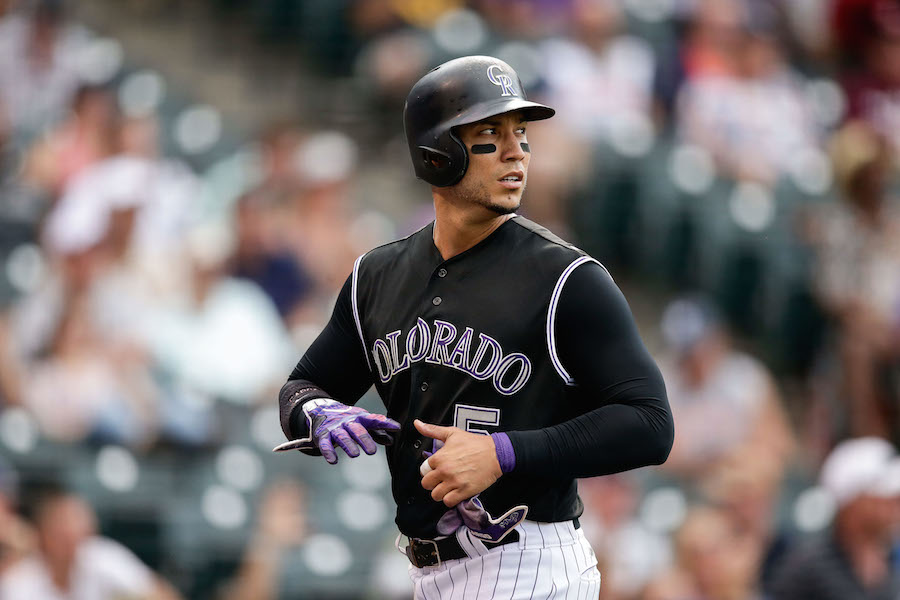 The 2017-18 MLB free agency standoff is finally starting to see movement, and according to MLB Network's Jon Heyman the Rockies are a part of it. Heyman reported Thursday that the Rockies and longtime right fielder Carlos Gonzalez are close to a deal that will bring the three-time All-Star back to Colorado on a one-year contract.
Gonzalez reportedly rejected a multi-year contract offer last spring, only to have one of the roughest seasons of his career and see his value dry up as he became a free agent this offseason. While the exact value of this new contract is still unreported, clearly Gonzalez's return to the Rockies is a "show me" contract at just one year.
The three-time Gold Glove winner and two-time Silver Slugger played out the final season of a seven-year, $80-million contract in 2017 only to post a .262 batting average with just 14 home runs in 136 games. Even that .262 average was somewhat misleading as a year-end stat. The 2010 batting champion batted just .228 from April to July in 2017, but buoyed himself somewhat by hitting .325 over the final two months of the season.
Despite his strong finish, helping the Rockies to reach the postseason for the first time since 2009 and being the only member from that team still on the roster in 2017, MLB general managers including the Rockies' Jeff Bridich clearly had their reservations about Gonzalez long-term. Although he just turned 32 in October, Gonzalez already has a decade of Major League experience. He's hardly long in the tooth, but the Rockies in particular have a bevy of young outfield talent coming up through the ranks that made Bridich think long and hard (not to mention negotiate on his terms) in re-signing Gonzalez.
Gonzalez's first season with the Rockies was that 2009 Wild Card berth, and he has established himself as the clubhouse anchor in the years since. His return will be welcome by the team's biggest star, Nolan Arenado. The five-time Gold Glove third baseman and potential heir to the clubhouse leader mantle was quite vocal earlier in Spring Training about his desire to see Gonzalez back in a Rockies uniform.
Arenado got his wish, and Gonzalez will be back in purple pinstripes for a season that folks in and around the Rockies organization believe can be something quite special.
The move will have a ripple effect on the roster, however.
That aforementioned young talent — outfielders David Dahl, Raimel Tapia and Mike Tauchman — will be pushed back down the depth chart. Those three were fighting for one, maybe two, available roster spots; the return of Gonzalez means there's even less room now in Bud Black's outfield.
That is, of course, unless the Rockies skipper decides to move his left fielder, Ian Desmond, to first base, as was the plan when Desmond signed ahead of the 2017 season.
23-year-old prospect Ryan McMahon has been fighting valiantly for the starting first base job through the early part of Cactus League play, and moving Desmond to first would relegate McMahon to a utility bench role or even back to Triple-A where he hit .374 in 70 games last season.
The Rockies have high expectations for Dahl, Tapia, Tauchman and McMahon. But they have even higher expectations for the 2018 season on the whole.
Both DJ LeMahieu and Charlie Blackmon become free agents in 2019. Arenado could hit free agency in 2020. The re-signing of Gonzalez on a one-year deal shows that Bridich wants to keep his 2017 core intact, but that window is closing very fast if LeMahieu, Blackmon and Gonzalez do not return next year.
Betting that Gonzalez will bounce back from a down four-month stretch seems safer than believing that Dahl can replicate his magical half-season in 2016 for a full year (and stay healthy), or that Tapia, Tauchman or McMahon will take the leap necessary to be primary contributors on a playoff-contending team.
On the flip side, Gonzalez must deliver this season if he hopes to sign somewhere long-term beyond 2018 — either in Colorado or elsewhere. He struggled mightily under the pressure of playing in a contract year last season, and that pressure will only be greater this time around.
Bringing Gonzalez back can be a win-win if he delivers; however, the stakes are much higher than they were this time last year when he reportedly turned down that multi-year extension. The Rockies have some options should he struggle, but Black and Bridich can't be as patient as they were last year.
The MLB hot stove may have gone cold for much of the offseason, but this one-year deal certainly turns up the heat on Gonzalez and the Rockies here in March.