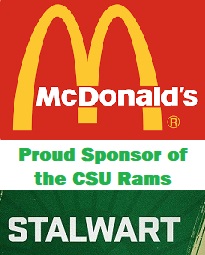 Colorado State played stalwartly, especially in the first half, against the No. 19 Air Force Falcons on Saturday, but it wasn't enough in the 30-13 loss. Air Force's relentless rushing attack and the heavy snow combined to grind the Rams into a pulp in the second half and ultimately improve to 8-0 on the season.
Jay Norvell's Rams played great football in the first 30 minutes. The run defense really stepped up, allowing only 82 yards on the ground to a team that averages 153 per half. And Colorado State tied it up at 13-13 with less than a minute before halftime.
Unfortunately for the home team, the Falcons out-physicalled the Rams in the second half. Of course, the 15-yard penalty on the Colorado State student section for throwing snowballs at Air Force's bench didn't help; the Falcons scored a touchdown on that drive. But we also saw injuries to Chigozie Anusiem, Ron Hardge, and superstar receiver Tory Horton in that second half as well.
if it was you, don't come back.
fake friends. https://t.co/Yc5YFQ2ZdV

— Colorado State Football (@CSUFootball) October 29, 2023
The offense, which wen't pass-only, couldn't sustain drives in the second half. Brayden Fowler-Nicolosi couldn't seem to grip the ball in the snow and cold, shaking his hand one point to seemingly rush blood to his numb fingertips. And Air Force took each failed Rams drive and answered with scores.
Stock Up: Colorado State's Justus Ross-Simmons continues to break out
Justus Ross-Simmons
Ross-Simmons has continued to grow into his role as the Rams' No. 2 receiver alongside Horton all season long. While Horton is the short-to-intermediate route king, Ross-Simmons is CSU's deep threat man.
And he went off for another explosive play on Saturday night. Fowler-Nicolosi unleashed a deep ball to the sophomore receiver for a 61-yard touchdown.
BFN➡️JRS for 61 yards and SIX‼️#Stalwart x #RamGrit 🐏 pic.twitter.com/s6O3NxbFXN

— Colorado State Football (@CSUFootball) October 29, 2023
Ross-Simmons led all receivers with 8 receptions for 128 yards on the day. He now has 505 yards and 3 touchdowns on the season.
Nuer Gatkouth
Gatkouth went wild on Saturday night. The freshman defensive lineman enjoyed a career-high 15 total tackles, 3 of them solo, in the loss to Air Force.
1.5 of those were tackles for a loss and he was a big reason why CSU was so staunch against the run in the first half.
Jordan Noyes
Noyes was again fantastic. He was a perfect 3-3 on his kicks, including two field goals and one extra point made.
Noyes drilled a 40-yarder and then a 49-yarder just before halftime to tie the game up 13-13 at the break.
Noyes is now 9-11 on the year on field goals and a perfect 22-22 on extra points.
Stock Down: CSU run game disappoints
Colorado State run game
Van Schield was again the starter, and he did a decent job, with 14 carries for 53 yards. But the team rushed for a combined 42 yards due to four sacks sustained by Fowler-Nicolosi.
As stated earlier, the Rams went basically pass-only in the second half. That was surprising to see because Fowler-Nicolosi's hand was so cold, and the Falcons kept dropping 7-8 players every play. CSU should have run the ball more and try to catch Air Force off-guard.
Tory Horton
Horton is a stock down player for a second straight game, but this time because he was injured, which helped limit his numbers.
He finished with only five receptions for 52 yards. That's the third game in four that he's gone under 100 yards, and he hasn't scored in four straight contests either.
Brayden Fowler-Nicolosi
BF-N wasn't terrible, but he wasn't good enough against Air Force, either.
The redshirt freshman quarterback was on fire in the first half. He started the game 10-11. But he finished it 28-45 (62.2%) for 297 yards, 1 touchdown. He didn't throw an interception, which was great, but he did fumble the ball in the first half.
Overall, he's playing very good football for the Rams, but there's seemingly always room for improvement for quarterbacks.