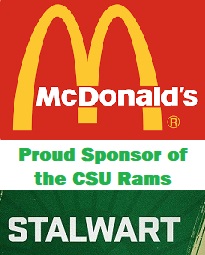 Tonight, when No. 19 Air Force (7-0) comes into Fort Collins to battle the Colorado State Rams (3-4), contrasting styles and strengths will be on display.
The Falcons are the No. 1 rushing team in the nation. Add onto that, they're the No. 2 run defense team. Meanwhile, Colorado State has been hampered by injuries at running back, and their run defense is ranked 90th among 130 teams.
Where Colorado State excels, though, is in the passing game. Unfortunately for the Rams, Air Force is 4th-best in that category (154.3 yards allowed per game). Plus, the possible heavy snow tonight in Fort Collins seems to favor a run-heavy attack.
Looking west toward the Aggie A, which you can usually see from my back deck. All you see is snow right now. #Cowx #FortCollins pic.twitter.com/vwF1ooFwZ4

— Rich (midnight blue 🌠and sunshine yellow ☀️) (@RichKurtzman) October 28, 2023
As of 8:30 a.m. there's about an inch on the ground in west Fort Collins. The snow is likely to taper off, but then start back up at 3 p.m. and continue at kickoff (5 p.m.) through the end of the game and into Sunday morning.
Air Force's rushing attack is best in the nation
The Air Force Falcons rush the ball better than anyone in the country.
They play by the old adage of "run the ball and stop the run" to win football games.
And it works.
Currently, the Falcons are 7-0 on the year and ranked No. 19 by the Associated Press. Their 306.0 rush yards per game is easily first, as are their 24 rushing scores so far this year.
Senior Emmanuel Michel is the team's leader with 566 yards and 8 touchdowns, followed by starting quarterback Zac Larrier's 497 yards and 4 touchdowns.
Air Force's triple-option offense is difficult to stop because they get the entire offense moving in one direction and then the playmakers decide where to run the ball on the fly.
Meanwhile, Colorado State's rush defense has struggled mightily this year.
Their 158.7 yards allowed per game are 90th in the country, with some massive defensive lapses this year. That includes the 246-yard, 3-touchdown game for Boise State two weeks ago. Similarly, Utah State ran for 252 yards and 2 touchdowns a week prior to the Hail Mary win over Boise.
Simply, the Rams need to play their best football tonight when it comes to stopping the run. At the very least, Colorado State has to slow down that rushing attack to stay within striking distance of Air Force.
Rams strength in passing could be hampered by snow
Snow games usually favor running the ball. Which is somewhat scary for CSU.
Because adding onto all we've already discussed, the Rams offensive strength is passing the ball.
Brayden Fowler-Nicolosi has been great at times, and also turned the ball over too often in other games. Colorado State needs the redshirt freshman to not only protect the ball, but create big plays in the passing game as he did against Boise, Utah Tech, Colorado, and Middle Tennessee State.
Tory Horton and Dallin Holker are true game-breakers for the Rams, and Fowler-Nicolosi also has solid options in Louis Brown, Justus Ross-Simmons, and Dylan Goffney, too.
But Horton and Holker are the stars. Horton is 9th in the nation in receiving yards (738) while Holker leads all tight ends in basically every category (577 yards, 6 touchdowns). If Holker is able to catch a touchdown tonight—or any time the rest of the season—he'll set a new single-season record for Colorado State, passing Kory Sperry and Kivon Cartwright.
The Rams need to make some things happen in the passing game despite playing the 4th-best passing defense in the Falcons. While there may be heavy snow, the Rams have to hope for light wind tonight at Canvas Stadium.
It's the Air Raid offense against the Air Force Falcons defense.
And CSU can't solely rely on the pass; both Vann Schield and Avery Morrow will be asked to carry the ball for Jay Norvell's team. Schield enjoyed the best game of his career last week, rushing 11 times for 90 yards. Meanwhile, Morrow returned from injury and was able to get into the end zone against UNLV.
How can Colorado State beat Air Force?
The Rams need to slow down the Falcons' rushing attack. If that doesn't work, they must hang with Air Force by using both their passing and rushing game effectively.
Of course, it'll be imperative for Fowler-Nicolosi to protect the ball. While he has a strong 15 touchdowns this year, his 11 interceptions are far too many.
If the Rams can hang with the Falcons, look for this one to come down to the final seconds.
Currently, Colorado State is being picked to play in multiple different bowls this year, despite being 3-4. A win would even them up at .500, but even a loss won't ruin those hopes with a soft ending to the schedule.
Tonight's game kicks off at 5 p.m. MT at Canvas Stadium, with a forecast of 27 degrees and an 80% chance of snow.