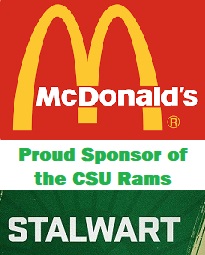 When the Colorado State Rams and UNLV Rebels go head-to-head tomorrow, it will be another case of two high-powered offenses duking it out.
The Rams have faced Washington, CU, Utah State, and now the high-scoring UNLV Rebels are on deck.
UNLV hasn't made a bowl game in a decade, and they've won five games only twice in the last 10 years. However, they've surprisingly already reached the five-win mark this year, sitting at 5-1 on the year.
And in all five of their wins, the Rebels have scored 40-plus points.
Rams fans know their green and gold has played much better football on offense this year, but even their 31.0 points per game are dwarfed by UNLV's 37.5 PPG.
Let's get into how CSU can pull off an upset against the surprisingly stellar Rebels tomorrow night.
Slow down the Rebels run game
The Rams couldn't slow down the Boise State Broncos running attack last week, especially in the first half. Boise was able to build up a 30-10 lead thanks to three rushing touchdowns and 212 yards to Ashton Jeanty.
That's bad news with UNLV up next.
The Rebels don't have a superstar back like Jeanty, but they do have a true running back by committee approach. Meaning they always have fresh legs coming out of the backfield.
UNLV has four backs with at least 170 yards, and between the four of them, they've scored a whopping 18 touchdowns on the ground this year. In fact, the Rebels average 221.5 yards (9th best) and 3.5 rushing touchdowns per game, including a strong 5.2 YPC average.
Their leading scorer is Jai'Den Thomas who has 297 rushing yards and 7 scores.
Meanwhile, the Rams are giving up 162.2 rushing yards per game, which is tied for 95th in the nation.
Simply, it seems there's no way Colorado State will stop UNLV's rushing attack. But they do need to slow the bevy of backs down to stay in this one.
Brayden Fowler-Nicolosi, Rams offense need to limit turnovers
When CSU has the ball, they've been up-and-down this year.
One drive, they're explosive. The next, Brayden Fowler-Nicolosi throws an interception.
Last week, down 23-10 to Boise State, Fowler-Nicolosi actually threw an interception before the incredible comeback. That led to Jeanty's third touchdown of the day and seemed to put the game away.
Luckily for the Rams, BF-N and the offense flipped the switch to score three times in the final 6:12 to come back and beat Boise State for the first time ever.
Overall, Fowler-Nicolosi has been very good this year. He just won Freshman of the Week from the Mountain West Conference for his great game against Boise in Week 7. But it must be noted that the Rams are 3-0 in games he's started when BF-N has more touchdowns than interceptions. And they're 0-2 when he turns it over more than he throws TDs.
In fact, he threw two picks against CU and three interceptions against Utah State, and on the year he has 14 touchdowns compared to 11 interceptions.
The good news is, Fowler-Nicolosi and the Rams offense is stacked with playmakers.
Tory Horton's 690 receiving yards are currently seventh-most in the nation. Meanwhile, Dallin Holker is second in yards and touchdowns (6) for a tight end this year. And on top of that Louis Brown has enjoyed a bit of a breakout, while Justus Ross-Simmons is quietly having a solid year.
The bad news is, the Rams will likely have to lean on the passing game because Vann Schield, the team's third-string running back, will lead the attack again this week. Both Kobe Johnson and Avery Morrow are injured, with Johnson out for the year.
If things go right for the Rams offense, this game will be a shootout in Las Vegas on Saturday night.
CSU (3-3) faces UNLV (5-1) with a 5 p.m. MT kickoff on Saturday, Oct. 21. The game will be streamed on The MW Network.