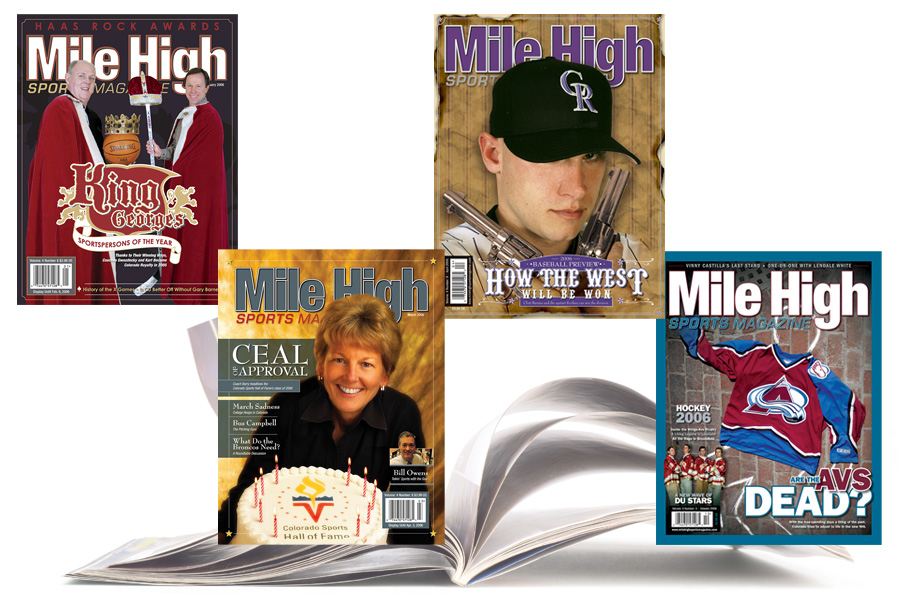 This Wide Wide Sports-less World is something else, eh? It only took about one week of sans-sports-living to realize just exactly how much we watch, consume, enjoy, discuss…need sports.
It's been rough.
If there's been a silver lining (outside of Tiger King), it's that plenty of sports outlets have become very creative in their efforts to deliver us sports. One of my favorite ways of doing this has been the repurposing of "retro" content – classic games, moments, performances.
And there's no reason Mile High Sports can't get in on the fun. In an attempt to take a trip down memory lane, we're proudly presenting "The Cover Story" – the tale of Mile High Sports Magazine as told through each and every cover.
Now, we're going to shake things up and present them in a somewhat random order, but at the end, we'll give you, the reader, a chance to vote for your favorites. So, for the next several weeks, while we're all cooped up inside, check in in often at milehighsports.com and check out our Cover Story.
We'll post every cover and perhaps some behind-the-scenes tales behind a few.
Click here for the entire series.
Enjoy.
Issue: January 2006, George Gwozdekcy & George Karl
The post you are about to read reveals one unavoidable fact: 2006 was a tough year for Mile High Sports covers. There's no particular reason – call it a tough stretch – but at least three covers from that year have often been referred to as our "worst ever" and one of them got us in quite a bit of trouble (more on that in a moment).
It didn't help that the year simply started off on the wrong foot. Ever have one of those great ideas "in theory," but when it finally comes together something got lost in translation? The vision just doesn't quite match up with what's actually seen? Our January 2006 cover was that in a nutshell.
Before I continue, I'd like to offer a most sincere apology to two very proud, very accomplished, very classy individuals – Nuggets head coach George Karl and then DU Pioneer hockey coach George Gwozkecky, each of whom had just turned in amazing athletic accomplishments, which is why they were named our "Co-Sportspersons of the Year." Karl took the reins of the Nuggets in January of the 2005-06 season, at a point in which the team was an embarrassingly bad 17-25, and finished by going 32-8 and earning a spot in the playoffs. Gwozdecky was fresh off back-to-back NCAA National Championships.
In theory, it's supposed to be an honor to have earned the magazine's top award. Hopefully, the old axiom "it's the thought that counts" holds true to Karl and Gwozdecky – because the "honor" of gracing our cover, in retrospect, was more of an embarrassment. Now, mind you, neither coach has ever said a word suggesting as much, but I'm here, some 14 years later, saying it for them. Here was the thinking…
They're both named George (great start). They're both atop their sport – like "kings" of their sport, you know? "King George" is, like, some Shakespeare guy or something, isn't he? They're both really, really good guys. Let's build a covershot around the headline "King Georges." Brilliant, right? Well…
"Here's the plan, coach(es). We're going to rent some 'king' costumes, have you guys wear them, and then take a photo as if you guys are the 'Kings of Colorado.' Ready…break!
And that's only where the problems began. Because schedules never quite aligned, we planned on taking two separate photos – aka, "problem number 1." You'll notice that Karl's head is approximately 150 percent larger than Gwoz's. That's not the way it was in real life; it was a problem with our original photos and layout. Problem number 2 was bigger though. Essentially, we took two very proud individuals and somehow talked them into wearing some of the dumbest stuff we could get our hands on. "This is going to look fantastic, guys! We promise!" (Oops. Again, my apologies coaches). And the third problem was that the whole concept got so weird, we cut out the images, placed them on a strange background and slapped a gigantic "logo" in the middle of the cover. So, when the comps came off the printer, what did we do?
"Go with it!"
As such, one of the worst, if not the worst, covers we've ever made rolled off the presses – and the rest is history. Luckily for me and the magazine, both Georges were also some of the nicest guys we've ever worked with, and both later agreed to future cover appearances. But if I could have one back, I think it would be this one.
Coach, Coach…I'm sorry.
---
Issue: March 2006, Ceal Barry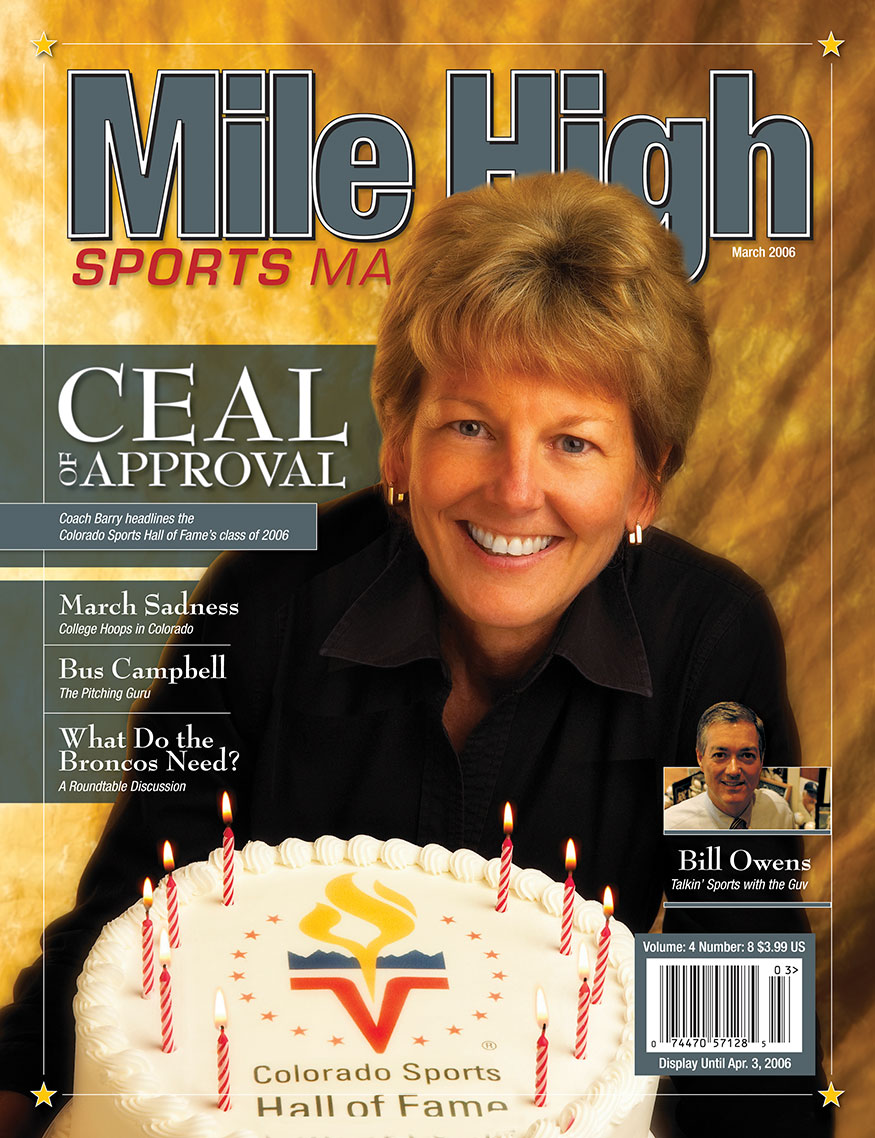 After the "Two Georges," we apparently didn't learn our lesson. And speaking of proud individuals who didn't deserve to appear on an embarrassingly bad magazine cover, Ceal Barry became our next "victim."
Coach Barry was about to get inducted into the Colorado Sports Hall of Fame, and at the time, we partnered with the CSHOF to produce a Hall of Fame edition that highlighted that year's class of inductees. There's no doubt, Barry was an excellent choice, but our concept – one that felt great "on paper" – didn't exactly translate. We decided that a "celebration" called for a cake (think weddings, birthdays, umm…induction ceremonies?), so we had one made, with the idea that Barry would hold it, blow out the candles, something…
She did. And she was a great sport while doing so. But doggonit, the picture is just so cheesy. It didn't help that we selected the world's tackiest backdrop (think about your worst grade school picture-day picture…yes, we stole that backdrop and used it for this image). Making matters worse, the smoke from the candles actually set off the fire alarm inside the Dal Ward Center at CU.
So, I suppose an apology to Ceal Barry is in order, too. Coach, we're sorry.
---
Issue: April 2006, Clint Barmes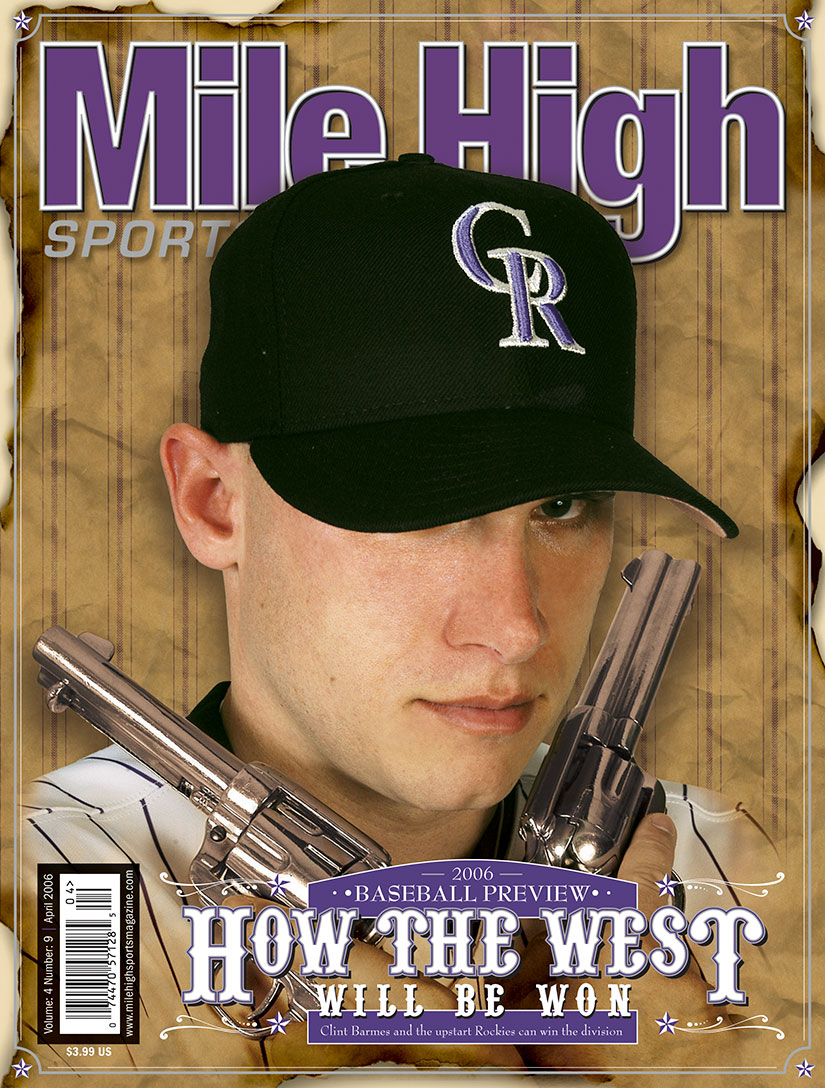 Okay, here's a confession: I kind of like this cover. I like baseball. I like six shooters. I like western movies. But that's just me. It's certainly not everyone.
Question: How did Jay Alves, one of the toughest directors of media relations in all of sports, ever let this one slip by him? Alves helped set the photo up, but  I'm sure when it found its way to his mailbox, he regretted doing so.
At the time, the Rockies were bad. Very bad. But shortstop Clint Barmes was potentially a bright spot. His 2005 campaign started off well – up until he was sidelined by an injury suffered while (allegedly) carrying deer meat from Todd Helton – as he was leading all NL rookies in most categories before the freak injury occurred. Fully healthy entering the 2006 season, he seemed like a logical choice for the cover. And in fairness, Barmes was not the problem. That would be the guns.
In retrospect, how in the world did we ever get away with a notable professional athlete holding a pair of pistols on the cover of a magazine? Sure, the headline – "How the West Will be Won" paired with the "wanted" poster style made sense, but guns? Really?
Apparently, none of it was meant to be, as Barmes had a disappointing 2006 season, hitting .220 with only seven home runs.
---
Issue: October 2006, Avalanche Jersey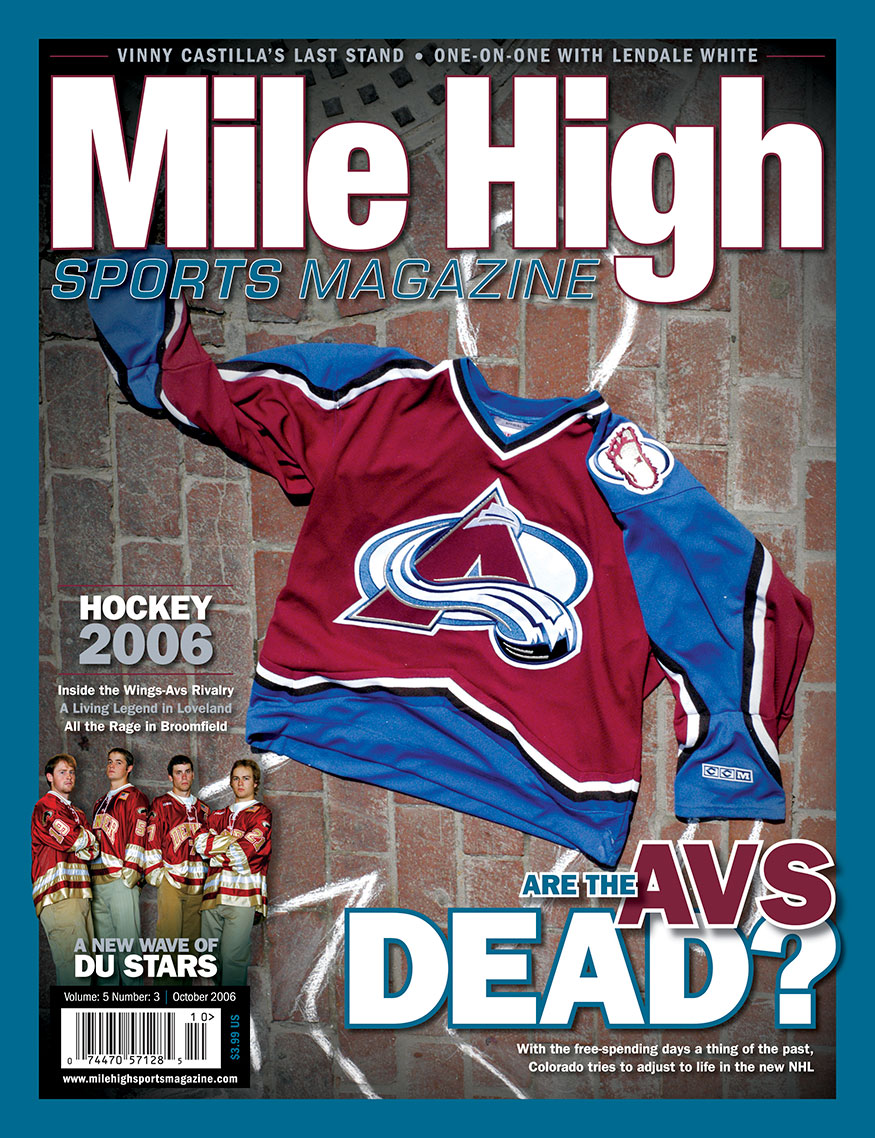 As if the year in covers 2006 wasn't already a disaster in the making, our attempt to be clever with the October issue that year didn't help.
Over the nearly 19 years of publishing Mile High Sports, there have been plenty of decisions, articles, moments that resulted in some form of this: "Uh, Doug, this is <insert irritated media relations director here>…could you please give me a call?" The October 2006 cover was one such moment.
Once the gold standard in Colorado sports – let's face it, for years, the expectation of the Avs was to win it all – the Avalanche entered the 2006 season four seasons removed from their last appearance in the Western Conference Finals and five years since raising their last Stanley Cup. It didn't help that the 2004-05 season was cancelled all together due to the NHL lockout. We were correct in our assertion that the "current" Avs were not the Avs of old, but still, the organization upheld a certain standard of excellence. After all, they'd lost in the Western Conference Semifinals just six months prior. Regardless, being "just okay" was a new development when it came to the Avs. We weren't the only ones that felt that way; the Avs sellout streak would ultimately end in October of the 2006 season.
But perhaps, just perhaps, our headline and cover image might have been a bit unfair, a bit premature, if not over the top. It read "Are the Avs Dead?" and the accompanying photo was an Avalanche jersey resting inside a police chalk outline. The photo was taken on the bricks of the grungy alley that ran between Larimer and Lawrence, about 10-feet from the office of Mile High Sports. In looking back, the image – conceptually – as spot on and fairly brilliant. Whether it was in good taste is a matter of opinon.
The cover was not well received.
Especially once it landed on the desk of Avalanche Senior Vice President, Communications and Team Services, Jean Martineau, who immediately picked up the phone and requested an in-person meeting.
"Why, Doug?" was his question.
He pointed out the Avs history of excellence, the organization's willingness to work with our still very young publication and the ridiculous nature of our headlining question, given the team had yet to miss the postseason while in Colorado. I pointed out that the article inside suggested many of those things, and that conclusion of the writer was that the Avs were, in fact, not dead.
"My job is to make people pick up the magazine," I told Martineau. "The article is ultimately positive."
"Why the headline then?" he posed.
It was a fair question. And to this day, Martineau is one of my favorite PR guys. He pulls no punches and has always served as a reasonable and reliable sounding board. And above all else, if Martineau promises a photo or interview, there's no doubt it will happen (which isn't always the case in this business).
As for that particular cover, though? Well, the 2006-07 Avs became the first Avalanche team to miss the postseason. Were they really dead though? The team has made the playoffs in five of the 12 seasons since that cover, and have not returned to the Western Conference Finals since 2002. Prior to the coronavirus pandemic, however, I'd argue the Avs were the closest Colorado current team to winning a championship. Hopefully, we'll find out if that's the case soon.
Enjoying our trip down memory lane with Mile High Sports Magazine? For over 17 years, Mile High Sports has been the local, independent voice covering everything from the Preps to the Pros in Denver and across Colorado. One way you can help us continue our coverage is to click here to subscribe to Mile High Sports Magazine. Whether for yourself, your business, or friends and family, we appreciate the support. THANK YOU!