UFC 249 is finally here!
Saturday night, the UFC is back in action down in Jacksonville, Florida at the VyStar Veterans Memorial Arena. This will be the first event for the promotion since the first week of March when they put on a crowd-less show in Brasilia, Brazil. 
Sports fans have been chomping at the bit for live action of any sort. Adults, actual grown folks, were so desperate for anything live that they watched other people play video games and horse (basketball) on TV. 
Welcome to 2020.
Let's take a look at the card for Saturday. The lineup is stacked like flapjacks and based on the names on this list; this may very well be the most highlight-reel filled card in UFC history. Seriously. There are two title fights in the main and co-main event, four former UFC champions, along with multiple other contenders and rising prospects.
Main Event: Tony Ferguson (25-3) vs Justin Gaethje (21-2)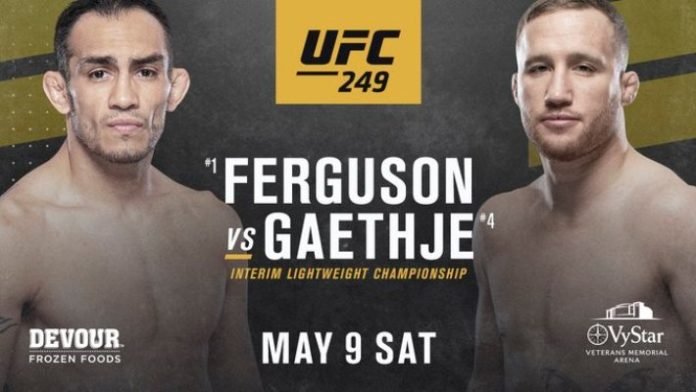 First, the main event between "El Cucuy" Tony Ferguson and Justin Gaethje. This fight has the makings on paper to be the bloodiest, most violent fight in MMA history. If you aren't picking up what I'm putting down, just take a look at the 'Faces of Tony' memes on the internet.
Tony is a straight-up savage riding a 12-fight win streak. This will be the second interim title Ferguson has fought for, as he was oddly stripped due to injury after shredding his knee two years ago just days before he was supposed to fight Khabib Nurmagomedov in the fourth booking of that cursed matchup. 
Justin Gaethje, on the other hand, is called "The Highlight" for a reason. Gaethje, of Denver's Elevation Fight Team, had never tasted defeat until he got to the UFC. And even in those losses, Gaethje won.
Hear me out.
Every fight the man has been in has had accolades behind it. Those two losses were to Eddie Alvarez and Dustin Poirier, yeah, two guys who at one point in time had 12 lbs. of gold wrapped around their waist. In those fights, the action was so electric that they were both Fight of the Year candidates. Gaethje has earned seven performance bonuses in his last six fights, putting the icing on the cake for a record that boasts a 90 percent finish rate.
Both men are oblivious to pain. They both like to take one to give one. Anthony Pettis, who is also on the card, told ESPN's Marc Raimondi, "He takes the hits, and he likes that. It's part of his gameplan, to get hit and hit back."
In a UFC 249 media conference call, Gaethje said, "I need my nose broken. I haven't been able to breathe through my nose for like 12 years since wrestling. So hopefully one of those elbows cracks my nose, the UFC gotta pay for that s—, and it's an exciting ass fight."
Gaethje throws everything with bad intentions. Be especially on the lookout for how his devastating leg kicks impact Ferguson's surgically repaired knee. Although he doesn't use it, he has an NCAA All-American background. We just may see the most of his wrestling that he's ever had to use due to Ferguson's tendency to create scrambles whenever he finds himself in trouble. Ferguson himself was a National Collegiate Wrestling Association National Champion. 
This fight alone is worth the cost of the Pay-Per-View. 
Co-Main Event:

Henry

Cejudo (15-2) vs

Dominick

Cruz (22-2)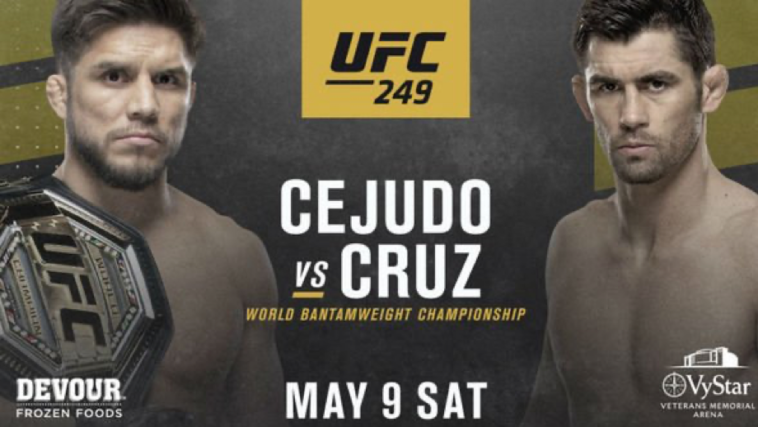 In the co-main, we get to see the return of the greatest bantamweight of all-time, Dominick Cruz. He will try to reclaim the throne from the self-proclaimed "King of Cringe" Henry Cejudo.
Cruz's bantamweight reign predates the UFC back to the WEC days. The former titleholder is known for his incredible fight IQ, explosive footwork, and unorthodox boxing style that allows him to get creative with his underrated wrestling. 
Cruz's career has been stifled with multiple devastating injuries. Just think of this one example, after a yearlong recovery and rehab process on one of his torn ACLs, his body then rejected the cadaver tissue, and he was forced to undergo another surgery and rehab. 
The real question here is, is "The Dominator" back? In the past, he has shown that ring rust doesn't factor in for him, but after another long, multi-year layoff to repair his shoulder will ring rust factor in? This, along with the undefeated opponent for any athlete: father time. As you've probably gathered, Cruz is no spring chicken for an athlete having just turned 35-years-old in March.
Dom is explosive, but Henry is fast. I mean really fast. As an Olympic Gold Medalist and two-division UFC champ, Cejudo donned the name "Triple C" and hasn't stopped cutting promos since. 
All jokes aside, Cejudo has shown continuous growth in his MMA career, especially as it relates to his striking game. Cejudo's pure grit and toughness is also undervalued by many. In the second fight against Demetrious Johnson, Cejudo figured out a way to overcome his leg going dead from an early calf kick en route to winning the flyweight title.
In the vacant bantamweight championship fight with Marlon Moraes, he had to weather some adversity and finally just bit down on his mouthpiece and walked the "Magic Man" down and TKO'd him for the title. 
These two have known each other since they were children in Arizona, so fans, be prepared to go deep with this one.
Other fights:
The Feature Fight of the night is a rebooked main event from the canceled Columbus show in late March between two of the hardest-hitting heavyweights in the world, Francis Ngannou and the undefeated Jairzinho Rozenstruik. You would think these guys have boulders for fists after looking at their highlight reel knockouts. 
Let's talk good ol' MMA math for a second. In the common opponent, Alistair Overeem, each fighter scored a knockout, but the fights were very different. Francis produced a posterized example for a knockout punch in the first round. Rozenstruik scored the knockout with just 0:04 left in the fifth round — and he needed the knockout to win as he was losing on each scorecard going into the final round. 
Jeremy Stephens vs Calvin Kattar: banger. These featherweights come to kill or be killed and have many fans calling this the sleeper fight on the main card.
Greg Hardy and Yorgan De Castro are kicking off the main card for another heavyweight matchup. The UFC is high on Hardy despite his checkered past. He's a world-class athlete that is still very green in his MMA career but has shown flashes. If not for his domestic violence case and subsequent conduct issues, Hardy would still be in the NFL, where he was a Pro Bowl-caliber Defensive End. 
Now, let's talk about the Prelims. 
You know a card is deep if we are this far into a breakdown before mentioning Donald "Cowboy" Cerrone against Anthony "Showtime" Pettis II. 
Cowboy is one of the biggest fan favorites in the entire sport of MMA and is beloved for his willingness to fight so frequently. He has fought four times in the last year, losing the last three against Tony Ferguson, Justin Gaethje, and Conor McGregor respectively. 
The question here is, does Donald show up, or does Cowboy? If it is Cowboy, get ready for another classic performance.
Pettis was the victor in their first rendezvous by landing a brutal liver kick that earned knockout of the night honors. Pettis is also on a two-fight skid, having lost the last three of four. 
Former Heavyweight Champion Fabricio Werdum returns from suspension from a USADA violation against the veteran, Aleksei Oleinik. This matchup is going to be one to keep an eye on if you love grappling. Werdum is a multi-time ADCC, and IBJJF BJJ world champion and Oleinik has 46 submissions under his belt in his 72 pro fights.
Carla Esparza was the inaugural Women's Strawweight Champion and is looking to put a third win in a row together against the "Karate Hottie" Michelle Waterson. Waterson is coming off a title eliminator fight loss to Joanna Jedrzejczyk. 
Uriah Hall vs Jacare Souza was going to be one of the more interesting matchups on the card. However, Souza tested positive for coronavirus, which resulted in the fight been scrapped from the lineup. 
Vicente Luque vs Niko Price has the makings of a potential fight of the night. While Luque is the much more technical fighter, Price is dangerous from any position, as proven by his recent uptick knockout against James Vick. Luque lost a decision to Wonderboy but had an absolute slugfest with Mike Perry, where he picked up the decision victory.
Outside of Derrick Lewis, is there a more candidly hilarious guy in all of MMA than "Thug Nasty" Bryce Mitchell? I mean seriously, just listen to an interview with him. Any interview, it doesn't matter which one. I guarantee he says something that makes you chuckle. He squares off against "Boston Strong" Charles Rosa. Rosa was undefeated before making it to the UFC, where he has yoyoed his wins and losses in the promotion.
In the curtain puller, surging light heavyweight prospect Ryan Spann opens up the night against longtime journeyman "Smilin" Sam Alvey. It is worth noting that Spann is on a seven-fight win streak, while Alvey has dropped three in a row and is presumably on the chopping block should he lose again on Saturday.
Wow. What a card this is slated to be. 
-Jordan Kurtz is a founding member of Comments From The Peanut Gallery and The MMA Plug and can be followed on Instagram at @CommentsFromThePeanutGallery and @TheMMAPlug303