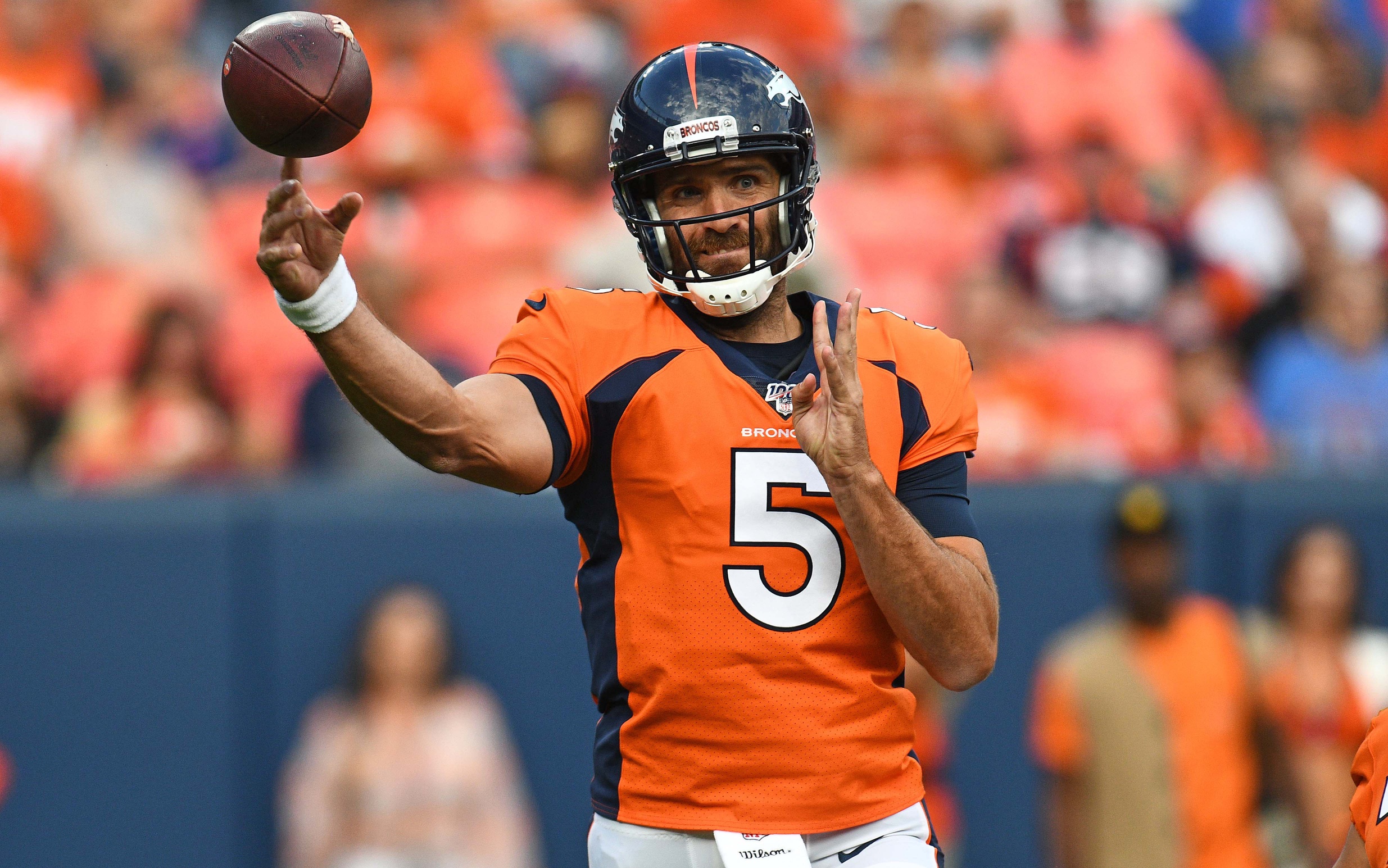 Now that all the shuffling and waiving and signing has come to a close, let's get one thing straight: If any of the players recently picked up by the Broncos become "significant," things have likely gone awry in Denver.
The scrap heap is all about depth and special teams. Sure, some of the players scooped up by the Broncos of late could factor in. Take for example, return specialist Diontae Spencer. His presence will be felt immediately, and the Broncos should be applauded for recognizing that no matter which returner "from camp" they might have kept, they would have "settled" for a returner that was below average. There's no sense in sticking with mediocre simply because you've got to know it over OTAs and training camp (or longer).
But a lot of other late additions – CB Duke Dawson (who came over from New England), ILB Kieshawn Bierria, CB Davontae Harris, ILB Corey Nelson and even QB Brandon Allen – had better not factor in at all, or at least not immediately. These additions aren't bad by any means; it's just that if they're called upon to have an immediate impact, the Broncos are likely in trouble already. There might even be a diamond in the rough within this group, but that would be as lucky as it would be expected.
Like any NFL team, the Broncos – by and large – will go as far as their starters take them. The end of preseason signifies the last time this season that "backups" will dominate the headlines.
And if you really boil it down, the Broncos season will be defined by three players.
First, the obvious: Joe Flacco.
Because only teams with good quarterbacks make it to the Super Bowl.
In the last 15 years, there are really only two exceptions to that rule: Matt Hasselbeck (Super Bowl XL), who lost; and Nick Foles (Super Bowl LII), who won. Foles is certainly an aberration, and it's probably fair to suggest that had he been the Eagles starting quarterback from start to finish in 2017, the Philly wouldn't have made it all the way. Nothing against Foles, but this falls into the category of "every dog has his day." Teams with average quarterbacks might make a run to the postseason, but it's rare that they last long.
Joe Flacco can be a Super Bowl caliber quarterback. He's proven that. Now, the only question is, will he be?
If Flacco – as John Elway suggests – is in his "prime," then the Broncos should be in pretty darn good shape. With a defense that has big expectations, a seemingly improved offensive line and a respectable set of skill position players, it's on Flacco to take the Broncos from good to great, or (in reality), from pretty bad last season (behind Case Keenum) to pretty good this season (behind a much better quarterback). It's that simple.
If Flacco is the "obvious" defining factor for the Broncos, the other two are not so clear cut. One of them doesn't even play for the Broncos.
In the minds of Broncos fans, Noah Fant and Devin Bush will forever be linked. How these two players perform this season will likely reveal what the Broncos will have, or could have, done by season's end.
Fant must deliver. There's just no other way to put it. In order for him to be viewed as a good draft pick, his rookie numbers must dazzle. While it's not fair to expect it right off the bat, he's ultimately got to be more like Shannon Sharpe or Julius Thomas, and less like, well, like most of the Broncos tight ends in recent memory. Besides, when Flacco has a reliable tight end, Flacco usually wins. History shows this.
And yes, you are correct: Devin Bush is spilt milk, a would-coulda-shoulda, the grass is always greener. Devin Bush is not a Bronco.
Denver's defense is supposed to be the backbone of the team – and it likely will be – but if there's one area of concern, it's inside middle linebacker. Even before Denver became thin at the position because of injuries, it wasn't exactly the defense's strength. In fact, if there's a weakness on defense, it is, in fact, inside middle linebacker.
Ever wonder if Vic Fangio wanted Bush, or what he thought of moving back to take a tight end?
What if middle linebacker is thin and messy all season long. What if Denver isn't strong stopping the run and can't cover tight ends and running backs out of the backfield? What if a potentially great defense becomes mediocre because teams become very good at exposing its Achilles heel?
What if Fant is just your average rookie, while Bush, a player that's already been compared to Bobby Wagner, has a fantastic season in Pittsburgh? In his rookie (preseason) debut, Devin Bush had 10 tackles – ten! – and the experts are already singing his praises.
What if John Elway had drafted him instead of moving down to take Fant (and ultimately Drew Lock, who will spend the first part of the season on IR)?
The Fant-Bush conversation is spilt milk, so it's merely hypothetical at this point. But if the Broncos only hole on defense is at middle linebacker, and if Fant doesn't impress, there will be a lot of "what ifs" going on in Denver.
Flacco, Fant, Bush. When 2019 is in the books, the tail of those three players could very well tell the story of the current iteration of the Denver Broncos.