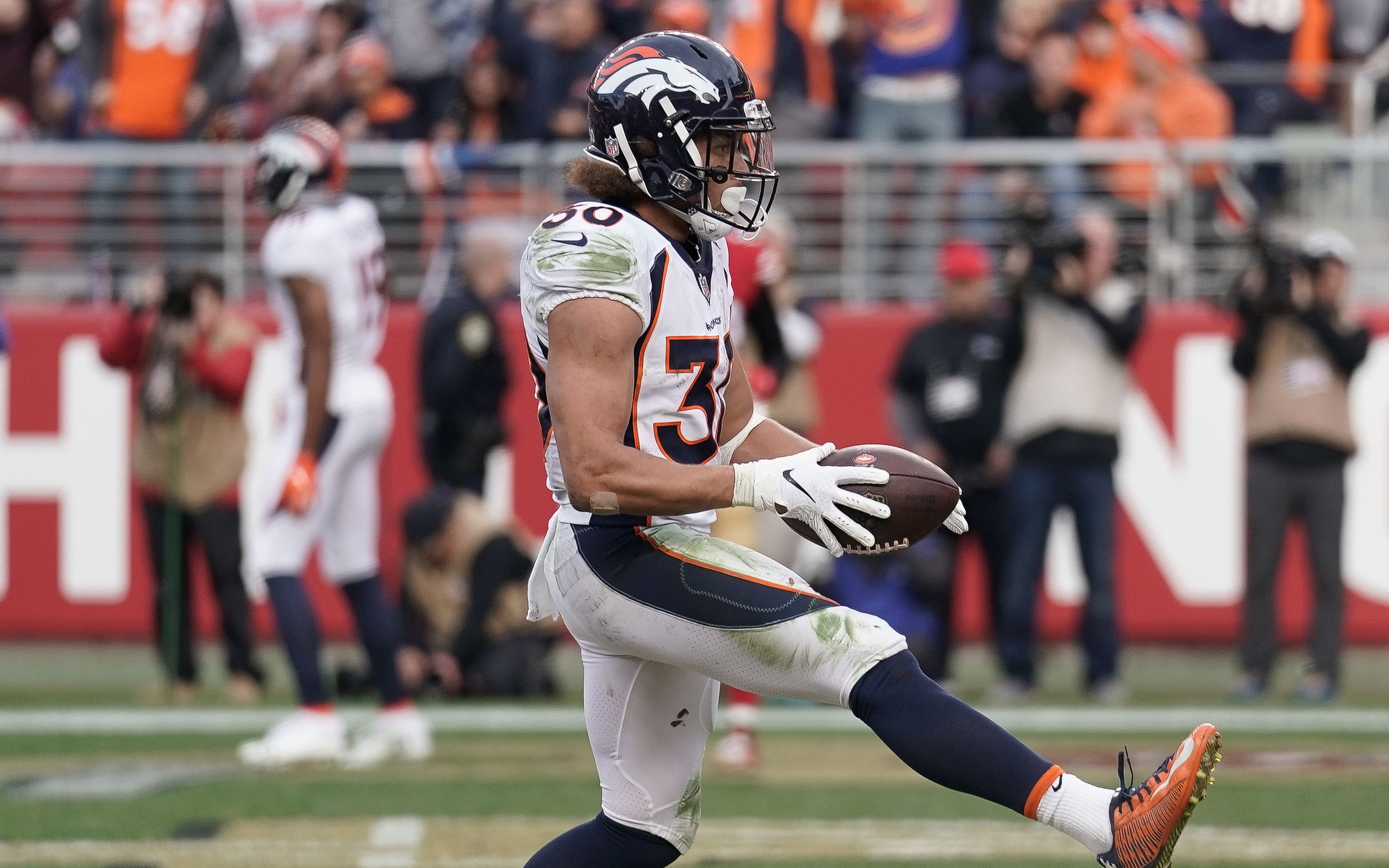 The Denver Broncos are grinding through a tough season, falling to 6-7 last Sunday with their loss to the San Francisco 49ers, basically taking them out of contention for the playoffs.
But, not all the way out, with a 4 percent chance to still make it into the postseason.
And, while the team still has that goal to reach for, three Broncos players are competing for personal records as well.
Phillip Lindsay, NFL record, undrafted rookie running yards – Lindsay's gone from nobody to national sensation this season, and seemingly every time he takes the field, Denver fans are delighted with what they see.
Sure, he was slowed last week by the 49ers, but that doesn't take away the spectacular season he's put together to this point. 13 games into the season and Lindsay's racked up 967 yards with nine touchdowns, and his 5.8 yards per carry average is the best in the NFL.
Although Lindsay's never run the ball 20 times in a single game — his attempts have been foolishly limited — he's still on pace to become the No. 1 undrafted rookie running back all-time in terms of yards. Lindsay is on pace to gain 1,190 yards this season, which would edge out Dominic Rhodes' 1,104 yards back in 2001. Lindsay's running style is nothing short of sensational; he's quick, hits the hole with great speed and his vision allows him to make defenders miss.
Von Miller, Broncos team record, career sacks – Arguably the greatest defender in the storied history of the Broncos, Miller needs a mere one sack to pass Simon Fletcher for the most sacks in team history. Now in his eighth season, Miller has totaled 97 sacks in his extraordinary career, and Fletcher finished his 11-year career with 97.5 quarterback sacks.
Miller's resume is jam-packed with superlatives; he was the AP Defensive Rookie of the Year in 2011, the Super Bowl 50 MVP and he's a six-time Pro Bowler. His 13.5 sacks this season already tie him for his third-best year individually, and if he breaks Fletcher's record, it'll be his second-best season.
What makes Miller so special is his ability to speed-rush around offensive tackles, making them look like they're planted in the ground. That's not his only move though; Miller uses spins, power-rushes and stunts on the regular, too, keeping would-be blockers off-balance literally and figuratively.
Bradley Chubb, NFL record, rookie sacks – Speaking of deadly and dynamic pass-rushers, Chubb is in the running for Defensive Rookie of the Year, just like Miller was. And similar to the veteran, this rookie possesses all the skills to pressure quarterbacks in a wide variety of ways.
Last week, with his two-sack performance, Chubb set a new rookie record with 12 sacks on the season, passing Miller's 11.5 back in 2011. And now, with three games remaining, Chubb needs 2.5 more sacks to tie Jevon Kearse (14.5) in 1999.
Chubb's heating up, too; last week's two-sack game was his third multi-sack contest of the year, meaning with three games remaining, he's certainly within striking distance of Kearse.
Denver's stars — and the rest of the squad, too — host the Cleveland Browns (5-7-1) this Saturday night at 6:20 p.m. MT in the Mile High City. Watch along as, with a big game, any of the three could earn those records this week.