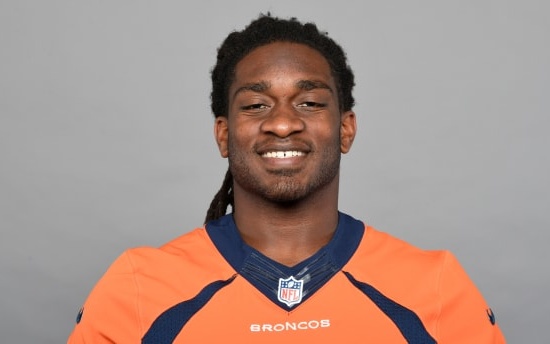 Injuries are always unfortunate, especially when they happen in training camp and not even during live action. For Denver Broncos inside linebacker Todd Davis, Thursday's first training camp practice of the 2019 season brought a calf injury which will sideline him 3-4 weeks in all likelihood.
Davis was already the lone veteran at inside linebacker, with Josey Jewell, the second-year man out of Iowa, stepping up to push himself to be a starter. Basically, because there is no one else.
But with Davis, a fifth-year pro who started 45 games in Denver the last three years alongside Brandon Marshall, out it leaves second-year man Alexander Johnson as the next man up on the inside.
Johnson played from 2011-14 at the University of Tennessee, but then was suspended due to rape allegations and although he was expected to be drafted in 2015, didn't make it to the NFL until 2018. After those allegations were eventually cleared, Johnson signed with Denver just before the 2018 season, appearing in one game and playing on the practice squad.
So, to say he has little experience in the important interior of the defense would be an understatement.
"He's got good size. He's a thumper in there. He's strong. He's just got to improve his overall understanding and execution," head coach Vic Fangio said of Johnson on Friday. "He's a guy that, you guys know the story, missed a lot of football in his career and he's got a lot of catching up to do, not just in our system but learning how to play in the NFL and overcoming all the lack of action that he missed throughout his career."
But, it's not just Johnson or bust for the Broncos, Denver and Fangio — the famed linebacker whisperer — must find a surefire starter at that key position. Even if Davis returns to the practice field in time for Week 1, he'll be woefully behind compared to teammates and the rest of the league, who will have four games of preseason to get into game shape.
Jeff Holland, the defensive end whom Denver signed after the 2018 draft, has been moving between DE and ILB. Fangio said that transition between positions has been a bit tough on the second-year pro.
"The biggest adjustment; I don't think it's a problem going back and forth but it's a little bit of an issue for him because he hadn't done it much," Fangio said of Holland moving positions back and forth. "He did it a little bit in the college all-star game, so the newness of the position is more so an issue than going back and forth, but he's been doing fine with it."
As for the short and long term — at least as far as this season is concerned — Denver must have consistency in the middle. Jewell is a hard-nosed defender who gives it his all on every play, but he lacks speed needed to be dominant at the NFL level. He'll be calling the plays in the huddle, Fangio said, with Davis out.
If Johnson and/or Holland can't play well enough at inside linebacker, the Broncos may look to add a veteran, but Fangio also said it's too early to do that. In all likelihood, a move like that would come after final cuts are made.
Whether Davis is back in time for the regular season, Denver knew they were extremely thin at inside linebacker and that's already rearing its ugly head. Keep an eye on that spot on the field as this marathon of a season continues.