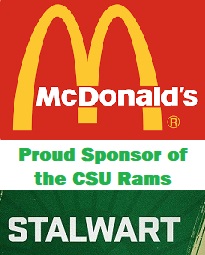 Colorado State didn't accomplish their goal of defeating the rival Colorado Buffaloes on early Sunday morning, but the Rams and wide receiver Tory Horton did earn some recognition this week.
On ESPN for the entire nation to see, against the hottest thing in college football in Coach Prime and the Buffs, Horton was so spectacular he stood out even with so many stars on CU.
CSU's offense revolved around keeping new quarterback Braden Fowler-Nicolosi comfortable, which included throwing a majority of short and intermediate passes. Horton was the recipient of 16 of those passes from BFN, which was a new career-high for the senior. His 133 yards receiving are the fourth-most in his career and in the Colorado State green and gold.
On top of that, Horton threw a 30-yard touchdown to Dallin Holker. Oh, and he also returned two punts for 28 yards, including a 27-yard return.
Without a doubt, he was an all-around star for CSU in their double-overtime 43-35 defeat at the hands of Deion Sanders and the Buffs.
Tory Horton named Reece's Senior Bowl, East-West Shrine Bowl Player of the Week
First, Reece's Senior Bowl honored Horton as the Co-Offensive Player of the Week for his stellar game. Louisiana State's Jayden Daniels was the the Co-OPOY with Horton, and Daniels went 30-34 for 361 yards with 2 TDs and 2 rushing TDs in their blowout win over Grambling State (72-10).
🏎️🌬️The Reese's Senior Bowl Co-Offensive Player of the Week is @CSUFootball WR Tory Horton @toryhorton11 with 133 yards receiving, 16 catches, 1 TD, AND 1 Passing TD! #RamGrit 🐏 #TheDraftStartsInMOBILE™️ pic.twitter.com/rC3FwcdZZb

— Reese's Senior Bowl (@seniorbowl) September 18, 2023
A few hours later, the East-West Shrine Bowl also honored Horton as the Offensive Breakout Player of the Week.
#ShrineBowl Offensive Breakout Player of the Week:

💫Tory Horton (@toryhorton11) – @CSUFootball vs Colorado
📈16 rec
📈133 yds
📈1 TD
📈1 Passing TD#CSURams #RamGrit 🐏 pic.twitter.com/uWFJMURyzH

— East-West Shrine Bowl (@ShrineBowl) September 18, 2023
And Eric Galko gave the Rams' star receiver some love, too.
Horton is no "sleeper" to NFL scouts, but for those who didn't know him, he definitely made an impression.

Scouts covet WRs who can win with speed vertically, finish in mid-field/along sideline, and can elude in space.

He showed all of that in this game.#ShrineBowlWhosNext https://t.co/Ndbibawdtt pic.twitter.com/j7q2oDjU6E

— Eric Galko (@EricGalko) September 18, 2023
Before the season started, Horton had already made a case as the best receiver in the Group of 5 conferences. And with 214 yards so far this year, he's on pace to break his totals in both receptions (71) and yards (1,131) from last year with the Rams.
We'll have to stay tuned to see which postseason all-star game Horton shows his skills off in early next year.
Despite loss, CSU among most impressive teams in CFB for Week 3
Colorado State showed up and put on a physical—at times undisciplined—show in Boulder.
They pushed the No. 18 Colorado Buffaloes to the brink, allowing CU to come back and ultimately win in double overtime. Still, even with the loss, CSU was impressive in their efforts. The Rams were expected to be blown out by 24 points; CU was favored by 23.5 points pregame.
So, despite their loss, the Rams were still considered one of the most impressive 10 teams in college football last week per College Football Blue Bloods.
Most Impressive Teams in College Football (Week 3)

1 Florida Gators
2 LSU Tigers
3 Washington Huskies
4 Missouri Tigers
5 Colorado State Rams
6 BYU Cougars
7 Rutgers Scarlet Knights
8 Syracuse Orange
9 North Carolina Tar Heels
10 South Alabama Jaguars pic.twitter.com/k9dJuGY3jk

— College Football Blue Bloods (@bluebloodsbias) September 17, 2023
This week, Colorado State (2-0) plays Middle Tennessee State (1-2) on the road with a 5 p.m. MT kickoff.