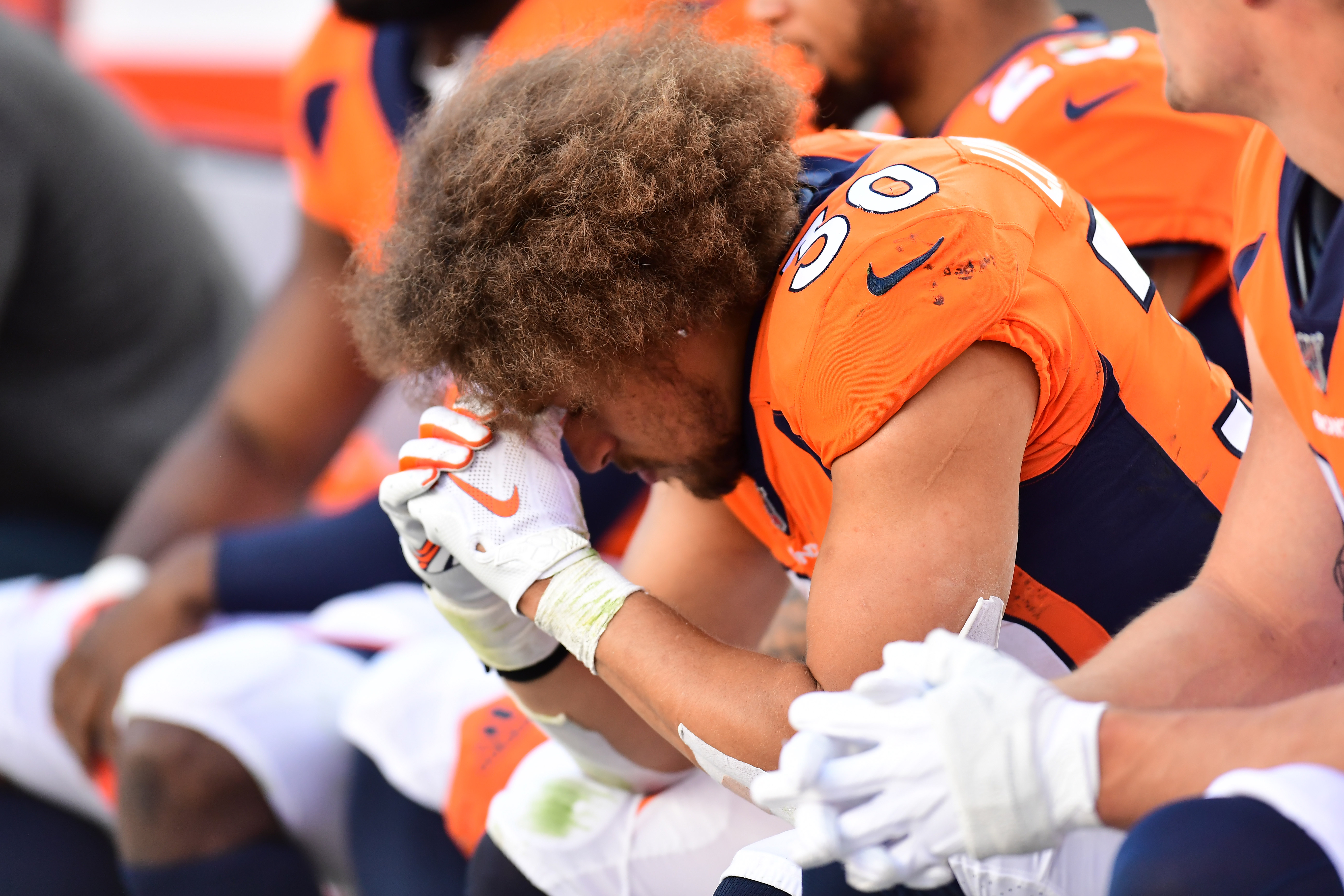 Running the football side of an NFL franchise is not a popularity contest. The best general managers in the National Football League make tough decisions on a daily basis. Boldly opting for the unpopular is where the good ones earn their keep.
Every GM in the league understands that signing the likes of Tom Brady or Peyton Manning will generate applause.
Every GM in the league knows that the decision to say goodbye to a popular player – like DeAndre Hopkins – will be met with a smattering of boos.
The best GMs can't care about either scenario. Popularity can't enter the decision-making process. Sure, it would be nice if every transaction is universally praised, but that's just not how this game works.
The only thing that really matters is if those decision – popular or otherwise – are right.
Here's hoping the Broncos new general manager George Paton is right.
Because in his first 24 hours on the job – at least the first 24 hours that the public can actually observe and cast judgement – not every decision Paton has made is a popular one.
Of the four big moves that Paton made on Monday – the first day of the "legal negotiating period" before free agency officially begins – the inking of interior defensive lineman Shelby Harris was the most popular. Harris has been a valuable contributor to the Broncos defense since 2017. Better yet, he's been unbelievably cost-effective, earning $615K, $705K, $3.1 million and $3.25 million in each of his four seasons with Denver – a bargain considering Harris' production. In fact, he's been so good that Paton felt the big man in the middle is now worth $27 million over three years.
Everyone loves Harris – his pass swatting ability and larger than life personality has made him extremely popular in Broncos Country – but the large financial commitment raised a few eyebrows.
Especially when another extremely popular player – safety Kareem Jackson – was told by Paton that his option would not be picked up. Jackson had a $1.5 million option guarantee on his $10 million salary for this season, and not picking up the option creates $7.118 million in cap space. Jackson, 33, is perhaps up in years. But he doesn't play like it. In fact, he and Justin Simmons (who was recently handed the franchise tag for the second straight season) arguably made up the best safety duo in the NFL. Simmons was the ball-hawking, sure-tackling free safety, while Jackson was the big hitting strong safety; it was also widely understood that Jackson was one of the top – if not the top – leaders on the team. There's a chance that Jackson could still re-sign with the Broncos after testing the waters as a free agent; there's a better chance he won't. There's also a chance that Simmons and the team could work out a long-term deal rather than letting Simmons play on the franchise tag all season; there's a decent chance they won't – and if they don't, it's probably that Simmons will be gone after this season. The best pair of safeties in the league could be 100 percent gone in less than a calendar year.
Not popular.
And if the decision to let Jackson walk was unpopular, the news that running back Phillip Lindsay, a hometown favorite, would garner nothing more than a low-level tender as a restricted-free agent felt downright criminal. Again, that's not to say Paton is wrong, or that such a move might even make excellent business sense – after all, the Broncos have the opportunity to match any offer, but if nothing of significance comes Lindsay's way, he'd be playing in Denver for a measly $2.133 next season. All good in theory, but given Lindsay's production, someone will likely come in and offer considerably more, which could cost the Broncos more money or Lindsay all together. If Paton let's Lindsay walk, it will be a wildly unpopular decision in Denver.
Paton's other early move was more along the lines of "neutral." Nobody will argue that the Broncos need a cornerback, and Ronald Darby, who reportedly came to terms with Denver to the tune of 3-years/$30 million Monday, is coming off a nice year in Washington. However, the Broncos will be Darby's fourth team in six seasons. Darby's skill at the cornerback position is respectable; his ability to stay on the field is questionable. Darby has had a history of being hurt, and his signing would be an unpopular decision if he turns out to be A.J. Bouye 2.0 (remember, it was Bouye who unsuccessfully replaced the last member of the No Fly Zone, Chris Harris Jr. in 2020).
Popular isn't necessarily the right way to go. But until Paton's recent decisions prove to be right, they'll likely remain unpopular. Only time will tell if the first-year GM was wiser than the fans who aren't pleased with the majority of his early moves.
Tuesday, Paton faced the dilemma of what to do with one of Denver's most popular players ever, Von Miller. He exercised the option and Miller will stay in orange and blue. In this case, keeping Miller in orange and blue is popular.
But is that the right thing to do?
If Paton hoped to win over the fanbase early on, he took a solid first step by finding a way to keep Miller. The next step could be to move up in the draft and take a high-profile quarterback. Or he could zig where the fans want him to zag and do something completely different.
But no matter what, he'd best be right.