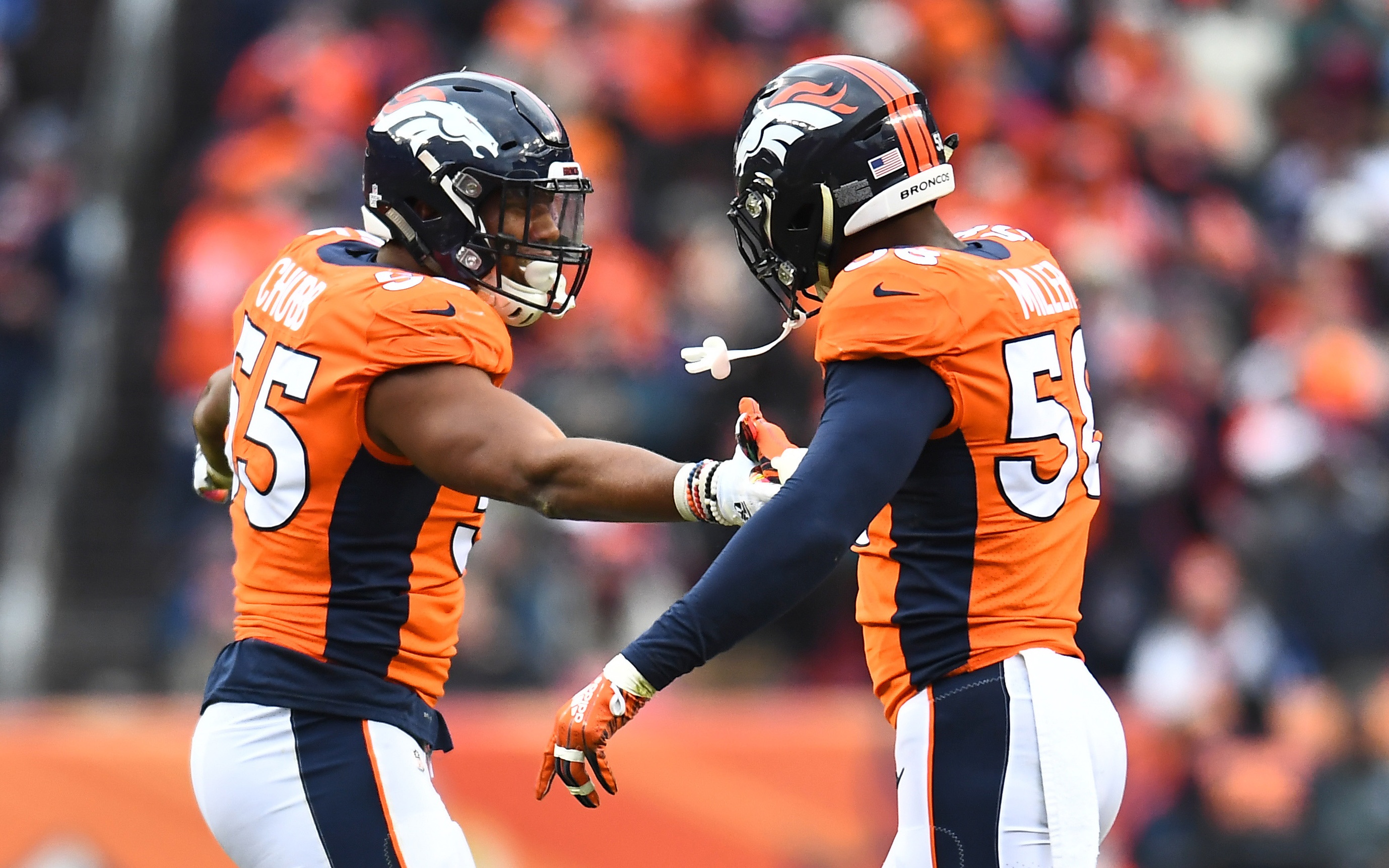 Von Miller and Bradley Chubb looked like the NFL's version of the dynamic duo in 2018. But this year, their play has been more like an enigma created by the Riddler himself.
"Riddle me this batman, riddle me that, who's afraid of the big, black bat?"
For his entire nine-year career, Miller — Batman in this scenario — has struck fear in every NFL quarterback. That includes "Superman" himself, Cam Newton. Batman vs. Superman was bad, really bad. The same goes for Newton's performance in Super Bowl 50. That Super Bowl 50 victory and MVP award were simultaneously Miller's best game as a professional and the last time the Denver Broncos were competitive.
And, those two are not mutually exclusive. In fact, that season the Broncos' 52 sacks were the most in the NFL, as were their 22 forced fumbles; putting pressure on the quarterback leads to winning football games.
That's why, in 2019, Broncos fans can't figure out where that dynamic duo has gone. Two games into the season and neither Miller nor Chubb has a single sack — nor the rest of the team — while Denver also hasn't forced a single turnover to this point.
"I grind harder. I just double down," Miller said of how he's working to get that first, elusive sack of the season. "I put a little bit more into it, a little bit more into film, a little bit more into everything. But that doesn't guarantee that it's going to happen for us. I'm not saying that it's going to happen for us, I've just got to keep playing, keep playing for a big breakthrough."
In Week 1, Jon Gruden — call him Lex Luthor — schemed a way to keep Batman and Robin away from the quarterback. The Raiders' quick throws didn't allow the Broncos' best defenders to do any damage, and that was mimicked by the Bears in Week 2. But, that's not stopping Denver's dynamic duo from working towards that breakthrough.
"Yeah, I feel like we're close," Chubb said Thursday on sacks. "We've been in the position, we've just got to finish those. When it comes to the win-loss column, it's just like two plays that we're missing. Two plays — I feel like it could be in those games that we're losing. I feel like when everybody locks in and we're able to focus on those small little details that may happen in the first quarter or second quarter, you never know. It won't come down to a ref having to make a call or the clock running out or anything like that. We'll have it controlled and handled so it doesn't have to come down to that."
Rewind to last Sunday and one play — Chubb's roughing the passer call on Mitch Trubisky — helped spoil what should have been Vic Fangio's first win as a head coach.
Chubb finally got to the quarterback on the first play of the Bears' final drive of the day, hitting him just after the ball was released which looked like a clean hit to most football observers. Instead, Chicago was moved up to their own 45 yard line, and a few plays and one huge throw later, kicked the game-winning field goal.
Chubb, only in his second year, said he won't shy away from hitting the quarterback even after that damning penalty. And that's a good thing, because if the Broncos want to get off the schnide and earn their first win of the year, they'll have to get after one of the greatest quarterbacks in Aaron Rodgers this Sunday.
"They're just collapsing the pocket on him," Chubb said of how other teams are sacking Rodgers. "That's our main goal, just keep him in the pocket and allow our coverage to be there and hopefully we get there for the sack."
This week, Denver must have their dynamic duo not only putting pressure on Rodgers, but taking him down for sacks, too. Otherwise, the Broncos will be run out of Green Bay and Batman and Robin will be sent back to the bat cave and back to the drawing board.
Last year, Chubb (12) and Miller (14.5) combined for a superhuman 26.5 sacks. They've got to get it going now to even hope to reach those numbers this season.
Denver (0-2) takes on Green Bay (2-0) at Lambeau Field at 11 a.m. MT this Sunday.