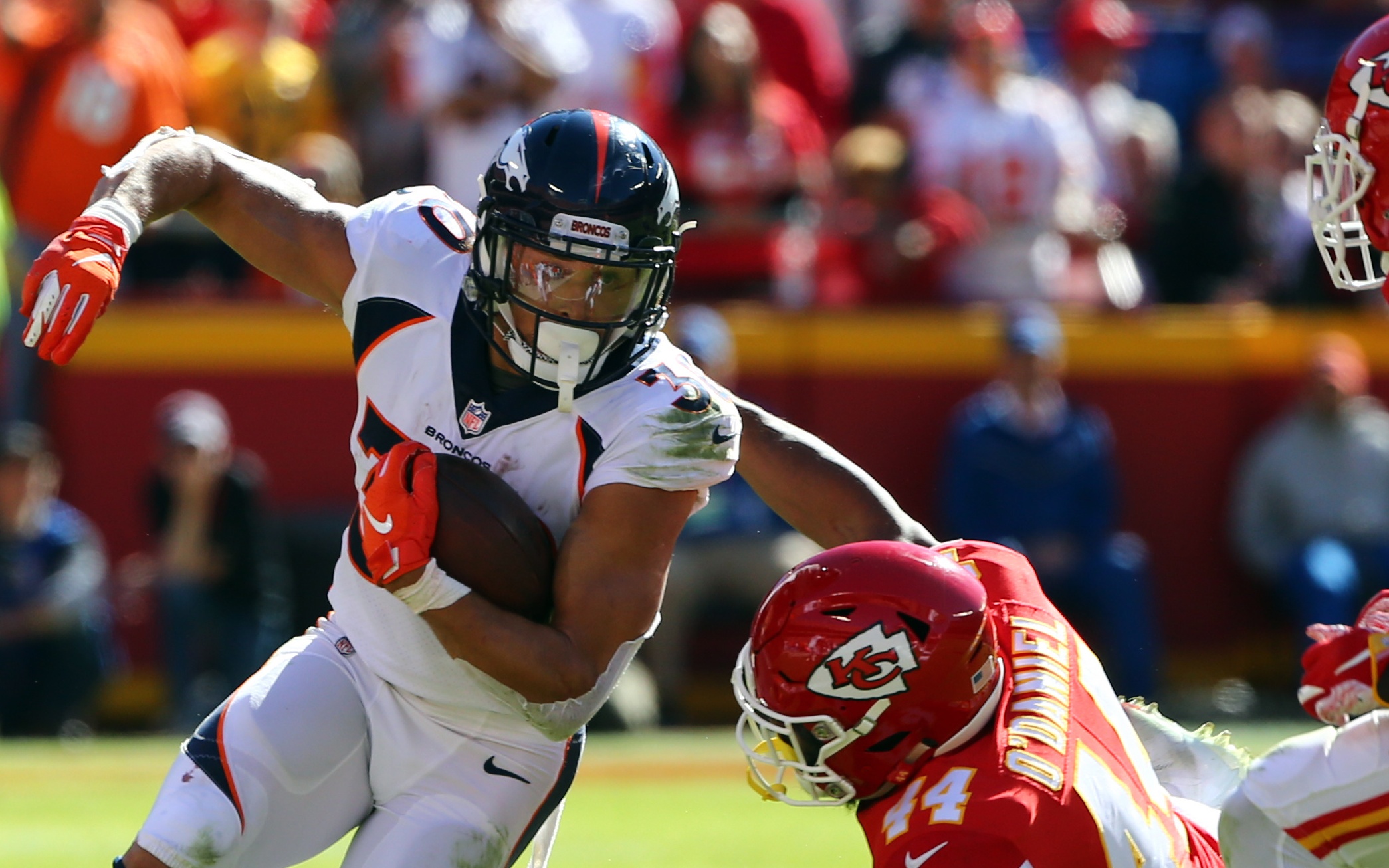 When was the last time the Denver Broncos enjoyed a rookie sensation as spectacular as Phillip Lindsay?
It's hard to say for sure, and certainly he's the best undrafted free agent the Broncos have found since Chris Harris Jr.
Lindsay's been dominating at the NFL level. Currently, his 531 rushing yards aren't just the best for a rookie running back, they're the sixth-most in the NFL mid-way through the season.
And his performance last week, in the Broncos 30-23 loss to the Kansas City Chiefs, was so stellar, he's been nominated for the Pepsi Rookie of the Week Award for the second week this season. You can vote for him, against a bevy of big names like Josh Rosen, Marcus Davenport and Darius Leonard, by clicking on the link.
Lindsay ran for 95 yards and one touchdown on 18 attempts, a superb 5.28 yards per carry average against the Chiefs. He also enjoyed three receptions for 17 yards, proving his versatility from start to finish.
What's crazy is Lindsay also had 43 yards worth of runs and catches wiped away due to penalties by the offensive line, meaning he could have enjoyed a career day without those infractions.
Still, even while working with a "MASH" unit of an offensive line, Lindsay has excelled this season. His 531 total rushing yards are No. 1 for all rookie running backs, and they're good for sixth-best in the entire NFL.
Lindsay is proving week-in and week-out, he's deserving of more carries. Last Sunday, the 18 carries were the most of his young career, which makes sense with Royce Freeman sidelined due to injury. It's still unknown whether fellow rookie running back Freeman will be able to give it a go this week against the Houston Texans, leaving Lindsay as a great fantasy football running back to have on your roster.
Denver (3-5) hosts Houston (5-3) who just traded for Demaryius Thomas yesterday at 2 p.m. MT this Sunday.