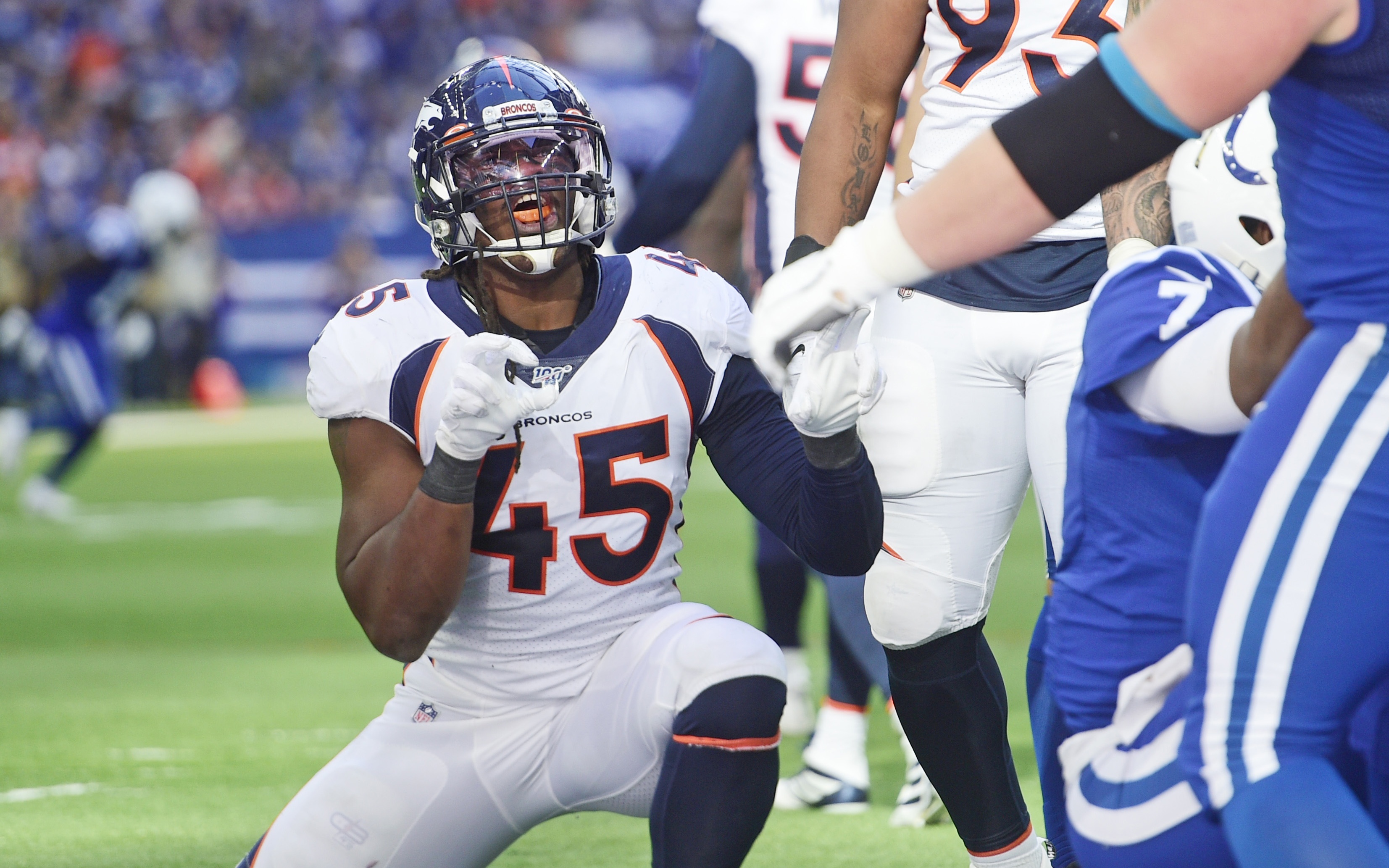 The Denver Broncos have a talented roster heading into 2021 and are in a prime position to compete in the AFC over the next few years.
That said, for continued progress, some tough decisions will need to be made after the season.
As George Paton stated in his introductory press conference, the new general manager believes this team is a "sleeping giant." Waking this team up from a 5-year slumber and keep them formidable for years to come, Denver must keep their core together.
Keeping the core together seems to be Payton's motivation. Identifying and retaining key free agents has been a priority so far for the new GM as evidenced by the resigning of Justin Simmons and Shelby Harris. Additionally, the team was able to bring back Kareem Jackson on a short-term deal when it seemed like the safety would move on.
Who else could Paton keep around?
This series takes a look at pending free agents and the likelihood of a return in 2022. First up was running back Melvin Gordon, but now it's time for linebacker Alexander Johnson.
Why could the team want Alexander Johnson to return to the Broncos?
Johnson, aka "The Dinosaur", burst onto the scene in Week 5 of the 2019 season. What is even more remarkable is the former Tennessee Volunteer was undrafted and cut before the 2019 season. He landed back with the team, but there was no indication he would crack the starting lineup.
Johnson took advantage of his opportunity in place of his present-day co-star, Josey Jewell.
Johnson brings a blend of size and tenacity to the position. He plays with his eyes downhill and makes some impressive plays in all facets of the game.
Against the run, Johnson has more than adequate size to take on blockers. The stout linebacker checks in at 6-foot-2 and nearly 260-pounds.
Additionally, he possesses exceptional physicality and agility to get through traffic to the ball carrier.
#TeachtapeTuesday via Broncos LB Alexander Johnson navigating the trash vs. the run using processing, patience and deception to execute a bait & switch on the fullback for a tackle pic.twitter.com/1tcJ1gQRCX

— The Scouting Academy (@TheScoutAcademy) September 1, 2020
No. 45 for the Broncos also shows an ability to close on receivers in the passing game to make plays on the ball. His ability to create turnovers is something this defense has needed more of and hopes to get in 2021.
My Top-25 favorite plays from this season, counted down:

#6

Week 14 @ Texans. It's tough to beat a 70-yard defensive touchdown! Alexander Johnson caused the fumble, Jeremiah Attaochu scooped it up, and Kareem Jackson took it home!#BroncosCountry pic.twitter.com/S4x4JiVTV0

— Broncos Outsider (@BroncosOutside) February 28, 2020
Lastly, Johnson is a great fit for the zone scheme ran by Vic Fangio. He shows great awareness for his area and good hands. Again, emphasizing his ability to create turnovers is needed on this team and could influence Paton to prioritize resigning him this offseason.
My Top-25 favorite plays from this season, counted down:

#21

Week 5 @ Chargers. After an 0-4 start to the season, the Broncos needed a spark. The shocking emergence of Alexander Johnson helped turn the tides, starting with this great play against Rivers!#BroncosCountry pic.twitter.com/wTJt9rnf18

— Broncos Outsider (@BroncosOutside) February 24, 2020
Why this could be the end of Johnson's time in Denver
Johnson provides several splashes plays a game, leading to the infamous "dinosaur" dance. However, the linebacker often plays out of control.
One reason he did not crack the starting lineup early for the Broncos is inconsistency in being in position. Johnson's free-roaming ways often put him out of position and lead to big plays.
Additionally, he can miss tackles which can keep opponents' drives alive. Or worse, big plays leading to points.
SAM DARNOLD MAKING MANY PEOPLE MISS

Watch live: https://t.co/UMOb73HYmQ pic.twitter.com/3HkkKDKkmZ

— New York Jets (@nyjets) October 2, 2020
Johnson's inconsistent play earned him a Pro Football Focus grade of 65.4. His play will need to improve significantly to warrant a new contract offer.
Additionally, Johnson entered the league at the age of 27 due to off-the-field issues. He has not had any further concerns but will be 30-years-old at the beginning of the 2022 season.
With the belief Johnson should play well this season, it is safe to assume someone will give him a strong contract offer.
If so it may be tough to justify spending big on the linebacker position when the team has a young talent they really like. The Broncos drafted Justin Strnad in the 2020 draft and Baron Browning ahead of this season. Both players offer real upside, but may not be ready. If either takes a strong step forward, or the 26-year-old Jewell continues to get better Johnson may be expendable.
Conclusion
Look for Johnson to have a play better this season than he did in 2020. As result, he may demand a much more lucrative contract than the team can commit. As we discussed in the Orange and Brew Podcast, the outlook of Johnson's return is very murky.
Johnson has shown the play-making ability this defense desperately needs. However, he has also shown to not be reliable at times resulting in missing key assignments.
The allocation of resources to inside linebackers has become more common, which bodes well for Johnson, even at the age of 30, as Lavonte David's recent contract shows.
Johnson's future is also impacted by the growth of the players around him. If Jewell, Browning, or Strnad show they can be good players in this NFL this season Johnson becomes an expensive piece the team could live without.
Additionally, Johnson will be heavily impacted on whether or not Fangio returns as the head coach next season.
To prepare for turnover at linebacker, Paton drafted Browning with the eye on him starting in 2022 so one inside linebacker job may be gone already.
One scenario that may play out is Johnson's loyalty to the Broncos. If Johnson feels strongly about playing in Denver, he may offer a discount with some increased guarantees.
How the season shakes out will be very interesting as will the Johnson and team's moves this offseason.
Verdict: There is a 50% chance Johnson returns in 2022 as his return really could go either way.