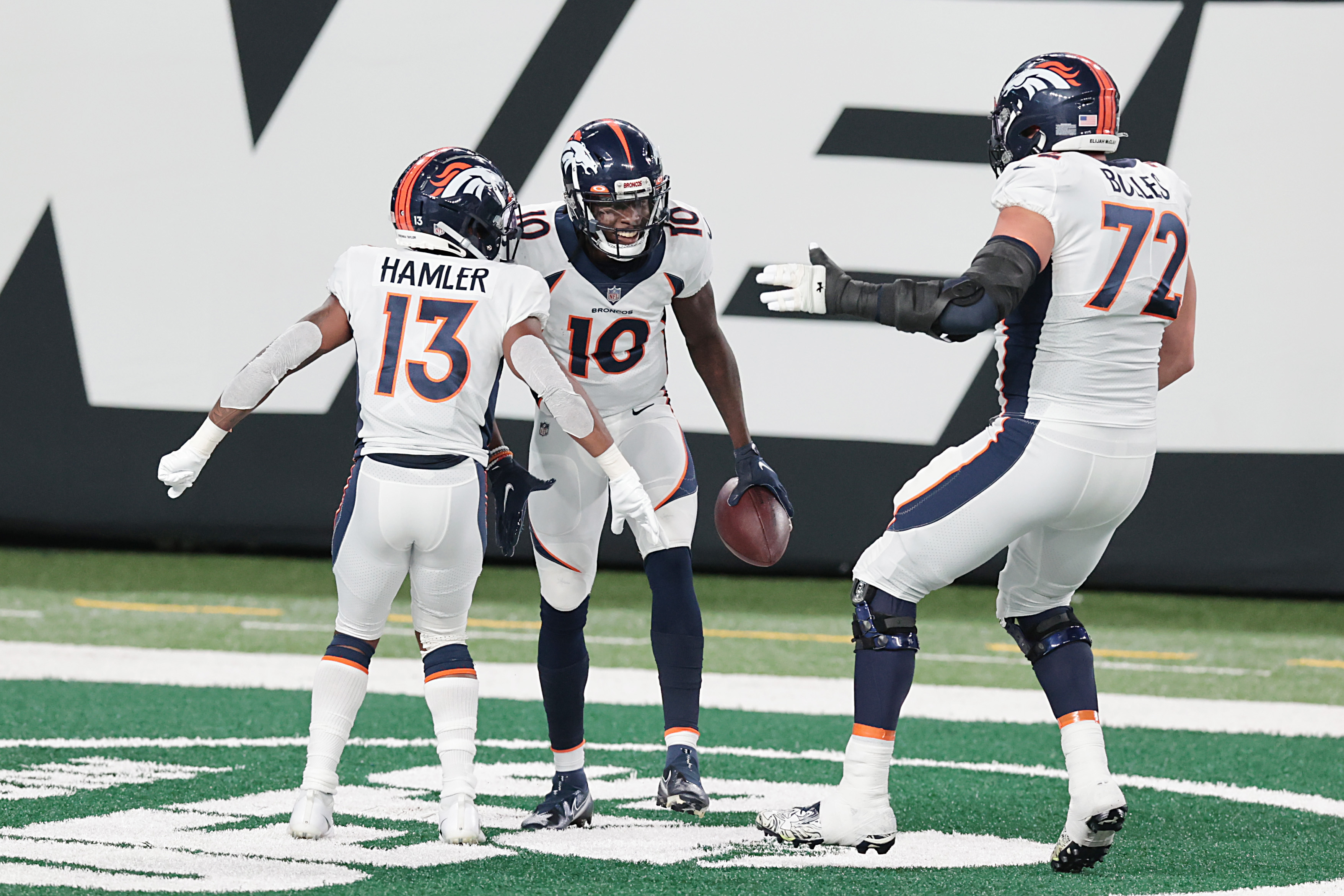 The Denver Broncos wide receiving corps was expected to take a large leap forward in 2020, but due to inconsistent play from the quarterback position and some of the younger receivers, as well as a season-ending injury to Courtland Sutton, the unit didn't live up to expectations.
Now, as we enter the off-season, let's take a look at how the unit looks moving forward, and what we should expect out of this off-season and the season to come.
Courtland Sutton
Following a remarkable breakout campaign in 2019 that saw him haul-in countless highlight-reel-worthy catches and go over 1,000 yards with a trio of Joe Flacco, Brandon Allen and Drew Lock at quarterback, Courtland Sutton seemed primed for superstardom in 2020.
His acrobatic catches, worthy of a Cirque-Du-Solei performance, over high-end cornerbacks Casey Heyward and Denzel Ward certainly.
Unfortunately, injuries delayed that rise to stardom until at least the 2021 season. First, an AC joint injury sidelined him for Week 1, and when he returned in Week 2, a torn ACL robbed him of the rest of his season.
That absence had a negative trickle-down effect on the rest of the roster. Losing his favorite target from the prior season and training camp — who doubles as the best player on the offensive side of the ball — hurt Lock's development. It also negatively impacted the development of both Jerry Jeudy and K.J. Hamler, who were immediately elevated into premier roles they weren't ready for.
Sutton's return could be the key that unlocks the rest of Denver's offensive talent if he's able to return from his ACL injury and continue to build on the promise he flashed two seasons ago.
Jerry Jeudy and K.J. Hamler
Whatever you do, don't respond to the rookie seasons of Hamler and Jeudy, and their exceptionally-high drop rates (12.5% and 8.8% respectively) by selling all of your stock in them. The two young receivers remain absurdly talented, and it's hard to imagine Jeudy's masterful understanding of how to manipulate defensive backs and create separation and Hamler's similarly impressive route-running and game-breaking speed not paying off in the long run.
Separation is undeniably one of the most important traits for a wideout and Jeudy can already create distance between him and the defensive back at will. His release and ability to get off the line is also special. The same could be said for Hamler with both his top-end speed and short-area quickness.
The big issue both currently needs to work to correct is their drop rate. Fortunately, that is an often fixable problem, as demonstrated by recent history.
In 2018, another rookie from Alabama, Calvin Ridley, had the highest drop rate in the league at 10.9%. In the two years that have followed, his drop rate hasn't exceeded 4.2%. Fellow Bronco Courtland Sutton's rookie drop rate — also from 2018 — was 8.3% (sixth among all wide receivers) and the next year it dropped to 4.0%.
Jeudy and Hamler don't even have to make those dramatic improvements to become star receivers because of how elite some of his other skills are.
Even this season, a player like Mecole Hardman — who is very similar in terms of style to K.J. Hamler — had a drop rate of 12.9% (leading all wide receivers) and still managed to be an effective weapon for the Chiefs. Though having a quarterback like Patrick Mahomes is likely the difference there.
Tim Patrick
After showing flashes throughout 2018 and 2019, Tim Patrick finally had his breakout campaign in 2020 due to Sutton's injury, continued injuries to Noah Fant, and the inconsistency of Denver's rookie receiving targets.
Patrick become Lock's favorite target by season's end. He tallied 51 receptions for 742 yards, six touchdowns and also converted 33 first downs, all of which were career highs that more than doubled his previous high-water marks.
Now, Patrick is set to capitalize on his marvelous season as a restricted free-agent, which puts the Broncos in an interesting predicament. They will almost definitely choose to tender Patrick, but whether or not they decide to use a second-round tender or original-round tender will be a tricky decision.
It's in Denver's best interest to use a second-round tender. Doing so would almost definitely keep Patrick in the Mile High City at a cap-friendly $3.38 million hit.
However, that wouldn't be doing right by the player, as it's unlikely Patrick will have a similar statistical output (and therefore a similar contractual value on the open market) next year when he becomes an unrestricted free agent with Sutton returning and Jeudy and Hamler entering year two.
Hitting Patrick with an original-round tender would mean he will almost certainly leave Denver, but it would allow him to financially capitalize on his career-year and potentially find a starting job elsewhere. The NFL is a cruel business, but 850KOA's Broncos insider Benjamin Allbright suggested this as a possibility on the Manely Broncos Podcast.
DaeSean Hamilton
DaeSean Hamilton is entering the last year of his rookie deal in 2021, and as a result, is one of the Broncos most likely to be cut before the start of the season.
At this point, the only above-average quality he offers the team is his ability to run-block, which while nice, might be the least important trait for a wide receiver to possess. All of his other traits can be easily upgraded upon by a day three draft pick — like we arguably saw Tyrie Cleveland just do — and if the run-blocking is that important to Shurmur's milk-toast operation, that shouldn't be all too difficult to replace either.
Earlier in the week, we took a more nuanced look at DaeSean Hamilton's contract situation.
Tyrie Cleveland
Expectations were low for Tyrie Cleveland as the Broncos' second-to-last pick of the draft and it was also easy to overlook him as their third wide receiver drafted. However, he quickly surpassed said expectations with impressive camp performances and by making the most of his limited playing time.
Seeing that solid play come from a hefty, yet surprisingly agile body like Cleveland should excite Broncos fans. He's a strong rotational receiver who can also offer quality snaps on special teams as a gunner (and perhaps as a returner).
Cleveland figures to be the Broncos' replacement for Tim Patrick whenever that may be, assuming a mid-or-late-round selection from the 2021 class doesn't beat him to the punch first.
Diontae Spencer
Whether or not Diontae Spencer makes the Broncos' final roster for 2021 ultimately relies on if the team brings someone in who could challenge his spot as the returner, or if they decide they don't want to allocate a roster spot for someone who is only a factor on special teams.
Watch for the team to sign someone like Desmond King who could make a push for Spencer's roster spot.
Spencer is an exclusive-rights-free-agent this off-season, so it would be surprising if Denver let him walk.