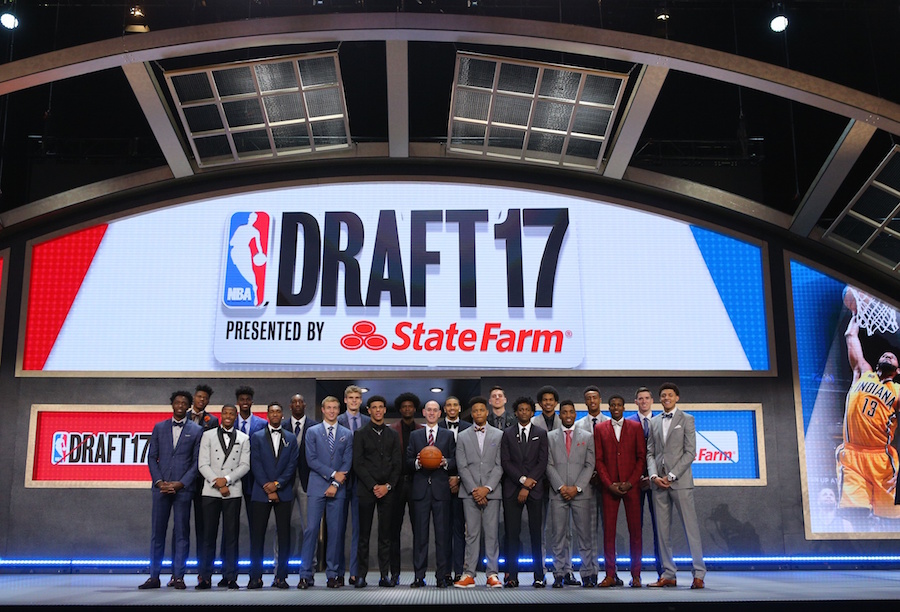 Good morning, Nuggets fans.
Sleep well? Question: Did you doze off when the big trade for Trey Lyles was announced? Or was it at pick No. 24 when they picked Tyler Lydon? Me? I drifted off as soon as I saw Jimmy Butler's name scroll across the bottom of the screen… followed by "traded to Minnesota."
Really? The 31-51 Timberwolves had more to offer the Bulls than Tim Connelly and Co.?
Throughout the day, ESPN sent out "alert" after alert: Nuggets discussing trade for Eric Bledsoe! Nuggets talking to Chicago about Butler! But in the end, the same thing that happens in Denver happened in Denver.
Nothing.
Nada.
Zip.
Zilch.
When it comes to offseason transactions, the Nuggets are becoming the NBA's version of the Boy Who Cried Wolf. D-Wade. Paul Millsap. Paul George. Butler. Bledsoe. You can add Chris Paul's name to the list soon enough.
There's still time – there are free agents out there and the Nuggets have money, assuming they want to spend it.
But is it just me, or are you starting to lose faith that anything exciting is ever going to happen to the Nuggets? Lotta talk. Notta-lotta action.
To be fair, patience is an admirable trait. The Nuggets are patient – give them that. Every team in the league would love to slap Nikola Jokic's name atop one of their lockers, but the Nuggets haven't budged. They could make a splash by moving Jokic, but that's not part of the plan – as it shouldn't be. Jokic is a cornerstone, as he should be. Gary Harris is a fantastic young player. One can get excited about Jamal Murray.
But honestly, how long will it take before that trio can win a title? Think the best trios in the NBA; there are a lot of good, more experienced, more supported threesomes. How long until the Warriors grow old, or decide to stop spending into the luxury tax? Why would they?
Last night, the Timberwolves, Trailblazers and Kings – all Western Conference foes – got better. Or, at least, there's the "belief" those teams got better. There's the "perception" that they made the effort to get better. Either way, their moves were exciting. Even if it's just during the summer and early season, there's something to talk about in Minnesota, Portland and Sacramento.
Remember when the Nuggets had those television commercials on Channel 2?
So-Ex-Ciiiiiting….Den-Ver Nug-Gets! <musical note emoji>
What's the slogan now?
So-Damn-Payyy-Schent… Den-Ver Nug-Gets! <eye roll face emoji>
I repeat: Splashy isn't necessarily good. Splashy doesn't necessarily win championships (outside of places like Cleveland or Golden State, of course). Nuggets president of basketball ops Tim Connelly is sticking to the plan at the risk of boring us to death in the process.
But what is the plan?
They might have one. It might actually be "patience." Heck, it might even be a good plan. I don't know what it is, not exactly.
But this morning, I'm curious how Denver's professional basketball team is going to convince an impatient fan base that last night was something to they should accept, much less be excited about.
I don't blame the Nuggets for moving back from No. 13 to No. 24. At 13, getting something "exciting" is pretty unlikely. At 13, getting someone who cracks a very solid (yet light years away from a Western Conference title) young lineup at No. 13 is unlikely, too. Trading up – somehow – would have been exciting, but likely difficult and probably riskier than waiting for a proven free agent. So, fine, trade back.
But is it too much to ask the Nuggets to nab Colorado's own Derrick White at No. 24? At least that would have been intriguing, marketable, locally conscious.
Full disclosure: I am a Nuggets season ticket holder.
Full disclosure: I'm bored with this plan. Bored. Out. Of. My. Mind.
Full disclosure: During the draft, I received no fewer than six text messages from fellow season ticket holders, each of whom used words a bit more harsh than "bored."
I'm sorry, Nuggets, for delivering the bad news. But hey, don't shoot the messenger.
That's not to say I dislike this team. It is to say that if that splash doesn't come during free agency, next season will only be marginally different than this season. We know how it ends, give or take a seven-game series. Big deal.
I enjoy watching many of the Nuggets players. I really do. Jokic, Harris and Murray are all worth checking out. But if a title is what I long for – or even a shot at a title – or even just a taste of variety – I'll have to join the front office on a pilgrimage for patience.
The pressure to do something at 1000 Chopper Circle is mounting. As the team's patience reaches new heights, the impatience of Nuggets fans still willing to hang around is stifling.
Free agency begins July 1.
And something of note needs to happen in Denver.
Otherwise, we can all hit the snooze button.
Again.