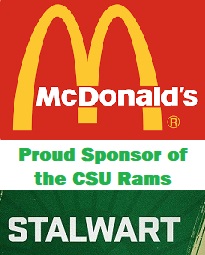 After an up-and-down start to 2023, the Colorado State Rams kick off their Mountain West Conference play tonight at Utah State.
The Rams are fresh off back-to-back victories over Middle Tennessee State and Utah Tech, evening up their record at 2-2 overall. Meanwhile, Utah State came back to beat UConn last week 34-33 and sit at 2-3 so far this season.
This is a crucial game for the Rams. They have a chance to start their conference play with a win and continue their winning streak, too. But it won't be easy, because while Colorado State has improved their offensive firepower in the second year under Jay Norvell, the Aggies offense is even more explosive than the Rams.
Battle of three QBs tonight in Logan, UT
Brayden Fowler-Nicolosi has been nothing short of special this year. The redshirt freshman has started the last three games for the Rams and it seems unlikely he'll give up his spot. Because he's been on fire.
In fact, Fowler-Nicolosi won Mountain West Freshman of the Week for last his stellar performance in last Saturday's 41-20 victory over Utah Tech on Ag Day. He threw for 462 yards and four touchdowns, running another score in, and the yard mark was most-ever by a freshman QB at CSU.
Norvell's Air Raid offense has been helped not only by his QB's great play, but also that of dynamic receiver Tory Horton and star tight end Dallin Holker.
Colorado State currently averages 32.8 points per game, which is 2.5 times what they scored per contest last year. Unfortunately for the Rams, Utah State is even stronger on offense, with a 37.0 point per game average this year.
And unlike the Rams, the Aggies are getting it done with two quarterbacks.
Last week, McCae Hillstead started but was injured and replaced by Cooper Legas. Legas had a great game too, despite limited playing time. He threw for 204 yards with 3 touchdowns and no interceptions and was a huge part of the Aggies comeback.
Legas completed two massive touchdowns to Jalen Royals. The first was 71 yards and the second went 52 yards to the end zone. Just like Horton last week, Royals scored three times in the win over the Huskies.
Utah State's offense is 21st in the nation in scoring, and when they're not passing, running backs Davon Booth and Rahsul Faison can get the job done on the ground.
Will Colorado State's defense step up, or will it be Utah State's?
These two teams are eerily similar in that they're both strong offensively and each struggle to stop opponents from scoring.
CSU has allowed 34.0 points per contest, which is 119th in the nation, while USU is just ahead of them at 33.8 PPG.
Of course, on the Rams side of things, that includes playing two of the best offenses in the nation—Washington State and Colorado—including that double-overtime loss to the Buffs in which CU scored 43.
Still, Colorado State has to step up. And the good news is, they started that two weeks ago against Middle Tennessee.
After a slow start, the Rams defense allowed a mere six points to the Blue Raiders in the second half. And the crucial play of the game came when MTSU ran a trick play, fumbled, and Mohamed Kamara had a scoop-and-score to seal the win.
Kamara's 6.5 sacks this season are second-most in the nation, and he'll be key this week against the Aggies dual-QB attack.
Similarly, against Utah Tech, the Rams allowed only a single field goal after halftime. They locked down the Trailblazers and forced three punts and two turnovers on downs. That included yet another one of Kamara's sacks.
Where Colorado State needs to play better defensively tonight is in the pass game. Norvell boasted he thought they'd be the best secondary in the conference before the season, but they've struggled mightily. The Rams are giving up 319.5 passing yards per game, meaning the aforementioned Royals as well as Terrell Vaughn will be important to slow down tonight. They have a combined 11 touchdowns and more than 700 yards receiving through five games.
So, which defense will step up? They will likely be the team who wins tonight.
The over/under is set at 62.5, and it seems likely they'll go over that in what could be a shootout.
Colorado State (2-2) faces Utah State (2-3) at 6 p.m. MT tonight in Logan on TheMw.com/watch.